Catalyst Pharmaceuticals (CPRX) delivered a robust performance in its last reported quarter. So, is now the right entry point in the stock? Let's look at its financial metrics to gauge its prospects...
Catalyst Pharmaceuticals, Inc. (CPRX) realized considerable organic growth in the second quarter, primarily due to strong performances from FIRDAPSE - a key revenue driver. Furthermore, its January 2023 acquisition of FYCOMPA has significantly amplified its performance.
Also, the company recently acquired the North American license for vamorolone, a late-stage asset with a PDUFA action date of October 26, 2023, for the treatment of Duchenne muscular dystrophy, which is expected to strengthen its neuromuscular product portfolio on approval.
Although the company has demonstrated consistent growth in recent quarters, its stock has unfortunately lagged, currently trading below its 50-day and 200-day moving averages of $13.70 and $15.31, respectively. The stock has slumped 30.5% year-to-date.
While near-term selling pressure might persist, delving into a thorough examination of the company's pivotal financial metrics can provide an understanding of why it could be wise to wait for a better entry point in the stock.
Analyzing Catalyst Pharmaceuticals Inc. Performance Metrics: A Data-driven Study from 2020-2023
The gross margin of CPRX has been undergoing a slight fluctuation over the series of data available from September 2020 to June 2023. However the overall trend seems to be moderately decreasing.
In September 2020, the gross margin was 86.00%.
The value marginally dropped by the end of the year to 85.70% in December 2020.
By March 31, 2021, it slightly dropped again to 85.40%; however, went back up to 85.80% by June 30, 2021.
In September 2021, it decreased slightly to 85.50% and fell notably at the end of that year to 84.50% in December 2021.
An upward motion occurred in the first quarter of 2022, where the gross margin rose to 85.00% by March 31 but slipped to 84.60% by June 30 and further down to 84.10% by September 2022. The last quarter of the year saw a minor drop, settling at 83.90% by December 2022.
The beginning of 2023 witnessed an ascending leap where the gross margin surged to 85.00% by March 31, 2023, and the most recent data reflect a boost even further to 85.90% as of June 30, 2023.
Therefore, comparing June 30, 2023's figure (85.90%) with the start value of September 2020 (86.00%) reveals a marginal decrease over this timeframe. This illustrates a relatively stable yet slightly downward trend in Catalyst Pharmaceuticals Inc.'s gross margin over this analysis period.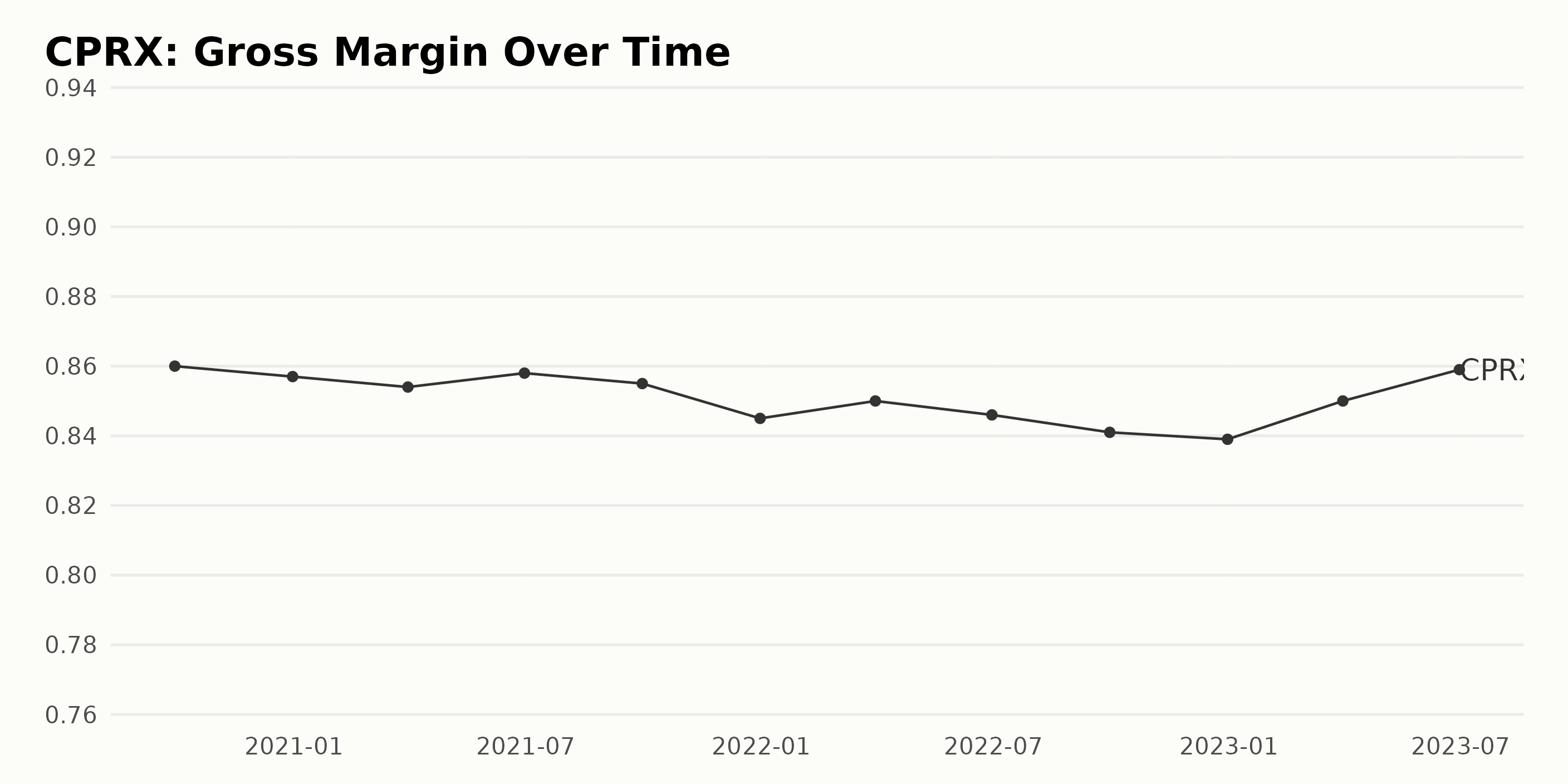 The series of data reflects the Return on Assets (ROA) of CPRX. An analysis of the trend and fluctuations is as follows:
Starting from September 2020, CPRX reported an ROA of 0.53.
Over the next three quarters, there was a visible downward trend observed. The ROA declined consistently to reach 0.18 by December 2021.
However, starting from the first quarter of 2022, there was a reversal in the trend. A consistent upward trend can be seen, with the ROA improving to 0.29 by June 2023.
Significantly, the last value in the series is 0.29 (June 2023), which indicates a growth rate of approximately -45.28% when compared with the first value in the series (September 2020).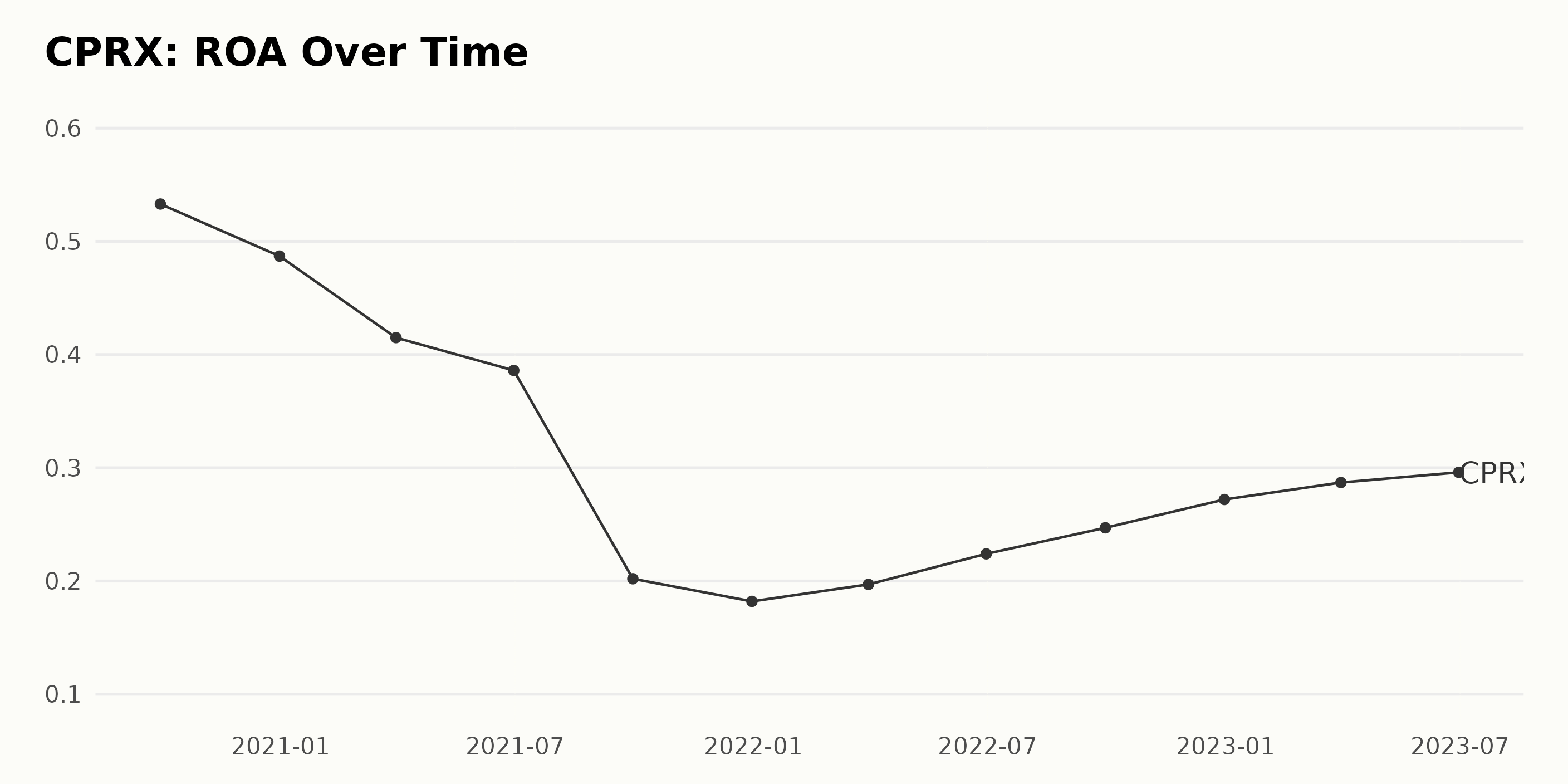 Based on the data supplied, the Current Ratio of CPRX has seen notable changes from 2020 to 2023:
From September 30, 2020, starting with a current ratio of 7.86, CPRX saw a minor decrease towards the end of the year, with a value of 6.99 on December 31, 2020.
In 2021, there were fluctuations in the current ratio. An impressive increase was recorded at 11.19 in the first quarter, followed by slight drops in the next two quarters (10.93 in June and 9.35 in September), and eventually lowering to 7.76 at the end of the year.
The year 2022 started off with an upswing, leading to a peak current ratio of 10.79 by mid-year. However, a significant drop was observed in the last two quarters, ending at an annual low of 5.57 in December 2022.
Continuing on this downward trajectory, the series' lowest reported current ratio occurred at 3.51 in the first quarter of 2023. A slight rebound was noted as of June 30, 2023, closing at 4.59, less than the value two years earlier in June 2021.
In terms of growth rate, measured from the first value to the last, the current ratio shows a decrease of about 41.59%. This suggests that CPRX's ability to meet short-term obligations has declined over the period under observation. The data signifies the necessity of prudent financial risk management by the company.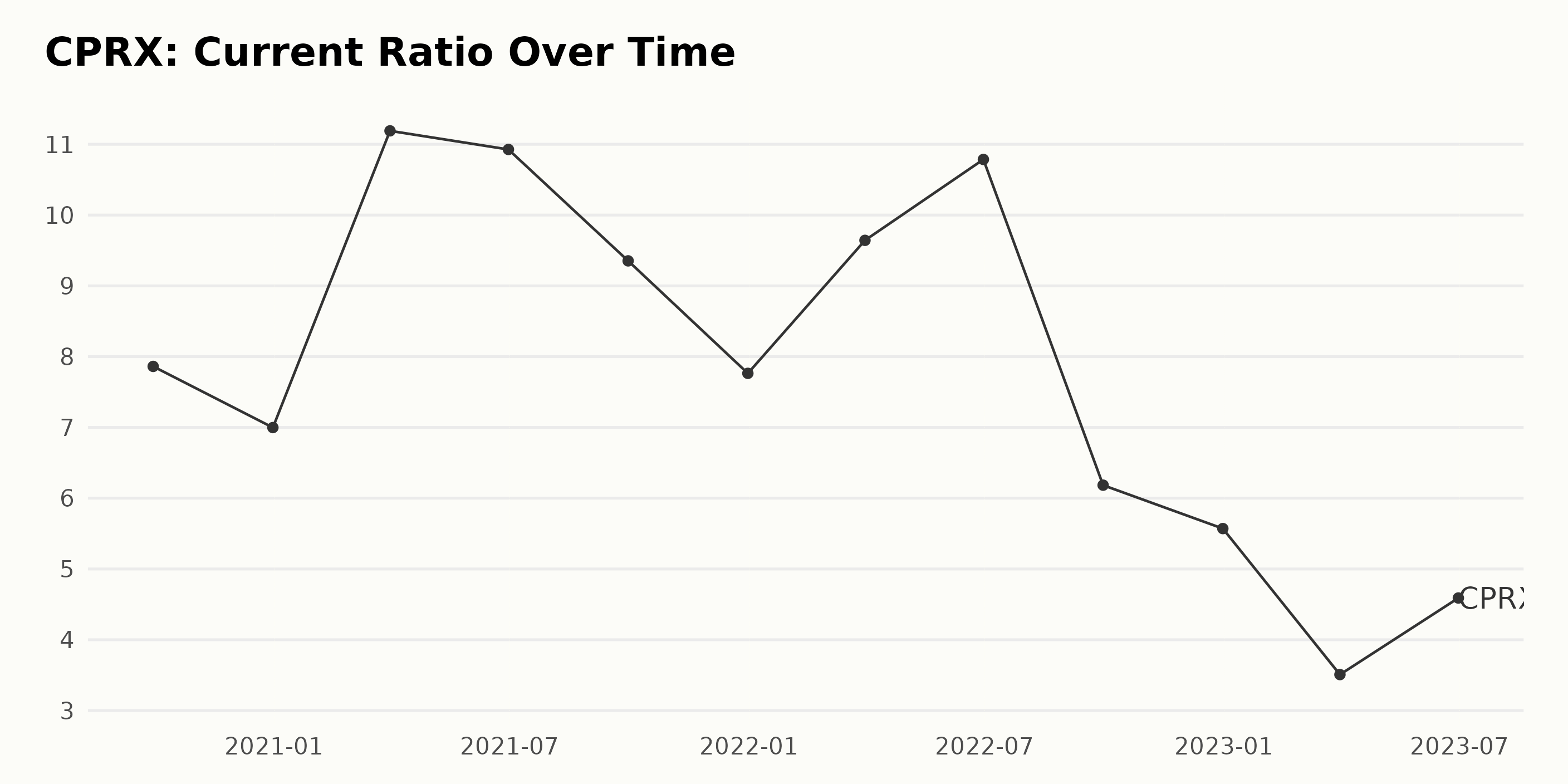 The trend for the Asset Turnover of CPRX demonstrates a fluctuating pattern over the reported timeline from 2020 to 2023. Here is a summary of the key points:
Starting with a value of 0.88 in September 2020, there was a consistent decrease, and the asset turnover fell to 0.65 in September 2021, making a reduction of about 26%.
In December 2021, the Asset Turnover for CPRX reached its trough at 0.65, seeing its lowest point for the period.
The data from December 2021 started to display an uptrend that appeared steadier than before. The number climbed gradually to reach a height of 0.77 by June 2023 - an approximate growth rate of 18% from its previous low in December 2021.
The most recent value reported in June 2023 shows CPRX's asset turnover at 0.777. Noticing the pattern from the past quarters might suggest the ongoing recovery phase for the company.
Overall, between September 2020 and June 2023, the Asset Turnover faced a dip, followed by an ascending movement towards recovery. This report reflects a decrease in the efficiency of CPRX's asset utilization during 2020 and 2021, improving in the years 2022 and 2023.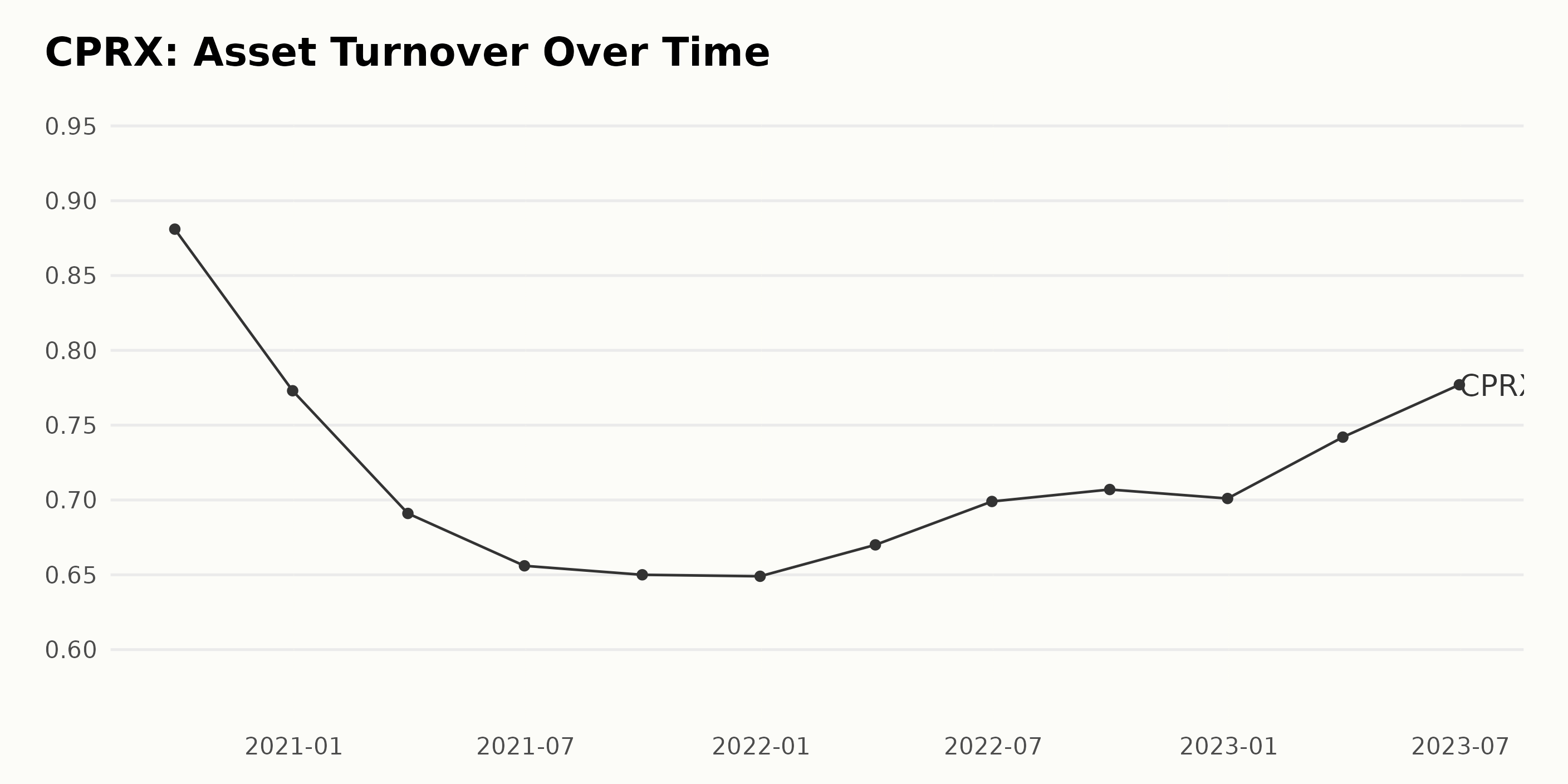 Unsettled Growth Trend: A Six-Month Rollercoaster Ride in CPRX Share Prices
A review of the share prices of CPRX between March and September 2023 reveals an unsettled growth trend with both increasing and decreasing periods.
Starting from $15.11 on March 17, 2023, CPRX experienced a steady rise to $17.61 by April 14.
The trend then decelerated as shares dipped to $16.04 at the end of April.
In May, another decline occurred as CPRX fell sharply from $16.78 on May 5, reaching a low of $11.89 on May 26.
Between late May and late July, CPRX showed a slow recovery period, with its price gradually increasing from $11.89 to $13.73 in early August.
Then, the shares accelerated slightly to a peak of $14.68 on August 18 before decelerating again towards $12.97 by September 7, 2023.
Overall, while there were periods of both increases and decreases throughout the assessed term, the general trend shows CPRX ending this period substantially lower than it started, with a beginning price of $15.11 in March, declining to $12.97 by September. Here is a chart of CPRX's price over the past 180 days.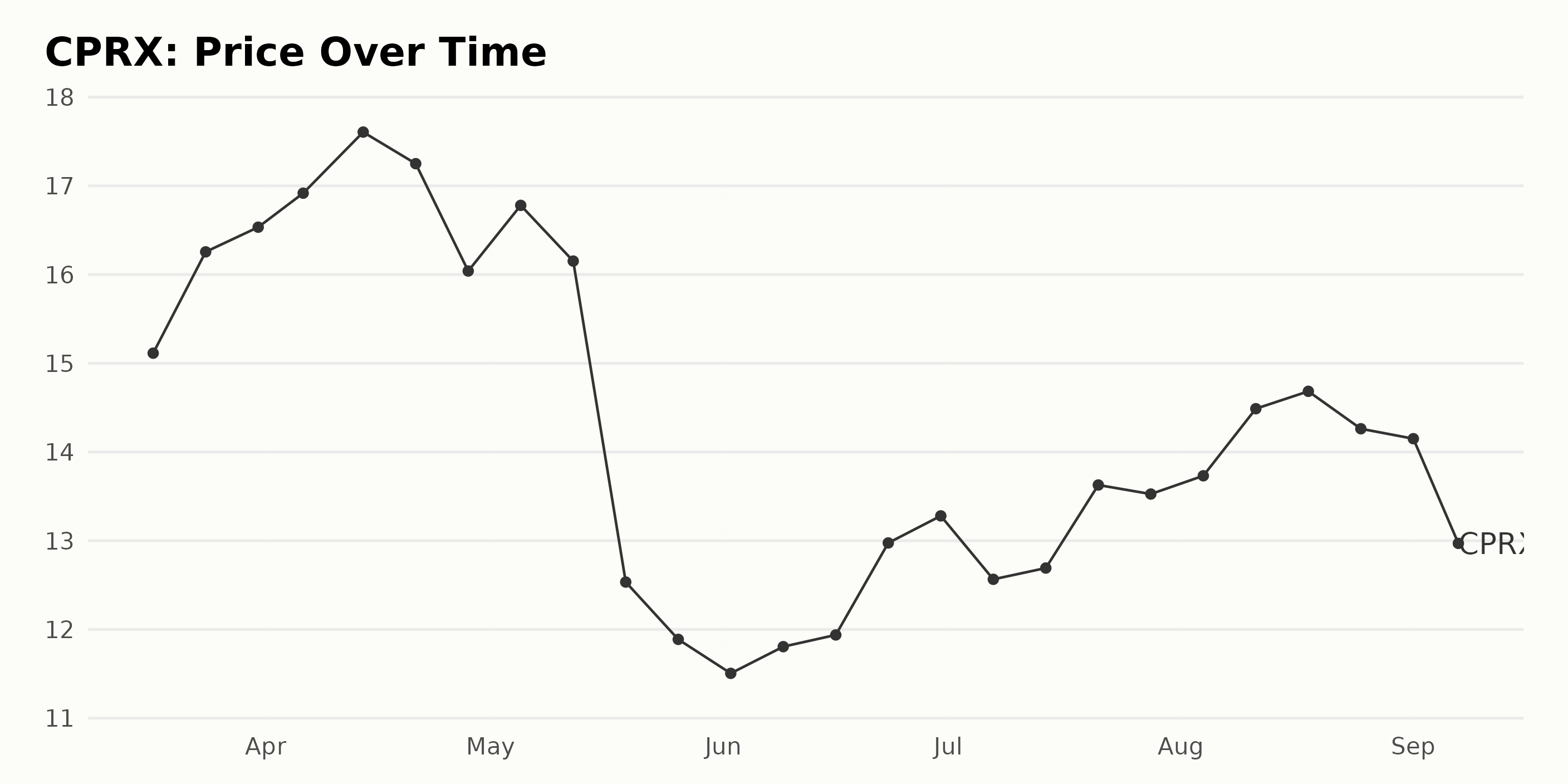 Analyzing POWR Ratings Trends for Catalyst Pharmaceuticals: Quality, Value, and Growth
CPRX has an overall C rating, translating to a Neutral in our POWR Ratings system. It is ranked #60 out of the 160 stocks in the Medical - Pharmaceuticals category.
Based on the provided POWR Ratings for CPRX, the most noteworthy dimensions are Quality, Value, and Growth. Each dimension bears a distinct trend across the specified period.
Quality: This dimension consistently maintained the highest ratings overall. Although there was slight fluctuation, Quality started at 94 in March 2023, peaked at 95 in April 2023, and decreased to 80 by September 2023.
Value: Value demonstrated a slightly decreasing trend. It began at 87 in March, maintained the same level in May and June 2023, and gradually declined to 85 by the end of the period in September 2023.
Growth: - The Growth dimension displayed the clearest declining trend. Holding a rating of 88 in March and April 2023, it sharply decreased to 20 by September 2023.
In conclusion, while Quality sustained high ratings throughout the period, it experienced a decline towards the end. Value demonstrated relatively stable but slightly decreasing ratings over time. Notably, the steepest decline was seen in the Growth dimension.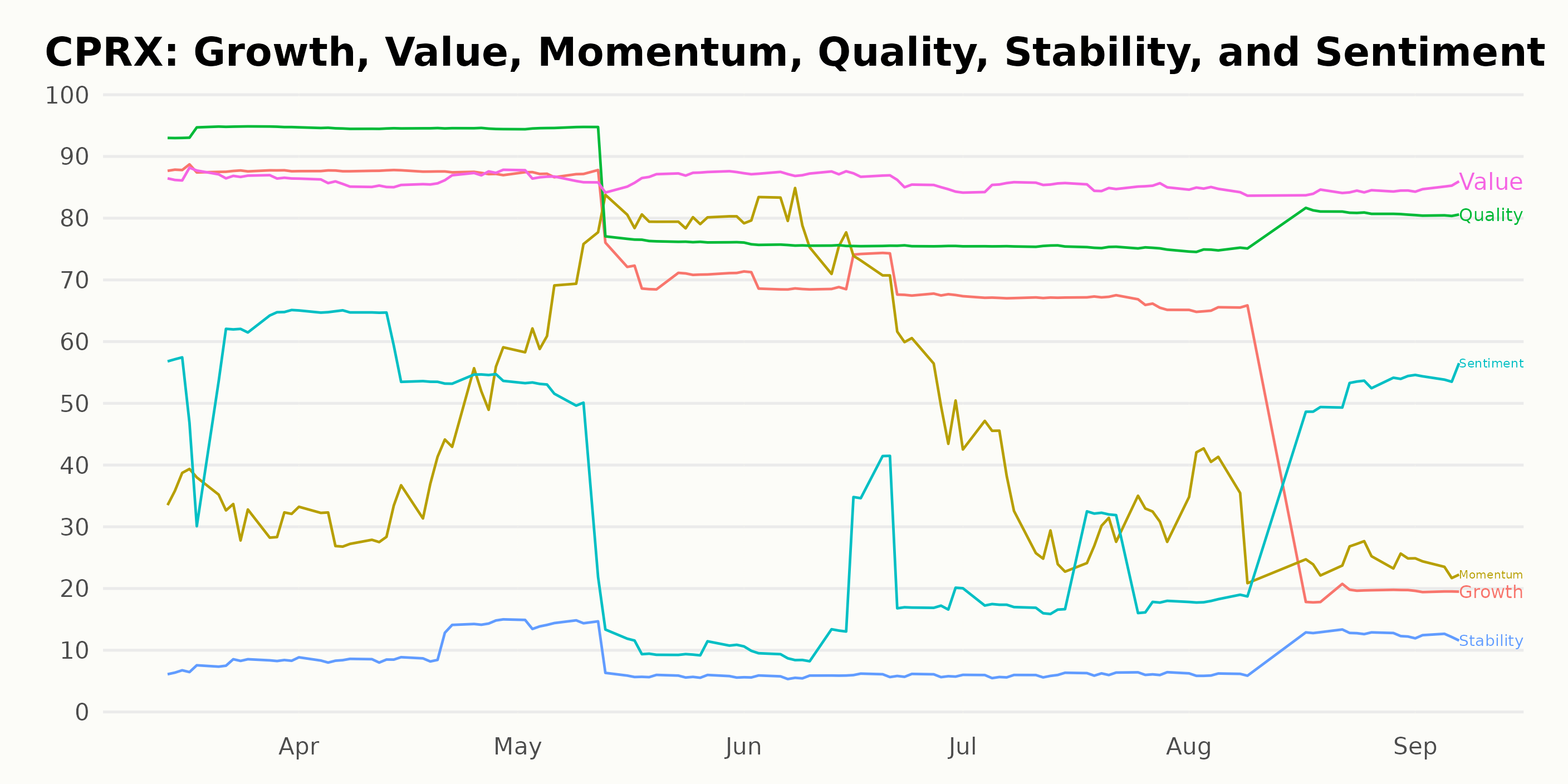 How does Catalyst Pharmaceuticals Inc. (CPRX) Stack Up Against its Peers?
Other stocks in the Medical - Pharmaceuticals sector that may be worth considering are Novartis AG (NVS), Novo Nordisk A/S (NVO), and SANTEN PHARMACEUTICAL CO., LTD. (SNPHY) -- they have better POWR Ratings.
43 Year Investment Pro Shares Top Picks
Steve Reitmeister is best known for his timely market outlooks & unique trading plans to stay on the right side of the market action. Click below to get his latest insights…
Steve Reitmeister's Trading Plan & Top Picks >
---
CPRX shares were trading at $12.84 per share on Friday morning, down $0.08 (-0.62%). Year-to-date, CPRX has declined -30.97%, versus a 17.72% rise in the benchmark S&P 500 index during the same period.
---
About the Author: Subhasree Kar
Subhasree's keen interest in financial instruments led her to pursue a career as an investment analyst. After earning a Master's degree in Economics, she gained knowledge of equity research and portfolio management at Finlatics.
September Buy, Sell or Hold for This Pharma Sock: Catalyst Pharmaceuticals (CPRX)
appeared first on
StockNews.com