Pharma giant Johnson & Johnson (JNJ) has posted robust second-quarter results and raised its full-year outlook. Should investors look into the stock before September begins? Let's look at its financial metrics to gauge its prospects…
Global pharmaceutical powerhouse Johnson & Johnson (JNJ) experienced significant financial expansion in the second quarter, with its reported sales registering an impressive 6.3% year-on-year growth to $25.53 billion, exceeding the consensus estimate by 3.5%.
Moreover, its quarterly adjusted EPS ascended 8.1% compared to the same period last year, reaching $2.80 and surpassing the consensus estimate by 6.9%.
In addition, JNJ has revised its adjusted EPS guidance for the full fiscal year of 2023 to between $10.70 and $10.80, versus its former forecast of $10.60-$10.70. This adjustment indicates an anticipated growth of 5.5%-6.5% from the previous year.
Given these robust financial parameters, the timing could be opportune for investment in JNJ stock. To further understand this recommendation, let's delve into the key financial trends underpinning the company's performance.
Exploring Johnson & Johnson's Financial Performance from 2020 to 2023
Here is a summary of the data for JNJ's trailing-12-month revenues.
As of September 2020, JNJ's revenue was $80.86 billion.

The revenue displayed an upward trend over the following year, standing at $89.19 billion in July 2021 - a considerable increase from the previous year.

This momentum continued, with the revenue reaching $96.04 billion by October 2022.

However, a downturn was exhibited at the start of 2023, with the revenue dropping to $94.94 billion in January.

The revenue then saw a minor bounce-back, climbing to $96.26 billion in April 2023.

Thereafter, a further increase was observed, taking the revenue value to $97.77 billion as of July 2023.
These figures show that JNJ has shown consistent growth throughout, despite some minor fluctuations, particularly between 2022 and 2023. The overall growth rate from September 2020 to July 2023 is approximately 20.86%, signaling a generally positive performance across this period. These figures provide valuable insight into market reactions and potential future trends.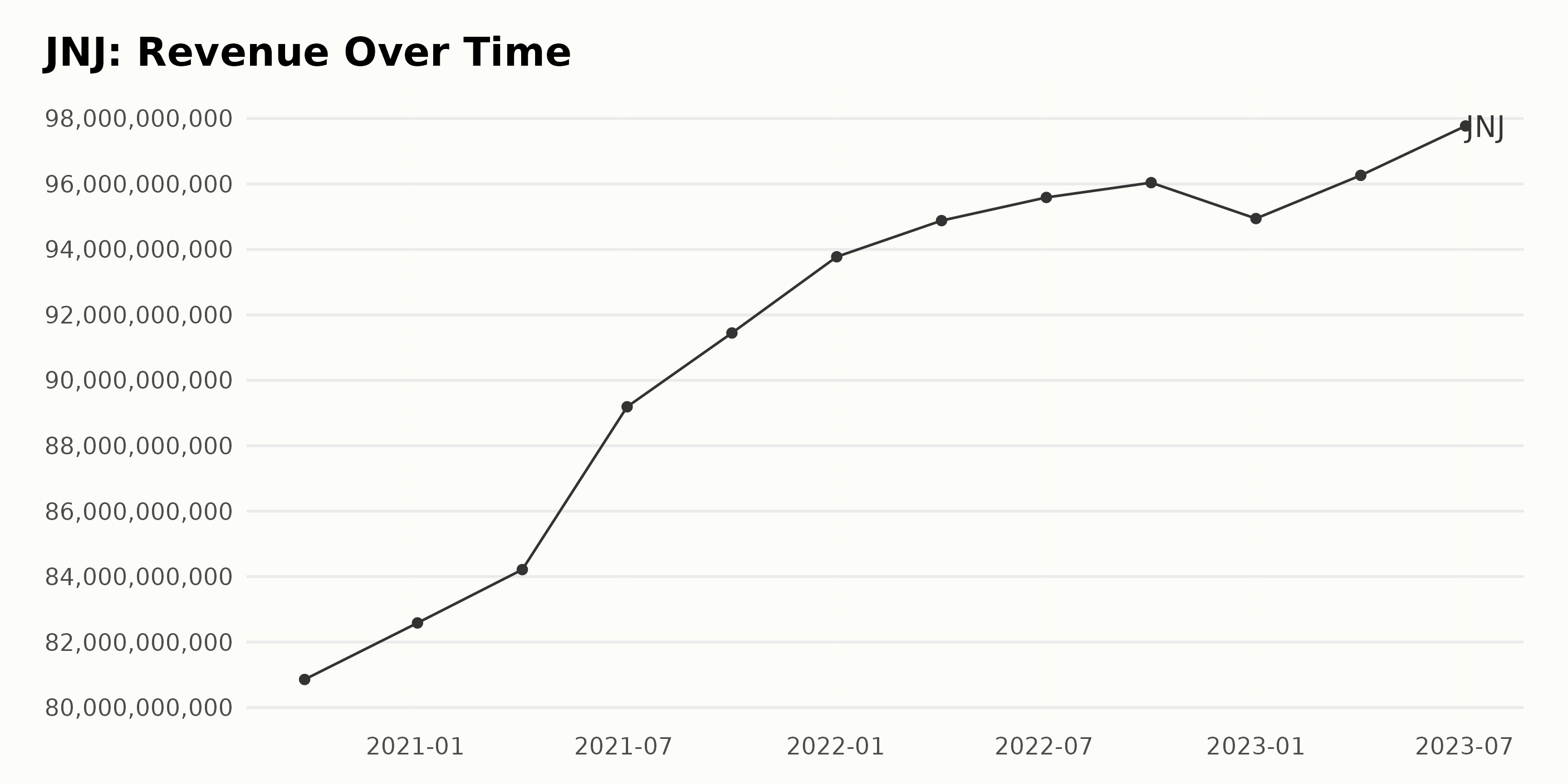 Analyzing the gross margin data from JNJ over a period stretching from September 2020 to July 2023, certain trends and fluctuations can be observed:
In September 2020, the gross margin reflected a value of 65.7%.

A slight dip was detected in January 2021, with a value of 65.6%.

This was followed by a gradual rise over the next two quarters to 67.0% in July 2021.

The value peaked at 68.2% in January 2022, representing an increase of 3.8% from the original reported gross margin.

Subsequently, a series of fluctuations were witnessed from April 2022 to July 2022, where the value decreased to 67.9%.

A small decline in the gross margin was observed again in October 2022 to 67.4% and persisted till January 2023 with a gross margin of 67.3%.

From April to July 2023, the margin slightly hovered between 66.9% and 67.1%, respectively.
Throughout this period, there is evident volatility in gross margin figures, although the overall trend reflects modest growth despite the temporary dips. The final recorded gross margin stood at 67.1% in July 2023, indicating a growth rate of 2.1% compared to the initial reported figure in September 2020.
While this isn't a dramatic increase, it does evidence a stable performance by JNJ over the analyzed period. Undeniably, most recent data depict a slight stabilization and recovery despite occasional drops. This analysis substantiates that the company's gross margin has, by and large, managed to stay in the high 60s percentile range.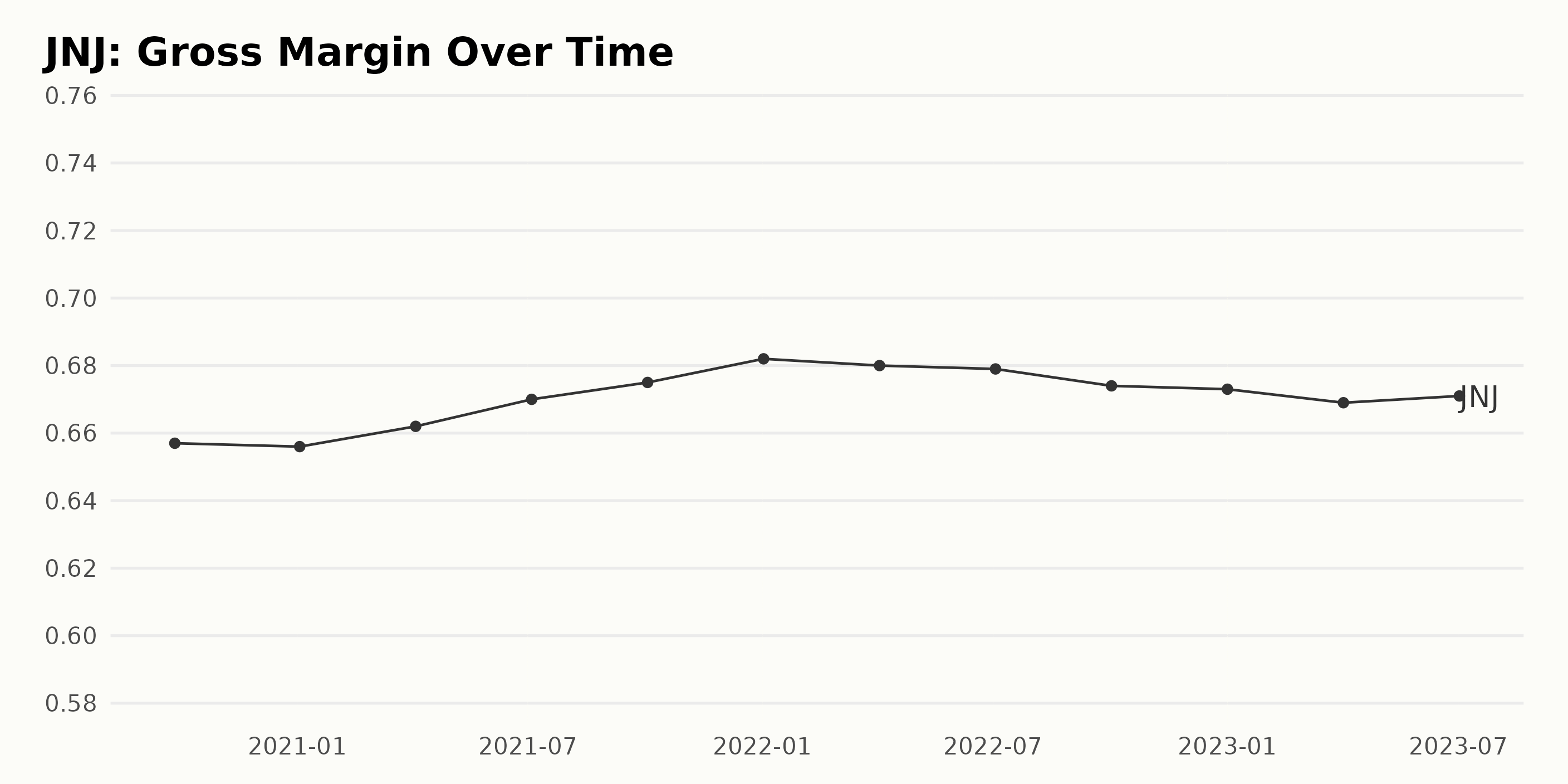 The reported Dividend Per Share (DPS) trend for JNJ shows a general upward trajectory over the three-year period, from September 27, 2020, to July 2, 2023. Here's a brief overview:
In September 2020, the DPS of JNJ started at $3.92.

It saw a significant increase to $4.99 by January 2021.

There was a notable drop in April 2021 when the DPS fell to $4.04.

From here, there were consistently small quarterly increases in the DPS throughout the course of 2021, ending the year at $4.19.

This growth trend continued throughout 2022, reaching $4.38 by October and into 2023, with the DPS standing at $4.58 in July. It's important to highlight the last registered value: By July 2, 2023, JNJ gave out a DPS of $4.58.
This represents a growth rate of approximately 17% compared to the first recorded DPS back in September 2020, indicating a steady return increase for investors over this period. According to these figures, there's an overall positive growth trend despite some fluctuations observed across the years. This is a positive sign for current and potential investors.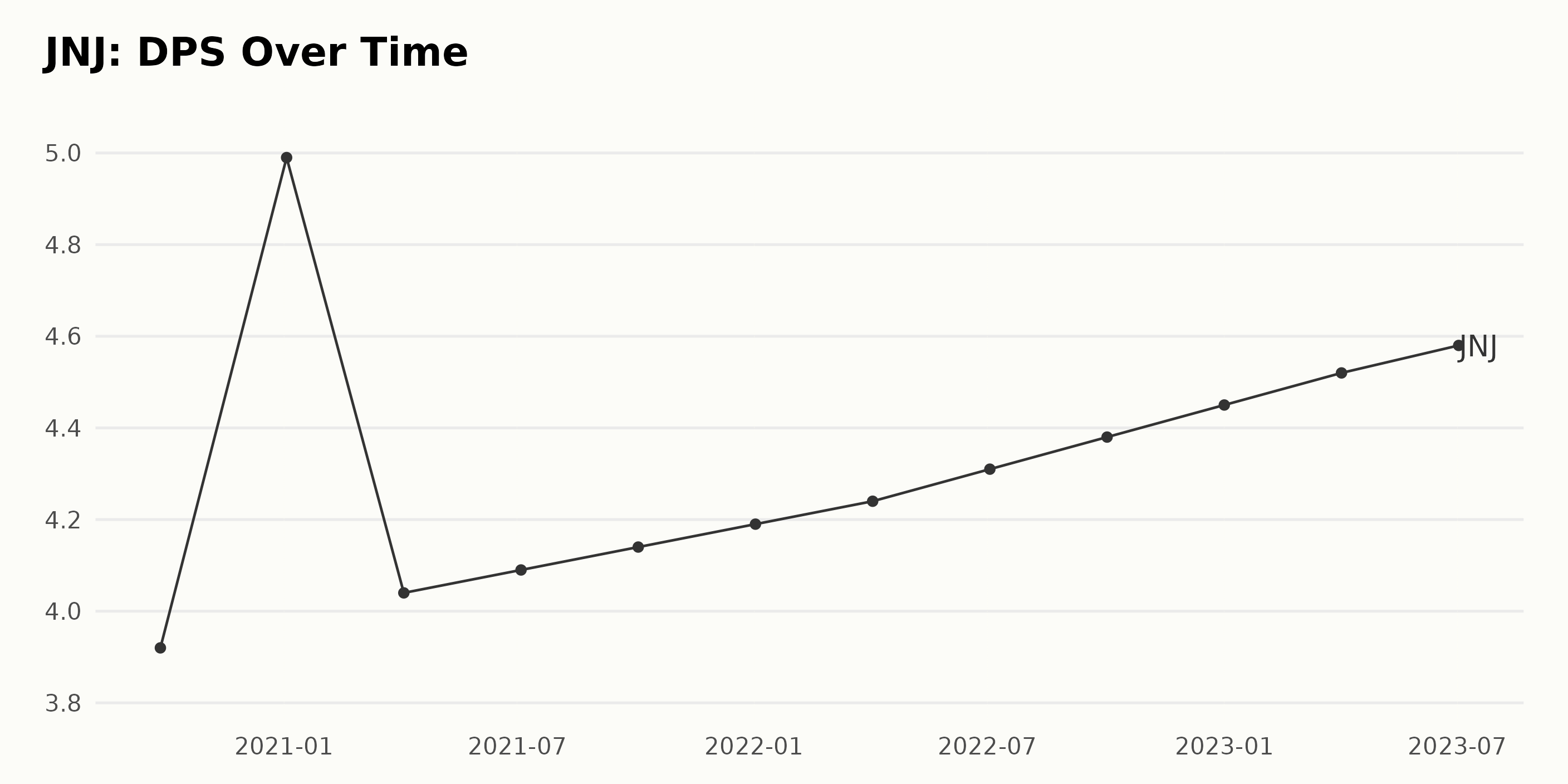 The reported asset turnover of JNJ shows a slight increasing trend for the most part, followed by a decline in the recent period. Here is an overview:
September 27, 2020, started at a value of 0.504.

Throughout 2021, fluctuations were observed, with values decreasing slightly from 0.501 in January to 0.498 in April before increasing again, hitting a peak of 0.52 by October.

In 2022, there was a steady increase from 0.528 in January to 0.539 by October.

However, a decrease starting from January 2023 (0.529) persisted through July 2023, ending at 0.521.
The overall growth rate from the first value (September 2020) to the last value (July 2023) indicates a rise of approximately 3.4%. However, the emphasis is more on recent data, particularly from the year 2023, where a declining trend is witnessed in JNJ's asset turnover.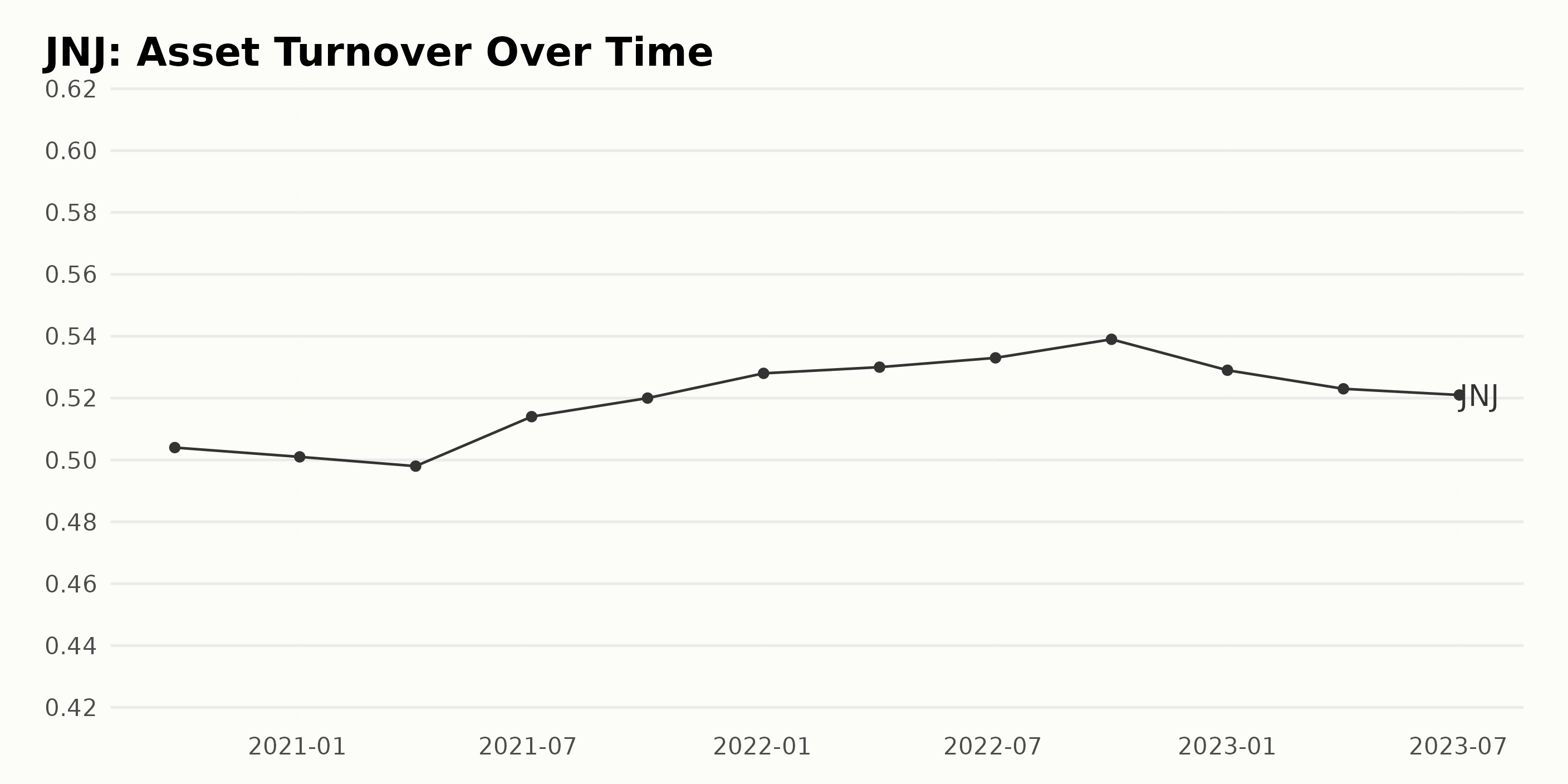 Understanding the Significant Rise of Johnson & Johnson Shares in 2023
Between March 2023 and August 2023, there is a clear trend of increased share prices for JNJ. Here is the general progression broken down by month:
In March 2023, the share price rose from $152.70 on March 3 to $153.33 on March 31.

In April 2023, the share price experienced significant growth, moving from $161.22 on April 6 to $163.47 on April 28.

May 2023 observed a general drop in share price, starting at $163.35 on May 5 and decreasing to $156.03 on May 26.

In June 2023, there was a general increase. The lowest was $155.00 on June 2, and the highest was $164.78 on June 23.

The month of July saw fluctuations, with the price starting at $161.99 on July 7 and dropping to $158.91 on July 14 before climbing back to $172.96 on July 28.

August started strong, with the share price reaching $173.18 on August 18 before dropping to $166.25 on August 25.
This data indicates an overall upward trend with some intermittent dips. Here is a chart of JNJ's price over the past 180 days.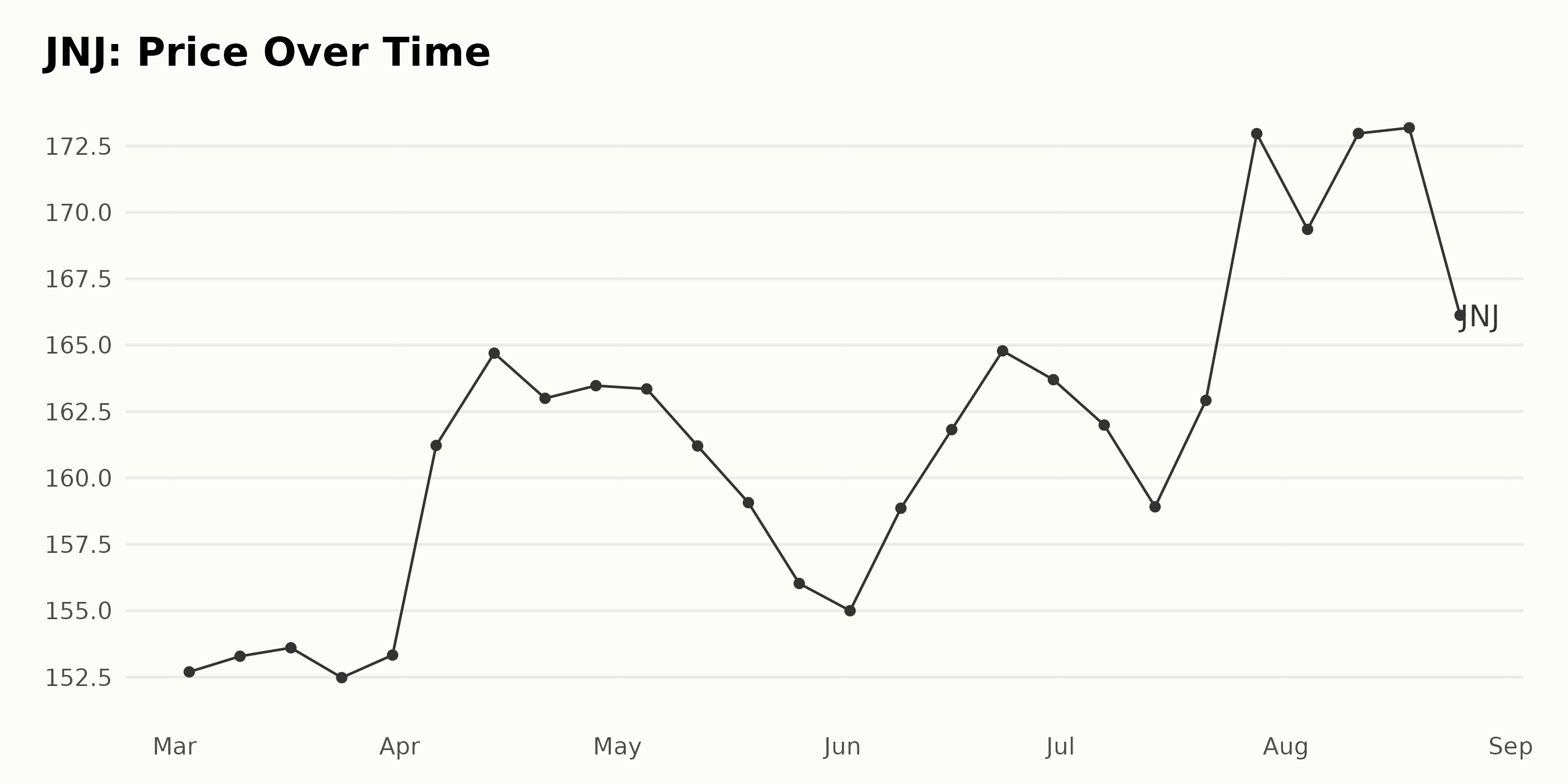 Analyzing Johnson & Johnson's Stability, Quality, and Growth through POWR Ratings
Based on the available data, JNJ consistently maintains an impressive A (Strong Buy) POWR Ratings grade and is ranked #5 in the Medical - Pharmaceuticals category of stocks, which includes 161 stocks. Specifically, the data covers the period from March 2023 to August 2023. Here are some data highlights:
The latest POWR grade recorded for JNJ is an A (Strong Buy) as of August 28, 2023.

Over the covered months, JNJ has remained one of the top-ranked stocks in its category, with its rank fluctuating between #3 and #9.

In May, June, and July of 2023, JNJ maintained a fairly consistent rank, mostly remaining in the middle of the top 10.

Notably, in July and August of 2023, JNJ managed to reach the #3 position twice, achieving its best ranking during this period.
Overall, these figures suggest that JNJ is a strong player in its category.
From a review of the POWR Ratings for JNJ, focusing on the most noteworthy dimensions, clear trends and standout ratings can be observed. The three most crucial dimensions in this context appear to be Stability, Quality, and Growth.
Stability: Stability holds the highest ratings throughout from March till August 2023. In March, the stability rating was at its peak of 98, decreasing only slightly to 96 by August 2023. This trend indicates that Johnson & Johnson maintains a consistent level of performance.
Stability Rating in March 2023: 98

Stability Rating in August 2023: 96
Quality: Similar to Stability, Quality also holds significantly high ratings for Johnson & Johnson. Starting from a strong position of 93 in March 2023, it dips slightly month-on-month to reach 90 by August 2023, indicating an overall steady performance in terms of quality.
Quality Rating in March 2023: 93

Quality Rating in August 2023: 90
Growth: The growth dimension presents an interesting trend, showing a consecutive increase in values starting at 64 in March 2023 and reaching 85 by August 2023. This reflects a steady growth trajectory for Johnson & Johnson during this period.
Growth Rating in March 2023: 64

Growth Rating in August 2023: 85
In conclusion, JNJ exhibits strong performance in the areas of Stability and Quality with notably positive trends in its Growth, as seen from the POWR Ratings.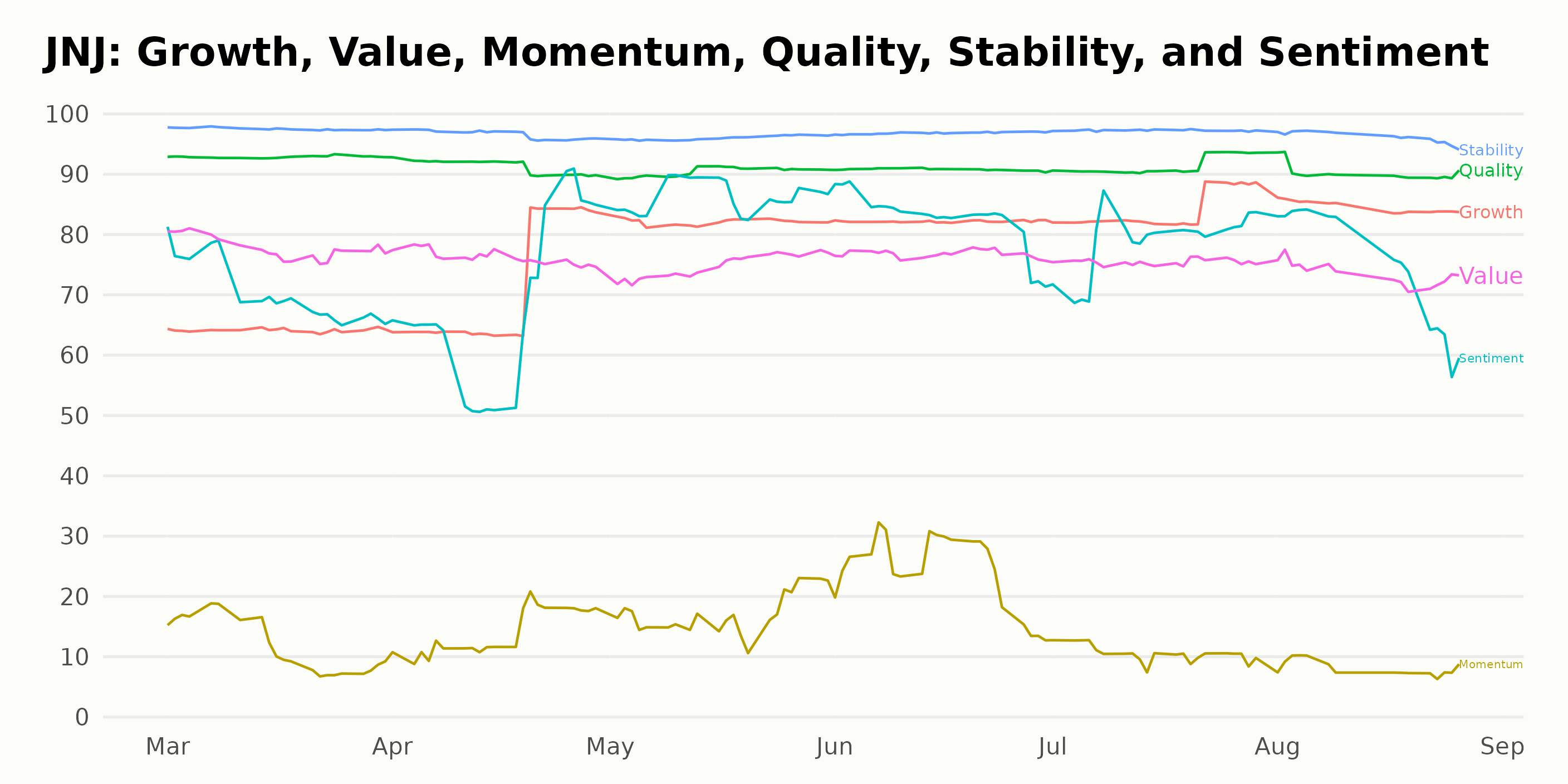 How does Johnson & Johnson (JNJ) Stack Up Against its Peers?
Other stocks in the Medical - Pharmaceuticals sector that may be worth considering are Novartis AG (NVS), AstraZeneca PLC (AZN), and Santen Pharmaceutical Co., Ltd. (SNPHY) - they also have an overall A (Strong Buy) rating.
43 Year Investment Pro Shares Top Picks
Steve Reitmeister is best known for his timely market outlooks & unique trading plans to stay on the right side of the market action. Click below to get his latest insights…  
Steve Reitmeister's Trading Plan & Top Picks >
---
JNJ shares were trading at $163.72 per share on Monday afternoon, down $2.53 (-1.52%). Year-to-date, JNJ has declined -5.27%, versus a 16.21% rise in the benchmark S&P 500 index during the same period.
---
About the Author: Anushka Dutta
Anushka is an analyst whose interest in understanding the impact of broader economic changes on financial markets motivated her to pursue a career in investment research.
Is Johnson & Johnson (JNJ) a Buy Before September Begins?
appeared first on
StockNews.com