Catalyst Pharmaceuticals (CPRX) reported robust second-quarter results, with its topline reaching an all-time high. Does that mean it's time to buy the pharma stock now? Let's look at its financial metrics to gauge its prospects…
Catalyst Pharmaceuticals, Inc. (CPRX) is a commercial-stage biopharmaceutical company that develops and commercializes therapies for patients with rare neuromuscular and neurological diseases.
The company reported a solid second-quarter result, with total revenues growing 87.5% year-over-year to an all-time high of $99.58 million. CPRX also raised its full-year 2023 total revenues forecast to be between $380 million and $390 million, indicating a 77% to 82% increase compared to 2022. 
However, the guidance assumes a continued recovery in macroeconomic and healthcare activity throughout this year and related to the current COVID-19 environment.
The stock closed its last trading session at $14.44, higher than its 50-day and 100-day moving averages of $13.31 and $14.22 but lower than its 10-day and 200-day moving averages of $14.56 and $15.37, respectively.
Given this backdrop, let's look at the trends of CPRX's key financial metrics to understand why it could be wise to wait for a better entry point in the stock.
Spotlight on Catalyst Pharmaceuticals: An Insight into its Financial Performance from 2020 to 2023
The data presented tracks the trailing-12-month net Income of CPRX from September 2020 to June 2023. Here are summarized points:
Starting at a solid base of $71.48 million in September 2020, CPRX's net income showed minor fluctuations over the next year.

It encountered a slight decline in the third quarter of 2021, falling to $41.61 million by September 2021.

This dip continued into the fourth quarter of 2021, with net income settling at approximately $39.48 million in December 2021.

However, commencing from the first quarter of 2022, the company's net income started to show a strong upward trend, and by March 2022, it had already rebounded to $45.06 million.

The upward momentum sustained through the second and third quarters of 2022, growing to $54.50 million and $66.92 million, respectively.

The net income peaked at the end of the fourth quarter of 2022, reaching $83.08 million by December 2022.

This positive trend didn't cease there. In the first half of 2023, CPRX maintained this growth trajectory. The company capped off June 2023 with a net income of $115.55 million.
Analyzing the data from September 2020 to June 2023, CPRX's net income demonstrated an impressive growth rate, expanding from an initial figure of $71.48 million to a high of $115.55 million. This gives an approximate increase of 61.55%, emphasizing a victorious financial performance for CPRX throughout the time period stated.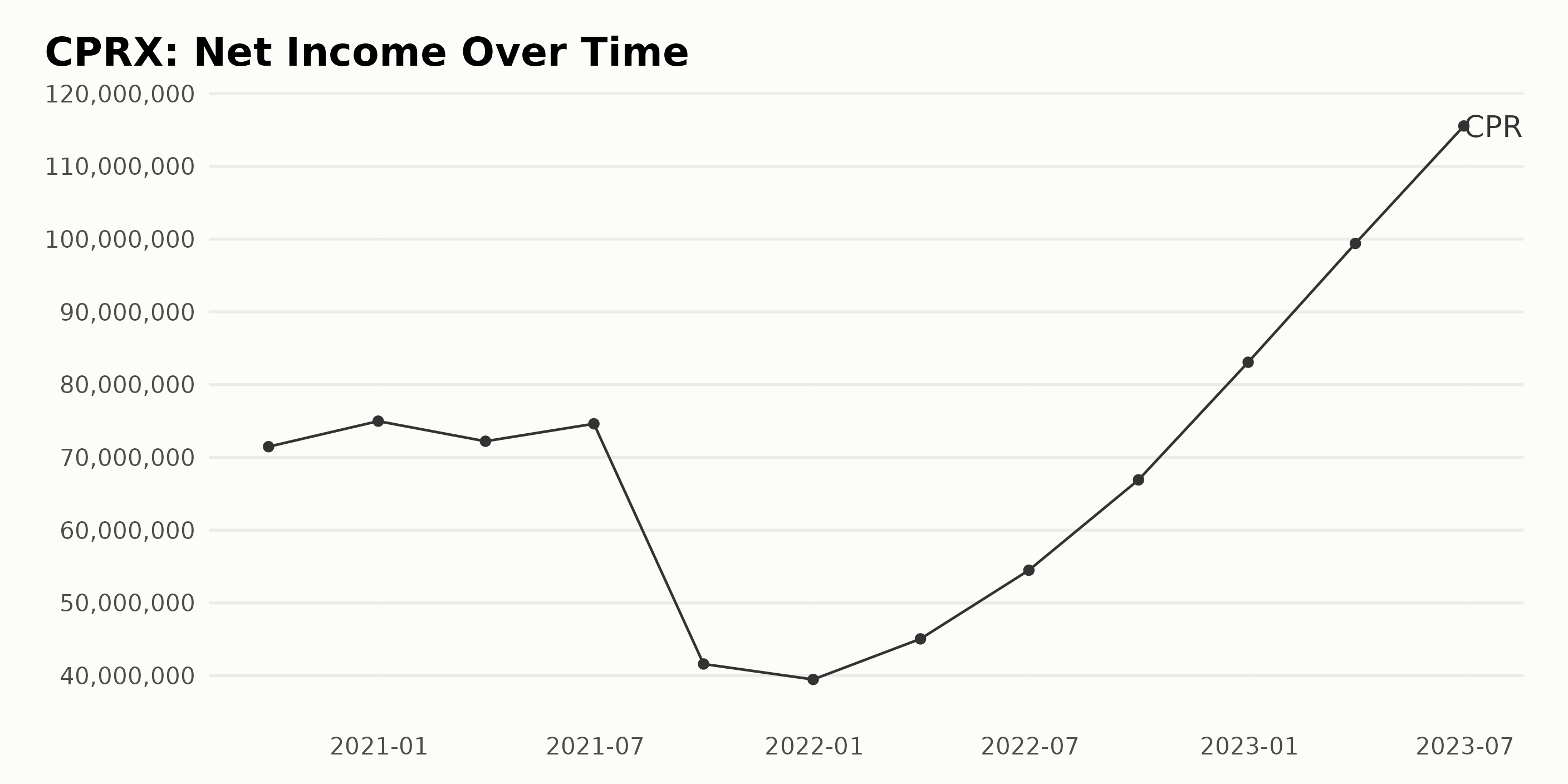 The gross margin of CPRX shows a fluctuating trend from the start of the fourth quarter of 2020 to the end of the second quarter of 2023. CPRX gross margin key data: 
In the fourth quarter of 2020, the gross margin was 86.00%.

This margin slightly decreased to 85.70% by the end of the fourth quarter of 2020.

We observed a slight decrease in gross margin to 85.40% by the first quarter of 2021, followed by a minute increase to 85.80% in the second quarter of 2021.

It then dipped to 85.50 % in the third quarter of 2021 and further dropped to 84.50% by the year's end for the fourth quarter of 2021.

The trend showed a minor recovery, up to 85.00% by the first quarter of 2022 but downhill to 84.60% in the second quarter of 2022, then continuing to decrease to 84.10% in the third quarter of 2022.

By the end of the fourth quarter of 2022, it slightly decreased to 83.90%.

In the first quarter of 2023, the gross margin saw an increase to 85.00%, and this upward trend continued into the second quarter of 2023, with the most recent value at 85.90%.
Despite these fluctuations, the overall gross margin growth rate from the fourth quarter of 2020 to the second quarter of 2023 is -0.01% implying a marginal decline over the period under review.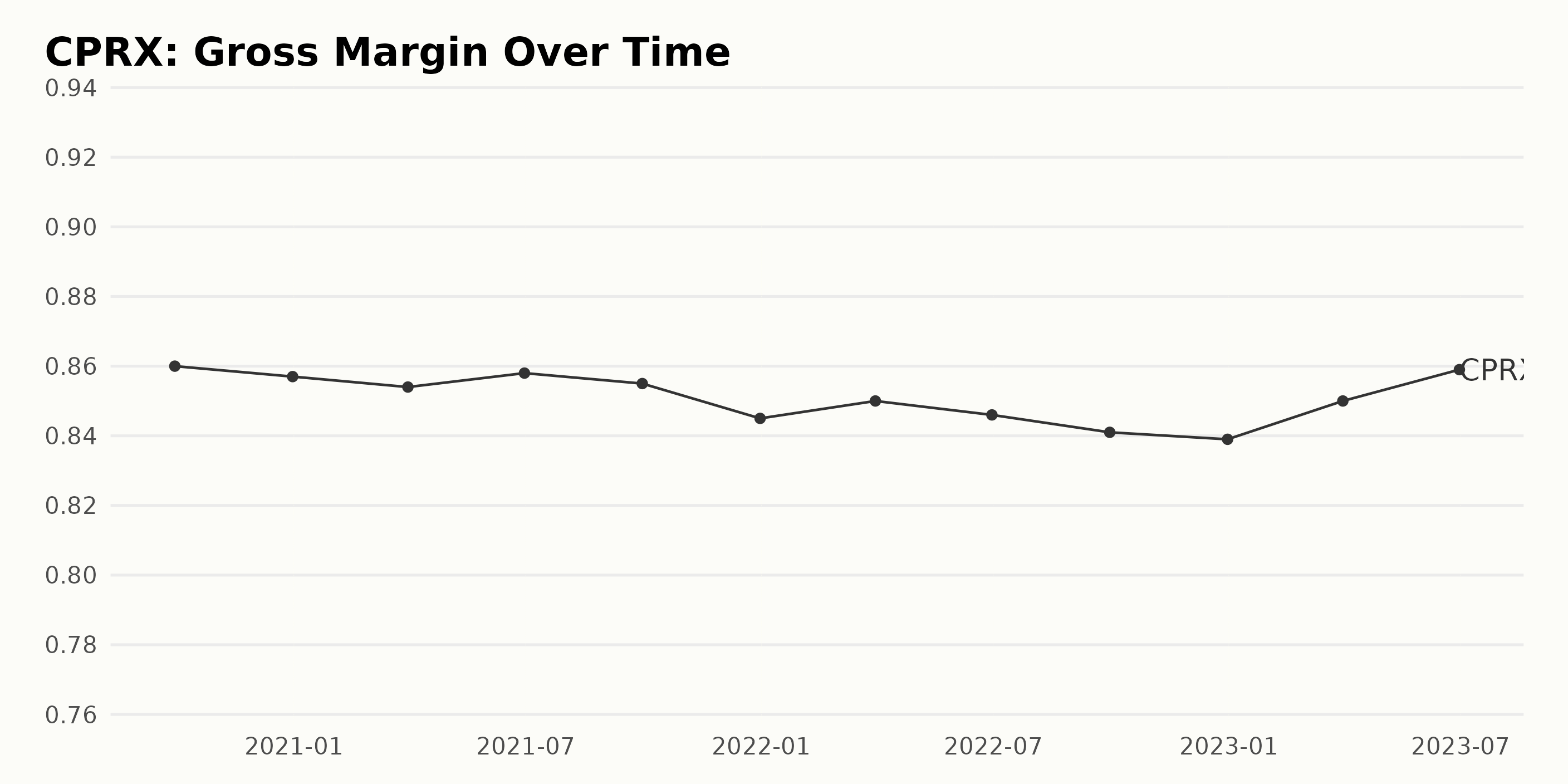 The financial data series reflects the Return on Assets (ROA) of CPRX. Key trends and fluctuations are summarized below:
The ROA on September 30, 2020, stood at 0.53.

A declining trend was observed from this point, with the value falling to 0.49 at the end of December 2020 and further dropping to 0.42 at the end of the first quarter of 2021.

By June 30, 2021, the ROA declined to 0.39, and a remarkable drop was observed by the end of the third quarter of 2021, where it stood at 0.20.

The figure kept depreciating and hit its lowest at 0.18 by the end of 2021.

However, starting from the first quarter of 2022, an upward trend emerged, with the value rising marginally to 0.20 by March 31, 2022.

This incremental trend persisted throughout the year, with ROA reaching 0.22 by the end of the second quarter of 2022, 0.25 at the end of the third quarter of 2022, and finally topping at 0.27 as of December 31, 2022.

The upward trend continued into 2023, with the ROA sitting at 0.29 by the end of March and slightly increasing to 0.30 by the end of June 2023.
Overall, the ROA of CPRX faced a diminishing trend from the end of the third quarter of 2020 to the end of 2021, followed by an improving phase throughout 2022 and the first half of 2023.
Between September 2020 and June 2023, the ROA grew by approximately -43%, measured from the first value of 0.53 to the last value of 0.30. It's crucial to note the more recent upward trend since this may indicate improving profitability for CPRX.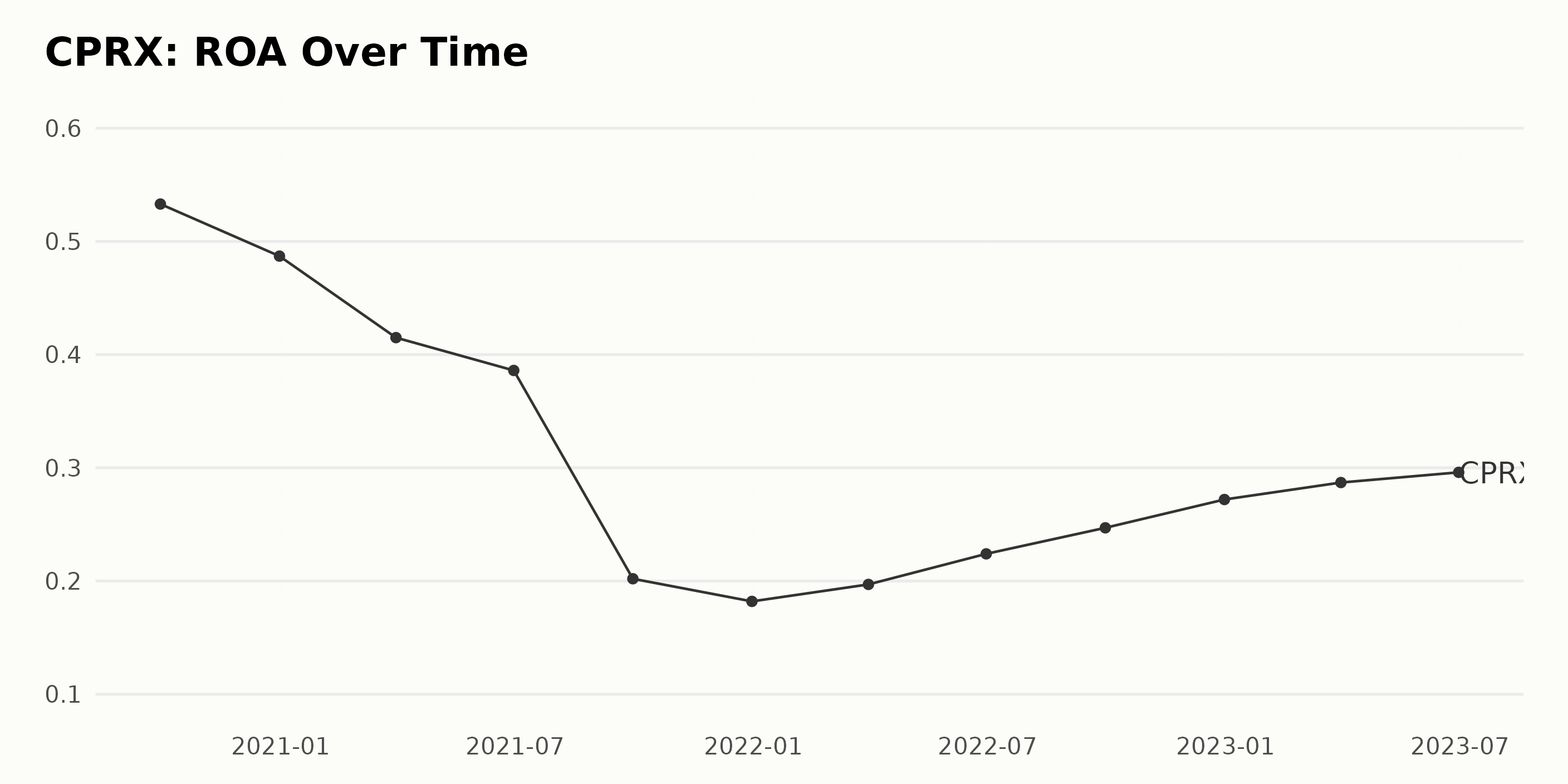 The current ratio of CPRX has shown both trends and fluctuations over the observed period from September 2020 to June 2023.
September 2020: The current ratio began at 7.86.

December 2020: A slight decrease to 7.00 was recorded.

March 2021: A significant jump to 11.19 unfolded, marking the highest point in the series.

June 2021: A slight reduction to 10.93 followed.

September 2021: The ratio fell further to 9.35.

December 2021: Another downward movement was seen, landing the ratio at 7.76.

March 2022: An increase to 9.64 was witnessed.

June 2022: Another rise to 10.79 transpired.

September 2022: A sharp drop took place, plunging the ratio to 6.18.

December 2022: A smaller decrease was exhibited to hit 5.57.

March 2023: The ratio reached its lowest point in the series at 3.51.

June 2023: A rebound effect increased the ratio to 4.59 at the end of the data series.
Most recent data shows a generally decreasing trend, with the company's current ratio fluctuating significantly. From the first recorded value in September 2020 to the most recent in June 2023, the data indicates a decline of around 41.58%. Comparatively, the last value, recorded in June 2023, represents a slight improvement from the three months earlier when the current ratio hit its recorded series low.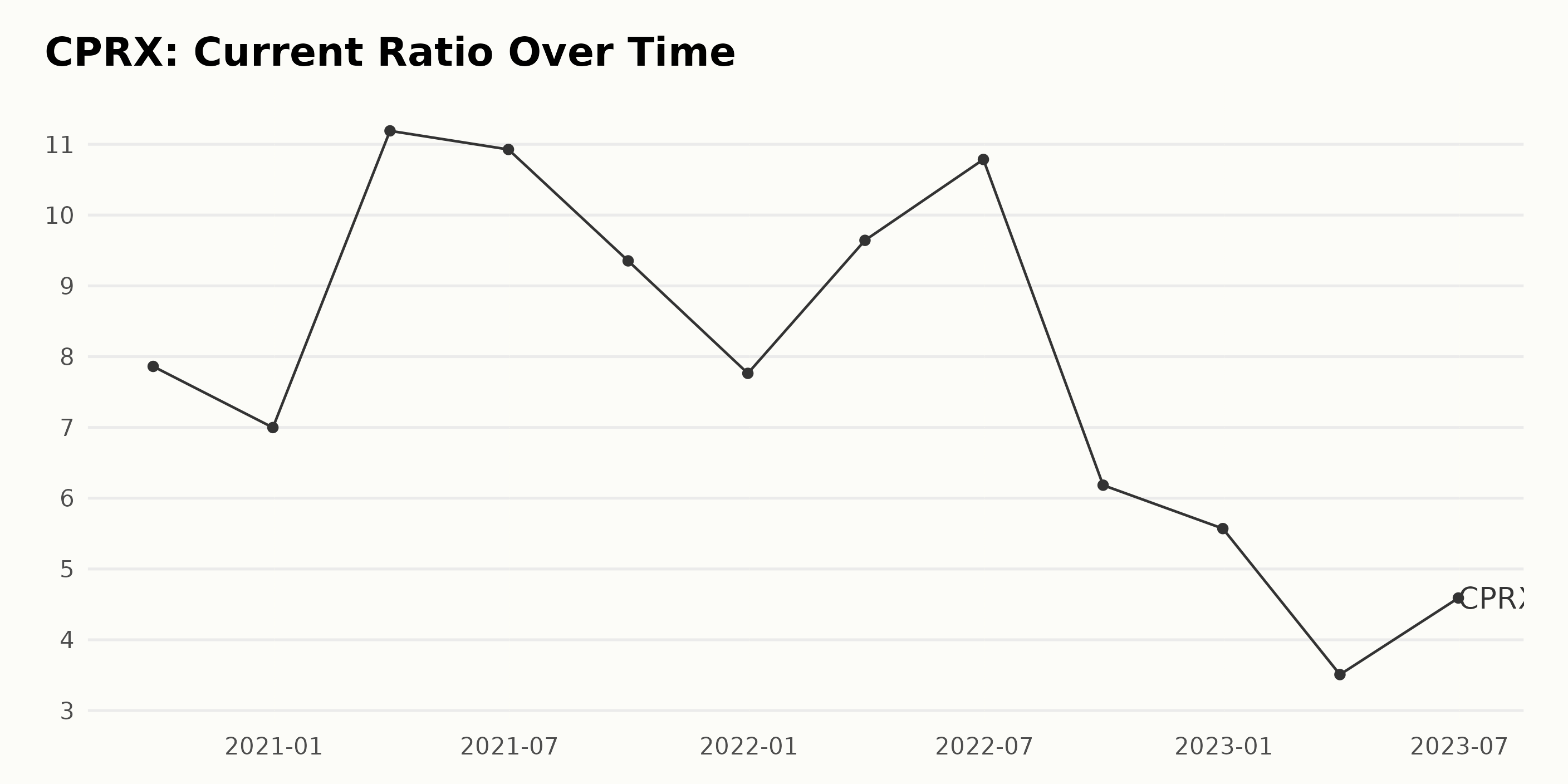 Analyzing Catalyst Pharmaceuticals' Share Price Fluctuations: February-August 2023
The data provided indicates a fluctuating trend in the share value of CPRX over the period from February to August 2023:
The share value started at $15.31 on February 24, 2023.

There was a slight increase in March, with the price peaking at $16.53 by the end of the month.

This upward trend continued into April when the share price reached its highest value of $17.61 on April 14, 2023. However, this was followed by a rapid decline to $16.04 by the end of April.

A similar pattern happened in May, with a brief recovery to $16.78 on May 5, quickly followed by a significant downtrend, with the share price falling to $11.89 by May 26.

For the rest of the time period, the share prices remained relatively stable, hovering around the $12 mark throughout June.

In July and August, there was a steady upward trend, ending at $14.44 on August 18, 2023.
Overall, the growth rate of CPRX's share price experienced both ups and downs, with bouts of acceleration and deceleration. The most significant growth occurred in March and April 2023. Following this, however, there was a notable deceleration in the price until the end of May.
From then onwards, the value generally stabilized with gradual growth in July and August. This demonstrates the volatility of the CPRX share price within this given period. Here is a chart of CPRX's price over the past 180 days.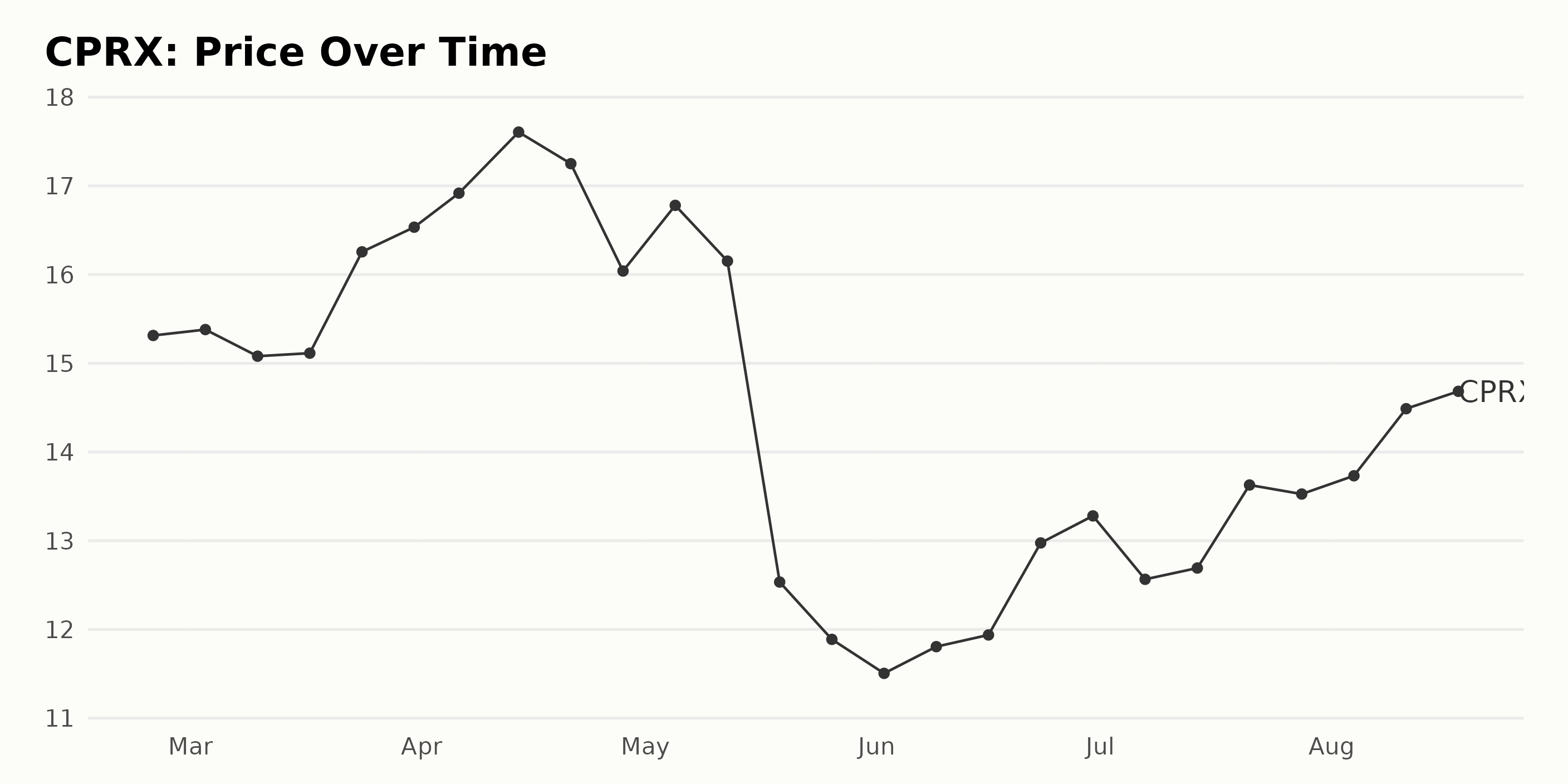 Assessing Catalyst Pharmaceuticals' Performance through Quality, Growth, and Value Dimensions
CPRX, a stock in the Medical - Pharmaceuticals category with 164 stocks, has seen variation in its POWR Ratings grade and ranking within the category over the past few months. Here is a breakdown:
In February and March 2023, CPRX held a steady B (Buy) grade and fluctuated within the top 20-25 ranks, showing a relatively strong performance.

During April 2023, it maintained its B (Buy) grade but saw a slight drop in its category rank. Notably, by the end of April, the POWR grade improved to A (Strong Buy) while maintaining a high position in the category.

In May 2023, it received an A (Strong Buy) grade initially but dropped to a B (Buy) grade with a rank around #27. Furthermore, by the end of May, its POWR grade degraded to C (Neutral), pushing it to the mid-40s rank.

June showed a mix of C (Neutral) and B (Buy) grades and an overall inferior ranking compared to previous months.

From July to mid-August 2023, CPRX consistently received a C (Neutral) grade, indicating an average performance. Its rank dropped further, peaking at #60 by mid-August, suggesting a relative underperformance within its category.

As of the latest data entry on August 21, 2023, the POWR grade for CPRX stands at C (Neutral), placing it #60 in its category.
Based on the POWR Ratings for CPRX along various dimensions, the three most noteworthy dimensions include Quality, Growth, and Value. These dimensions consistently received the highest ratings over time compared to other dimensions.
Quality: CPRX has consistently high Quality ratings, which notably increased from 93 in February 2023, 94 in March 2023, and 95 in April 2023, to eventually declining to 77 by August 2023. Despite the later decrease, it still provides among the strongest ratings.

Growth: The Growth dimension also recorded strong scores initially but showed a decreasing trend over the period. It started with a rating of 88 in February 2023, maintained this rating till April 2023 before starting to decline to 67 by July 2023, and further dropping to 51 by August 2023.

Value: CPRX's value ratings were strong and relatively stable throughout the timeframe, starting at 87 in February and finishing at 84 in August 2023. The Value dimension fluctuation was minimal, with only a slight decrease over time.
In summary, while all three dimensions, Quality, Growth, and Value, started quite strongly for CPRX, only the Quality and Value ratings remained high and relatively steady throughout the period under review. The Growth dimension, while initially robust, did show a clear downward trend over time.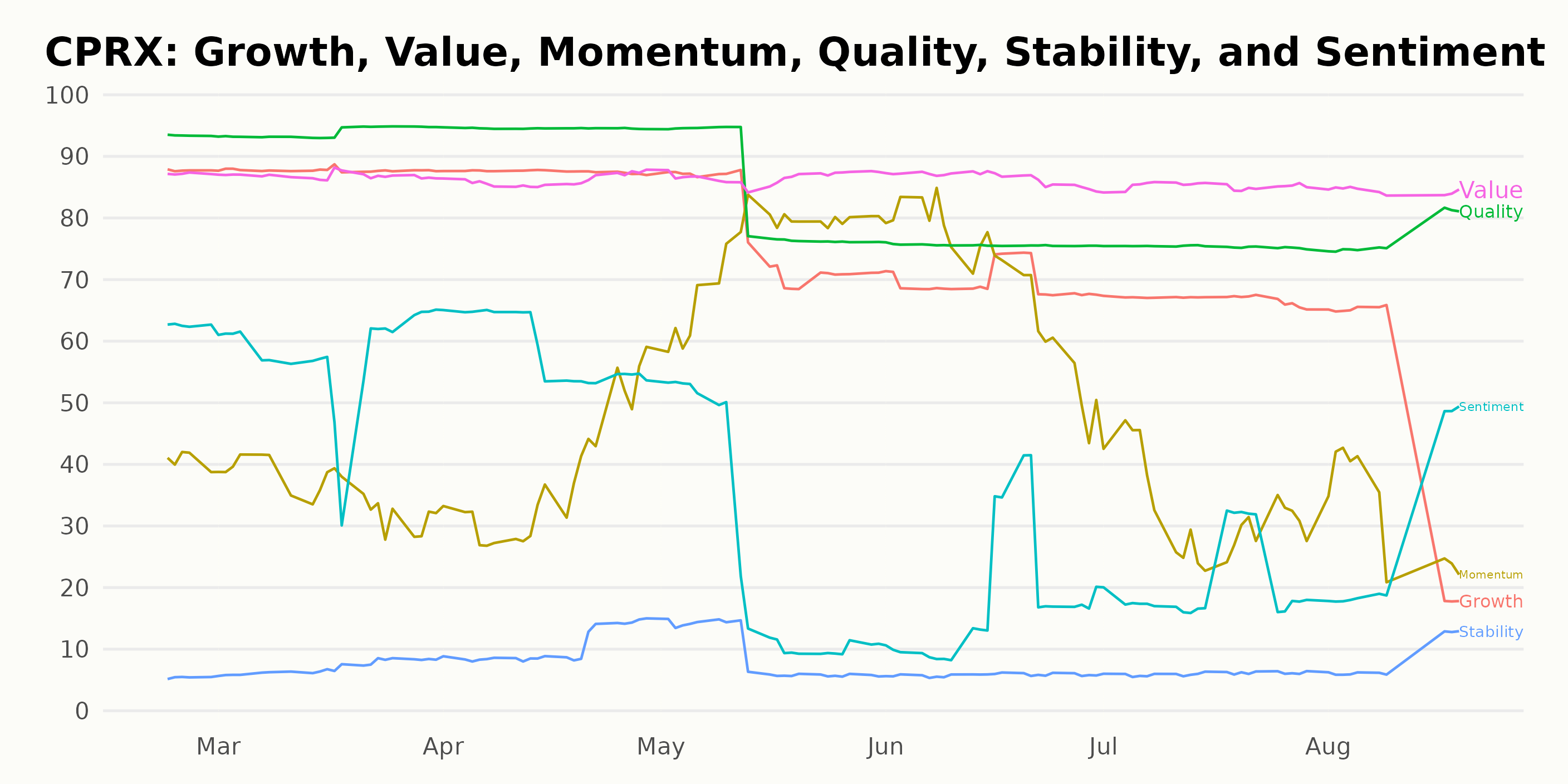 How does Catalyst Pharmaceuticals, Inc. (CPRX) Stack Up Against its Peers?
Other stocks in the Medical - Pharmaceuticals sector that may be worth considering are Novartis AG (NVS), Santen Pharmaceutical Co., Ltd. (SNPHY), and Novo Nordisk A/S (NVO) - they have better POWR Ratings.
What To Do Next?
Discover 10 widely held stocks that our proprietary model shows have tremendous downside potential. Please make sure none of these "death trap" stocks are lurking in your portfolio:
---
CPRX shares were trading at $14.51 per share on Monday morning, up $0.07 (+0.48%). Year-to-date, CPRX has declined -21.99%, versus a 14.76% rise in the benchmark S&P 500 index during the same period.
---
About the Author: Anushka Dutta
Anushka is an analyst whose interest in understanding the impact of broader economic changes on financial markets motivated her to pursue a career in investment research.
Catalyst Pharmaceuticals (CPRX): Is Now the Time to Buy This Pharma Stock?
appeared first on
StockNews.com