In April, e-commerce company ContextLogic (WISH) announced a stock repurchase program and a 1-for-30 reverse stock split. With significant implications of the developments for the stock, would it be wise to buy it now? Let's look at its financial metrics to answer that…
ContextLogic Inc. (WISH) is a mobile e-commerce company that operates the Wish platform, which connects users to merchants. On April 11, the company enacted a 1-for-30 reverse split of its Class A common stock, reducing the number of shares of outstanding common stock.
However, the market does not seem to have taken this move positively, as the stock has lost 26.7% since April 12, closing the last trading session at $7.19, lower than its 50-day moving average of $8.42 and 200-day moving average of $18.45.
On the other hand, in the same month, WISH announced a $50 million share repurchase program. The company expects to unlock long-term shareholder value through the program.
Amid this, let's look at its key financial metrics trends to understand why the stock might be avoided now.
Analyzing the Decreasing Performance of WISH
The revenue of WISH has been fluctuating over the past few years, dropping from a peak of $2.54 billion on December 31, 2020, to $478 million on March 31, 2023. This represents a decrease in revenues of 81.1% over these two periods. In the interim, there have been varying levels of decreased revenue between these two dates.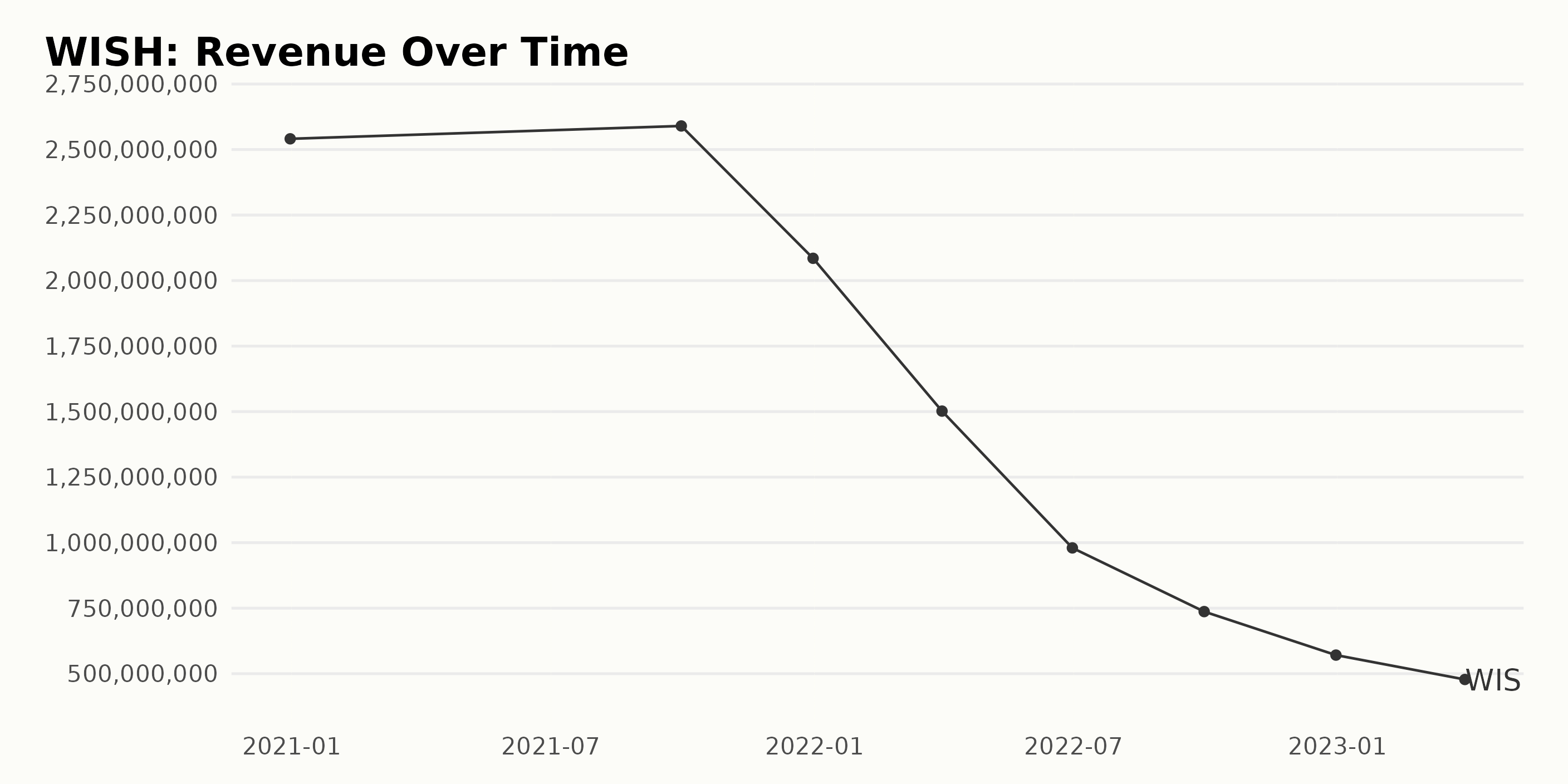 The series of data for WISH's gross margin shows a decreasing trend with some fluctuations. The gross margin reported on December 31, 2020, was 62.7%, which decreased to 55.6% on September 30, 2021.
There was a further decrease to 53.1% by December 31, 2021. Further decreases were seen in the subsequent quarters, with the gross margin reaching 25.5% by March 31, 2023. Overall, the gross margin had dropped 32.2% from its original value at the beginning of the series.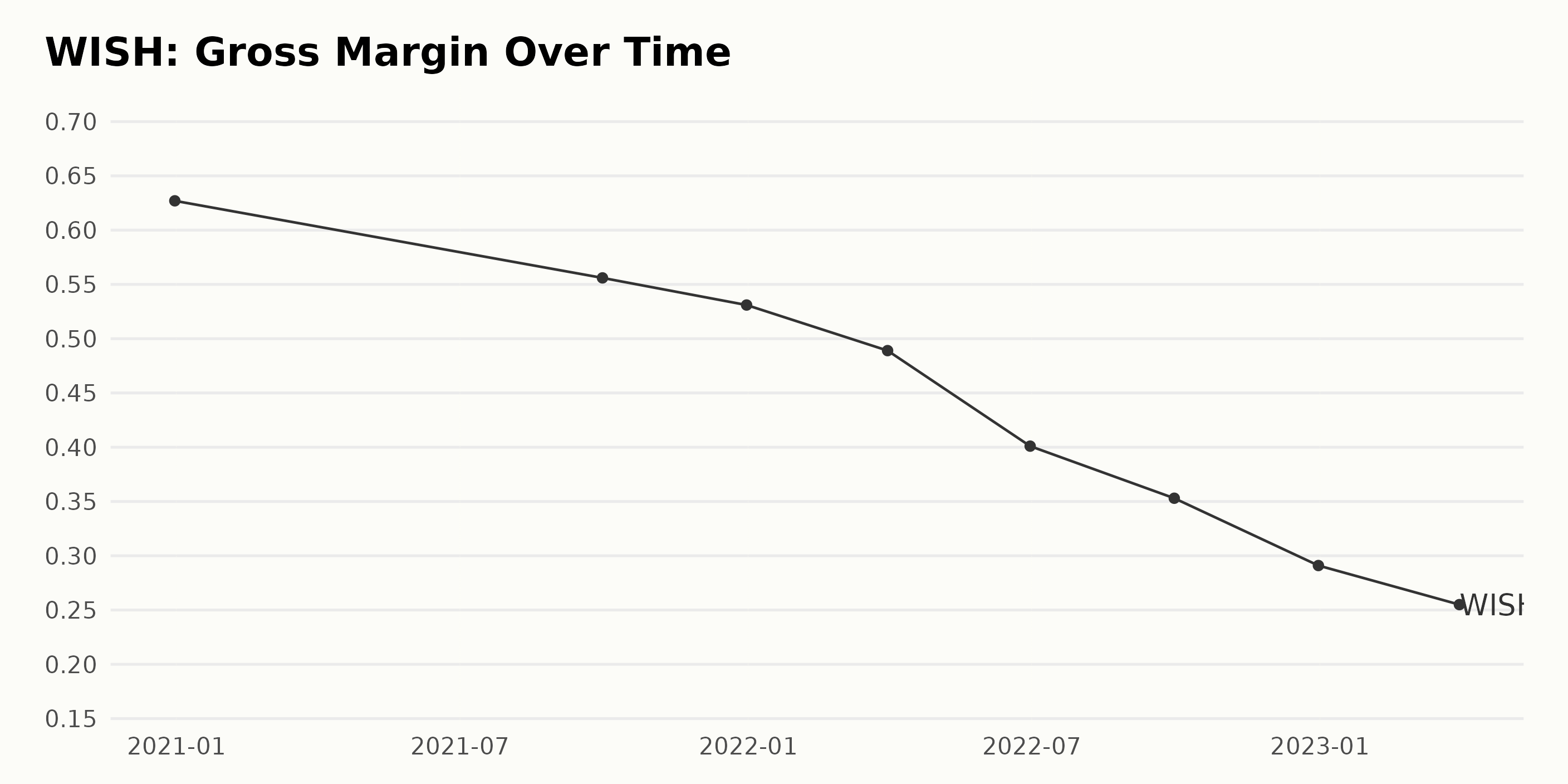 The reported ROS of WISH has experienced a declining trend since December 2020, with an overall growth rate of -2.31%. The lowest value in this series, at -0.862, was recorded on March 31, 2023.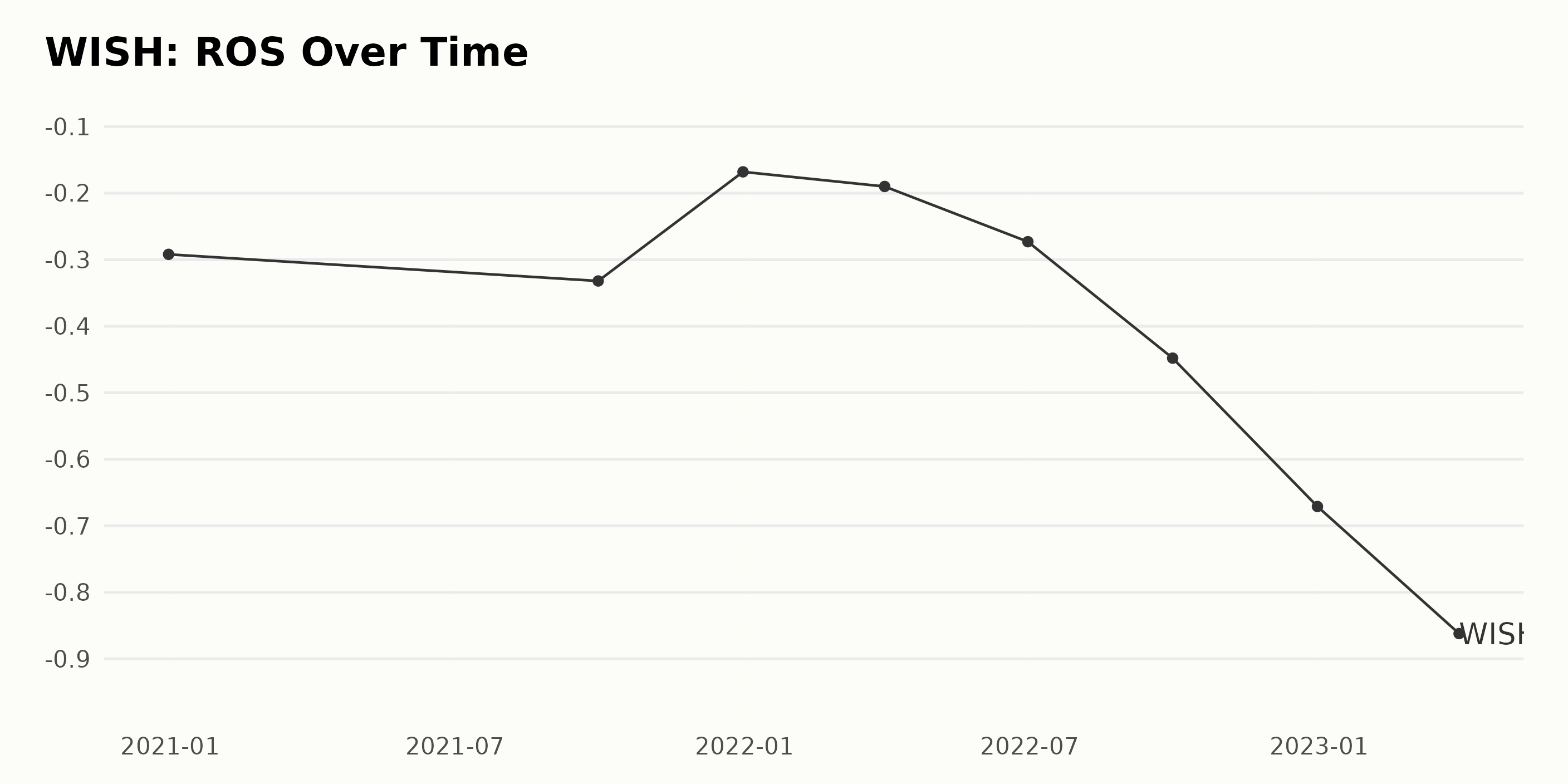 The analyst price target for WISH has been fluctuating over the past couple of years; the trend has been downward. The most recent value is $7.8, lower than the first value of $13.5 in April 2021. This marks a decrease of 43.7%.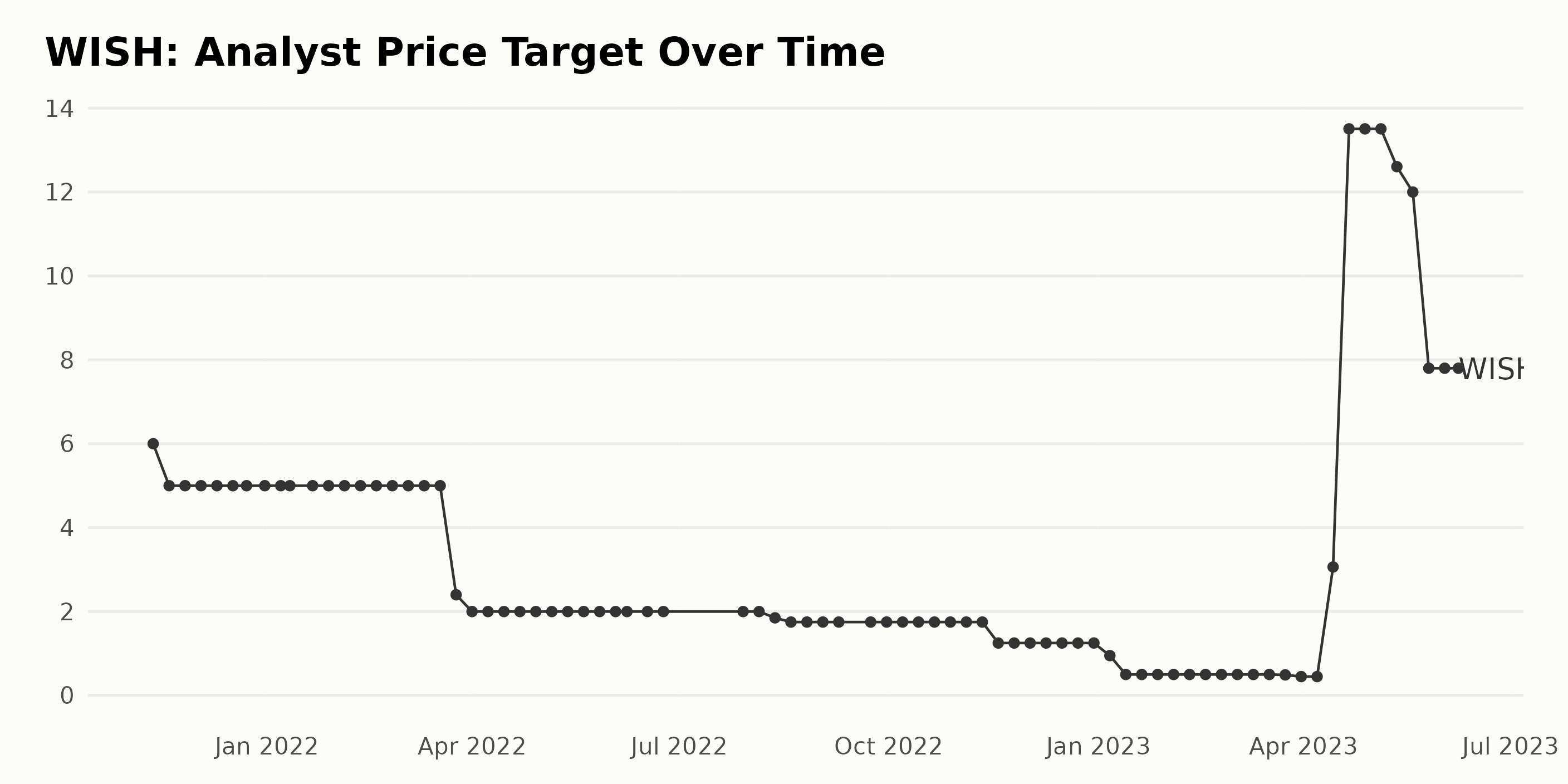 Declining Share Prices of WISH Over 180 Days
There is a clear downward trend in the share prices of WISH from December 16, 2022, to June 7, 2023. The highest share price was $25.27 on February 17, 2023, and the lowest share price was $6.95 on May 5, 2023. The growth rate in the share prices has been decreasing as time has progressed. Here is a chart of WISH's price over the past 180 days.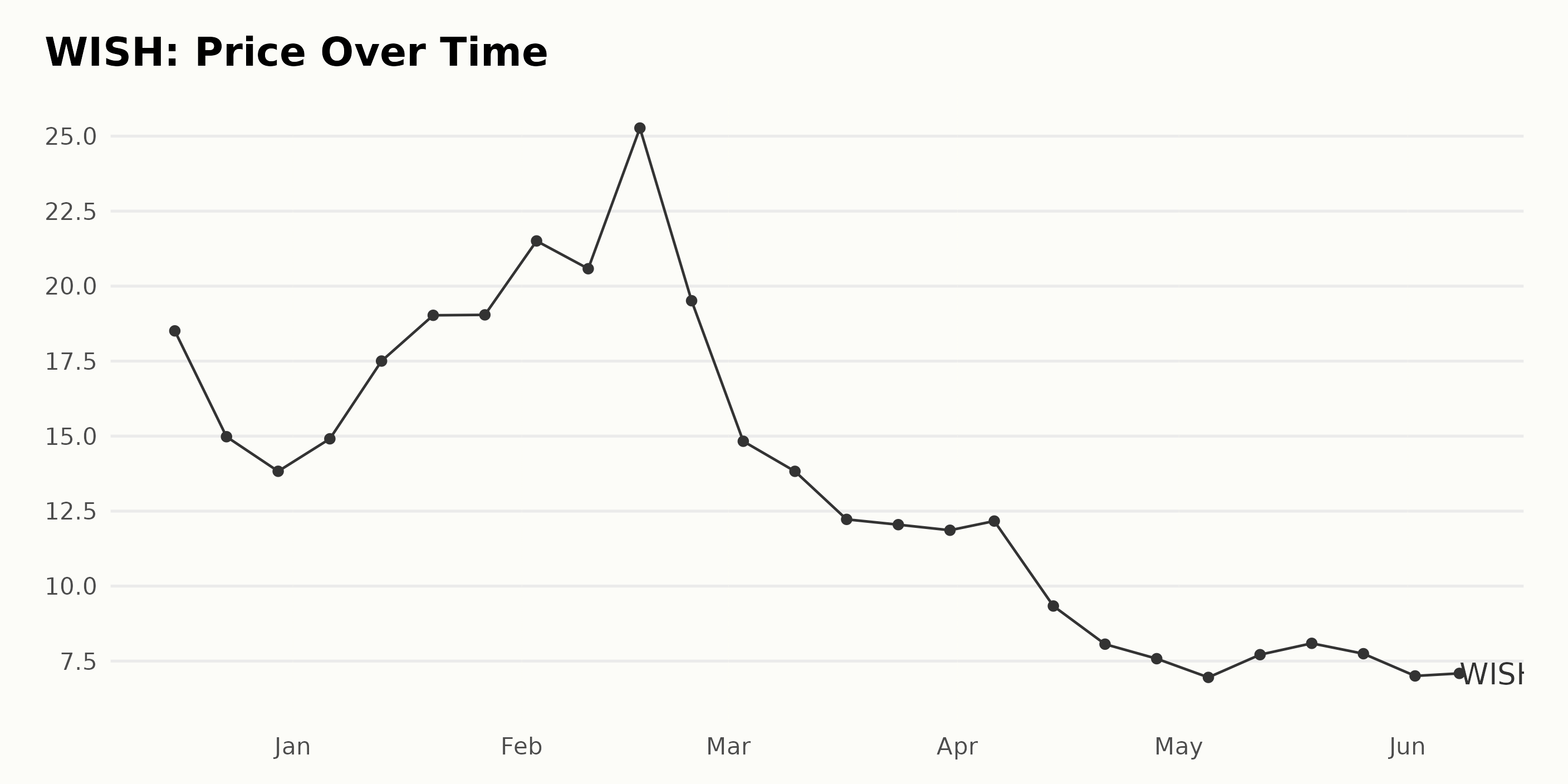 Tracking WISH's Three-Dimensional Performance Over Time
WISH has an overall POWR Ratings grade of D, which equates to Sell. Its rank in the category is #54 out of the 58 stocks in the D-rated Internet industry.
The POWR Ratings for WISH along six dimensions – Growth, Momentum, Quality, Sentiment, Stability, and Value – have improved trends. The highest rating is for Momentum, which peaked at 66 in February 2023.
Growth has steadily improved, increasing from 12 in December 2022 to 58 in June 2023. Quality also improved significantly, beginning at 17 in December 2022 and increasing to 28 in April 2023. Lastly, the dimension with the lowest rating was Stability, which maintained its value of 1 from December 2022 to June 2023.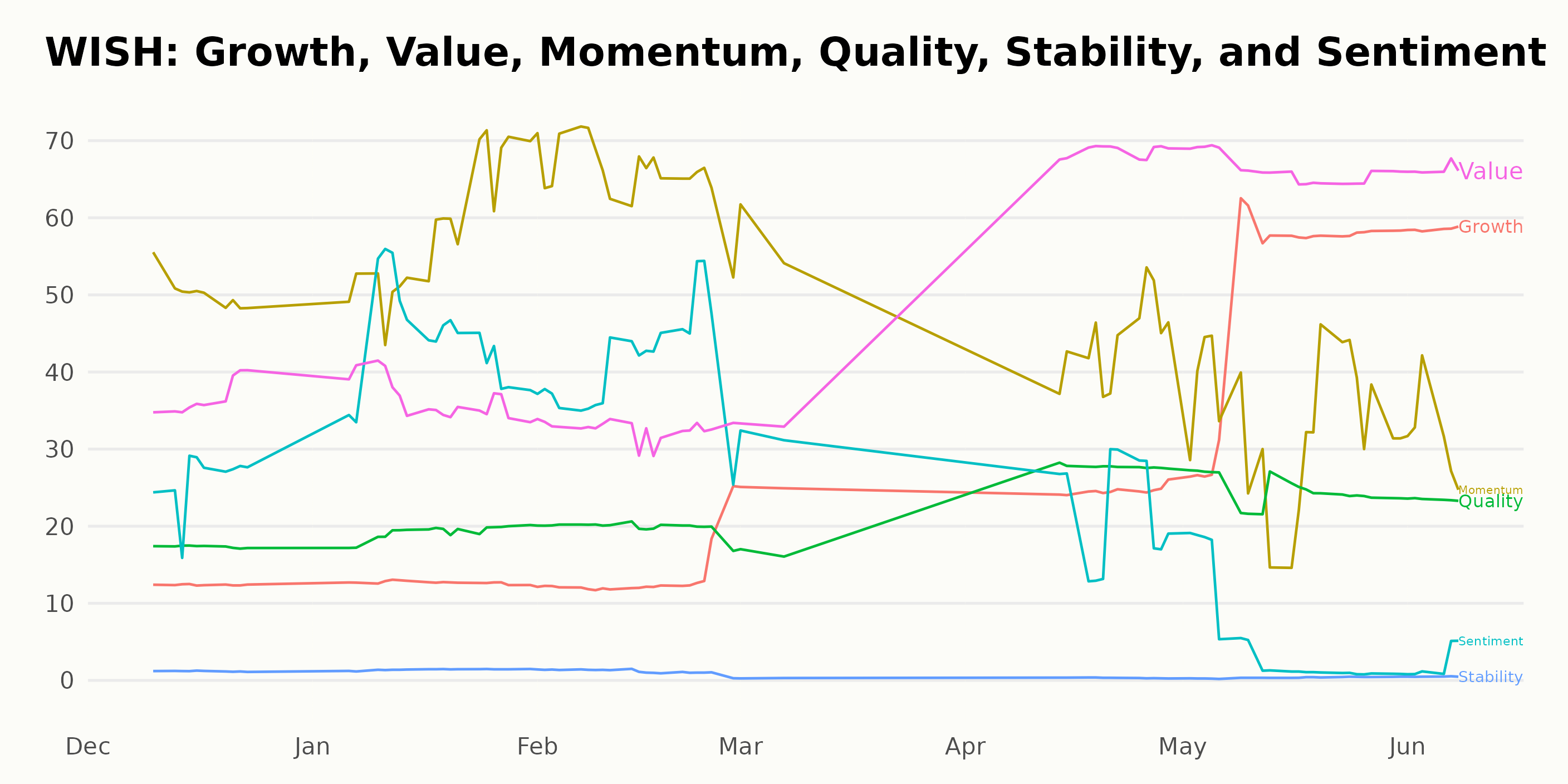 How does ContextLogic Inc. (WISH) Stack Up Against its Peers?
Other stocks in the Internet sector that may be worth considering are trivago N.V. (TRVG), Travelzoo (TZOO), and Yelp Inc. (YELP) – they have better POWR Ratings.
Is the Bear Market Over?
Investment pro Steve Reitmeister sees signs of the bear market's return. That is why he has constructed a unique portfolio to not just survive that downturn...but even thrive!
Steve Reitmeister's Trading Plan & Top Picks >
---
WISH shares were trading at $7.25 per share on Thursday afternoon, up $0.06 (+0.83%). Year-to-date, WISH has declined -50.45%, versus a 12.56% rise in the benchmark S&P 500 index during the same period.
---
About the Author: Anushka Dutta
Anushka is an analyst whose interest in understanding the impact of broader economic changes on financial markets motivated her to pursue a career in investment research.
ContextLogic (WISH): Buy or Sell?
appeared first on
StockNews.com