Streaming giant Netflix (NFLX) recently expanded its crackdown on password sharing worldwide. While this might boost revenues, there remains a risk of service cancellations. So, let's discuss whether you should buy, sell or hold the stock...
Netflix, Inc. (NFLX) is an established leader in the streaming world. Despite a longstanding stronghold on the industry, the entry of major companies such as Amazon.com, Inc. (AMZN) and Walt Disney Co. (DIS) has separated the streaming market into a highly competitive arena. Mounting competition and an increasingly divided market share pose a significant challenge for the company.
NFLX has been on a wild ride in 2022 as it started losing subscribers, pushing its stock to a multiyear low. However, it has rebounded sharply.
NFLX recently announced that it has five million subscribers to its ad-supported service, leading the stock to skyrocket. The company said more than a quarter of new signups are opting for the ad-supported plan in countries where it's available.
In addition, the company expanded its crackdown on password sharing to 103 countries and territories, alerting users that their accounts cannot be shared for free outside of their households and will be charged extra fees for shared passwords. The fee is $8 per month in the United States. Its ad-supported tier and password-sharing crackdown should boost cash generation.
However, NFLX's recent move on free riders induces a risk of cancellations. According to a survey by Aluma Insights from last year, 13% of adult Netflix users said they would likely cancel the service if Netflix charged $3 per month for additional out-of-home users.
So, it could be best to wait for further operational updates to understand the true potential of its strategy before investing in the stock. In this article, we'll take a deeper dive into some of its key metrics.
Tracking NFLX's Net Income, Revenue, Gross Margin & Current Ratio
NFLX has shown a positive trend in net income over the past three years. Its net income at the end of June 2020 was $26.82 billion, indicating a 16.6% growth from June 2017, when net income was reported at $23.04 billion. Since then, net income has steadily increased until the end of September 2021, when it reached its peak of $50.50 billion. The net income then dropped by 8.3% to end the year at $51.2 billion. The most recent data at the end of March 2023 shows a net income of $41.0 billion, which is 3.4% lower than the previous year.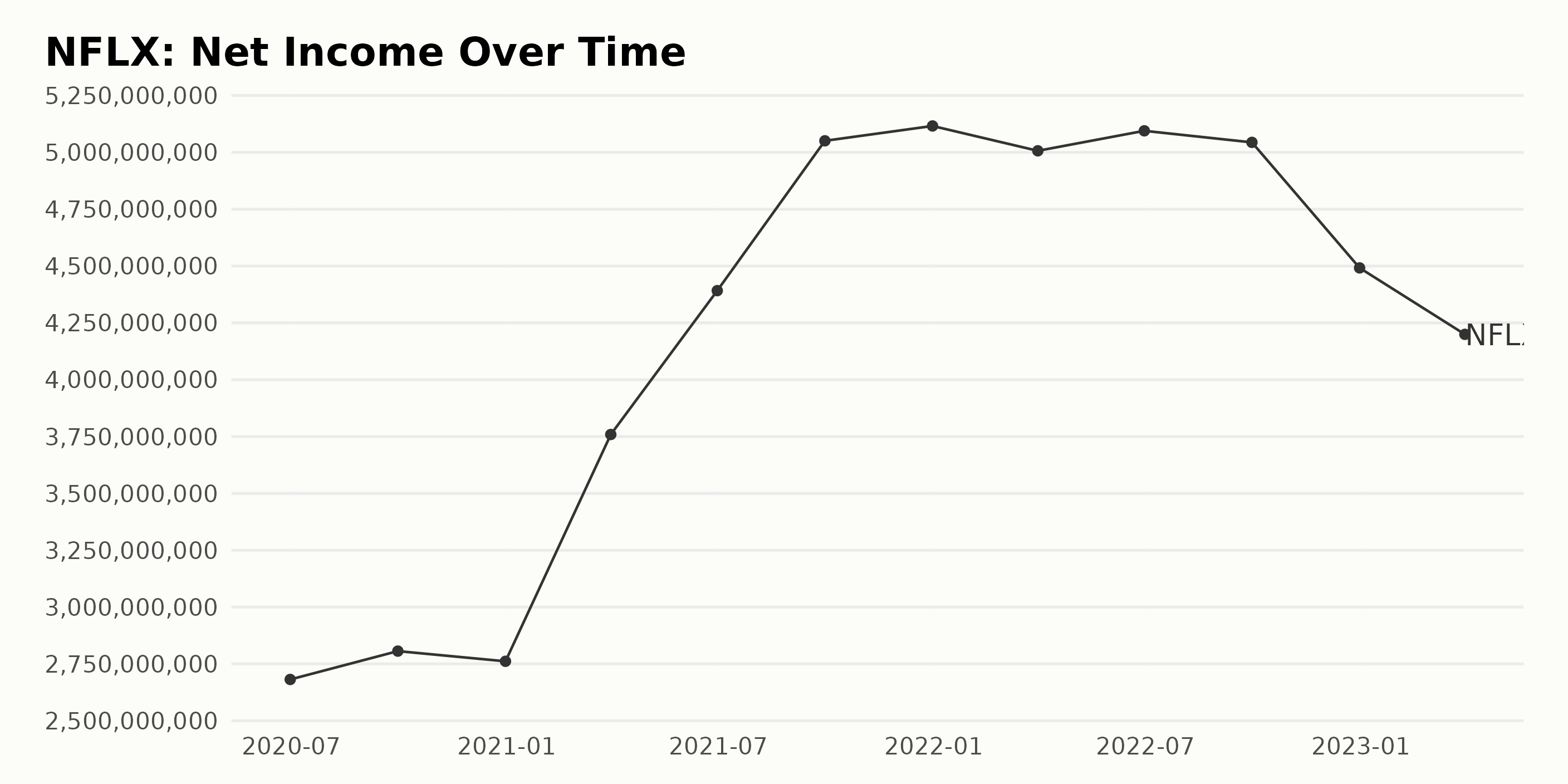 NFLX's revenue has experienced growth from June 2020 to March 2023, increasing from $22.63 billion to $31.91 billion, with a growth rate of 38.9%. The most recent quarter saw a jump of 2.7% from June 2021 to March 2023.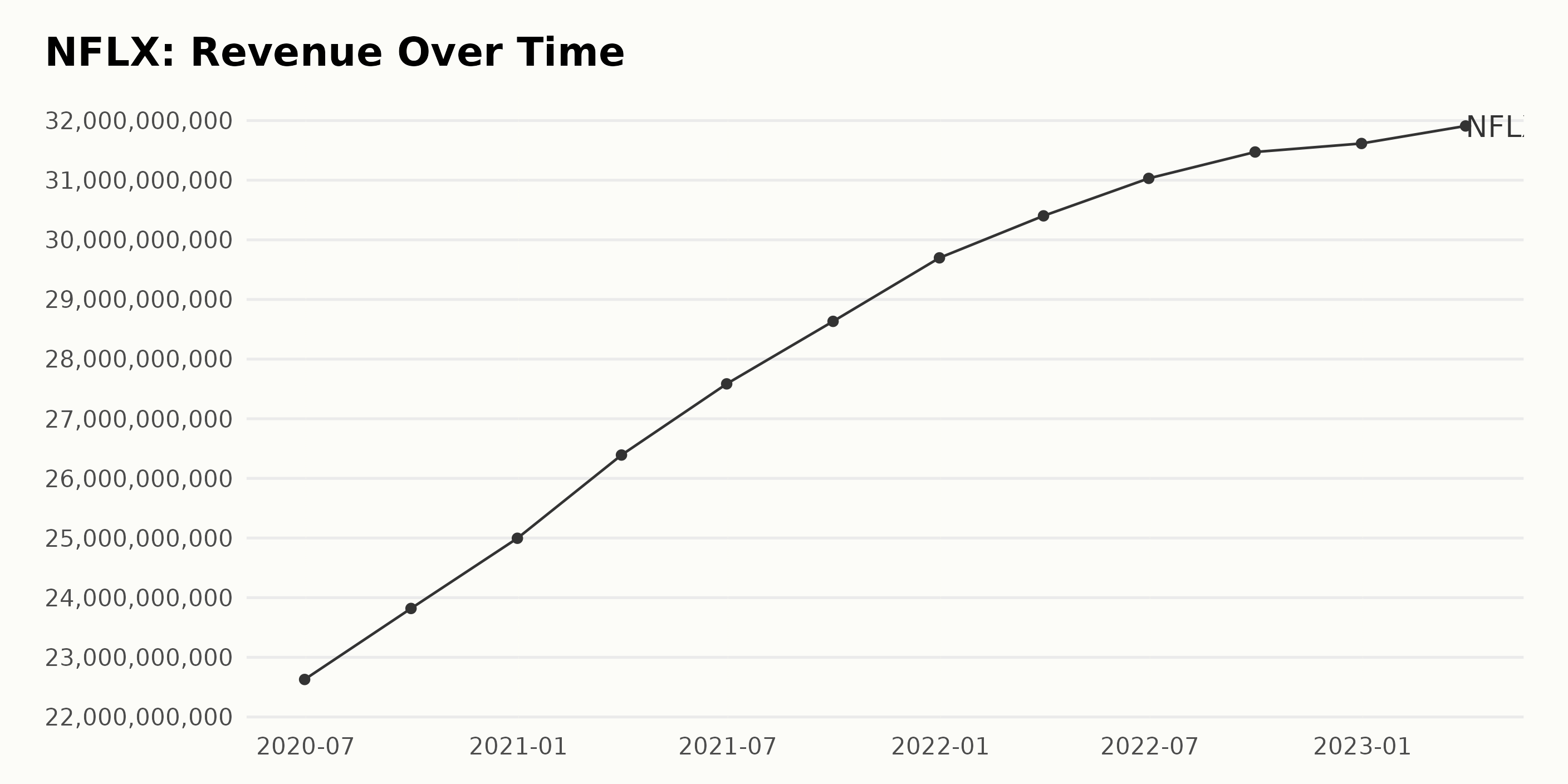 NFLX's gross margin has fluctuated from June 30, 2020, at 39.0%, to March 31, 2021, with a peak value of 41.1%. After that, there was a decline in the gross margin until March 31, 2023, when it stood at 38.3%. The gross margin has decreased by 14.3% since the start of the series.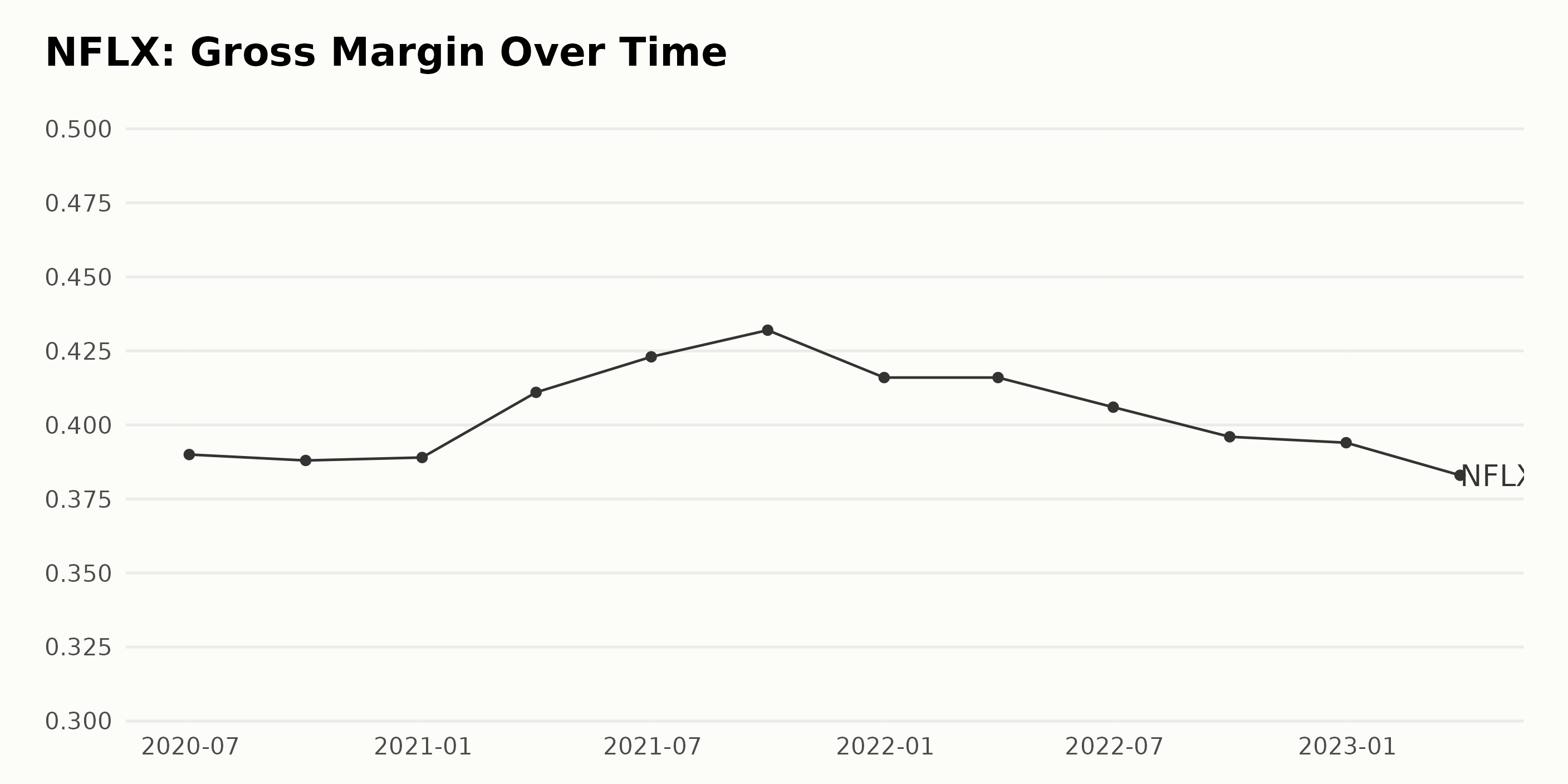 The company's current ratio has gradually increased from June 2020 (1.12) to March 2023 (1.26). However, there have been fluctuations, with a significant decrease in December 2021 (0.95) and moderate drops from June 2021 to September 2021 and September 2022 to December 2022. The overall trend is an increase in the current ratio. The growth rate is approximately 11.4% from June 2020 (1.12) to March 2023 (1.26).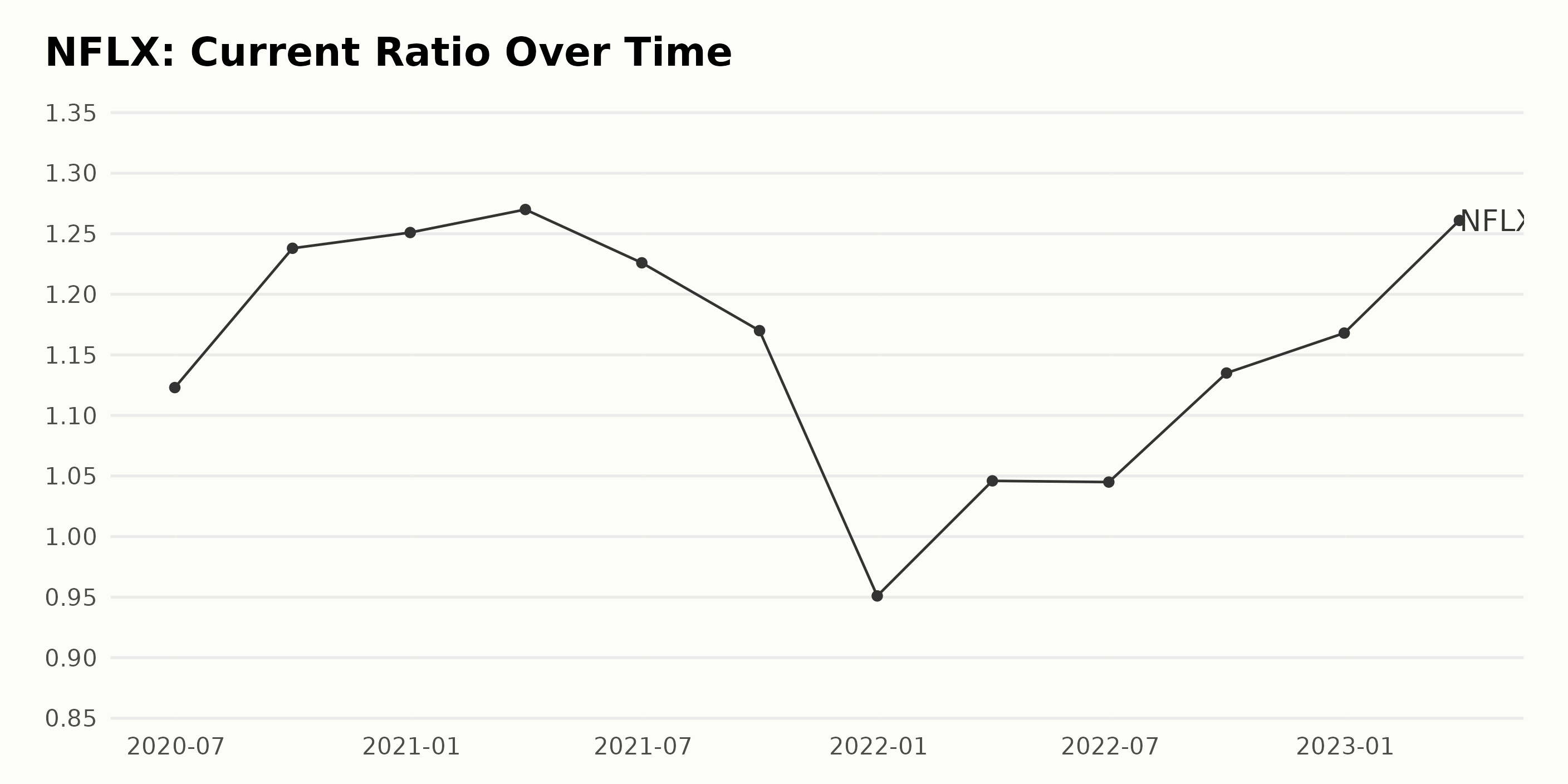 NFLX's Share Price Growth: 24% in 5 Months
There is an overall increasing trend in NFLX's share prices between December 2022 and May 2023. The share price started at $318.16 on December 2, 2022, and grew to a high of $394.16 by May 30, 2023, a growth rate of 24%. Here is a chart of NFLX's price over the past 180 days.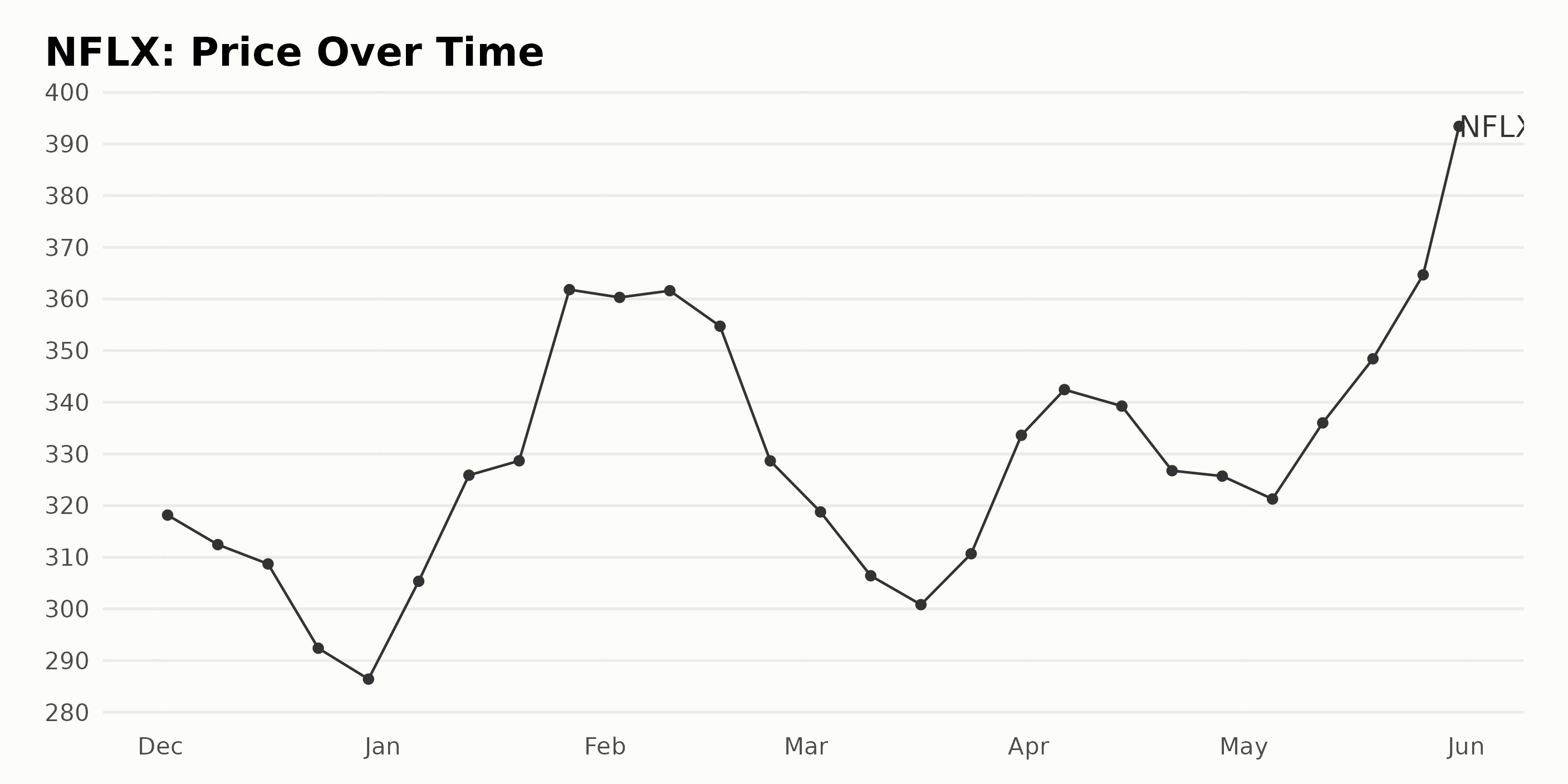 Analyzing NFLX's POWR Ratings
NFLX has an overall C rating, translating to a Neutral in our POWR Ratings system. It is ranked #31 out of 58 stocks in the Internet category.
The POWR Ratings for NFLX show that the highest ratings are in the Quality and Sentiment dimensions, with ratings of 83 and 58 as of December 31, 2022, respectively. The Momentum dimension has remained consistent, rated seven from December 31, 2022, to May 30, 2023. However, the ratings in the Growth, Stability, and Value dimensions have declined over that same period.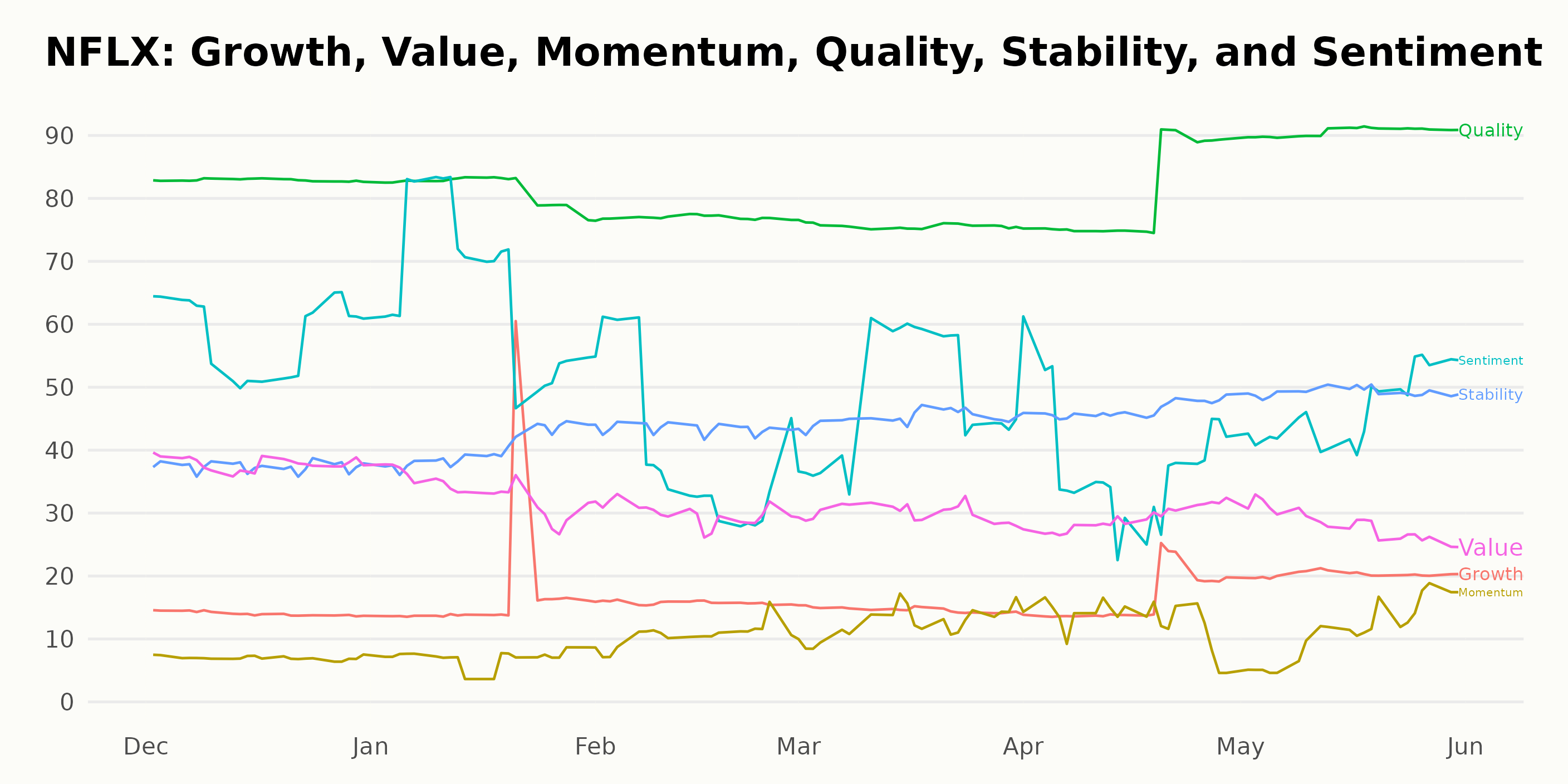 How does Netflix Inc. (NFLX) Stack Up Against its Peers?
Other stocks in the Internet sector that may be worth considering are trivago N.V. (TRVG), Travelzoo (TZOO), and     Opera Limited (OPRA) -- they have better POWR Ratings.
The Bear Market is NOT Over…
That is why you need to discover this timely presentation with a trading plan and top picks from 40 year investment veteran Steve Reitmeister:
REVISED: 2023 Stock Market Outlook > 
---
NFLX shares were trading at $393.44 per share on Wednesday afternoon, up $0.46 (+0.12%). Year-to-date, NFLX has gained 33.42%, versus a 9.76% rise in the benchmark S&P 500 index during the same period.
---
About the Author: Subhasree Kar
Subhasree's keen interest in financial instruments led her to pursue a career as an investment analyst. After earning a Master's degree in Economics, she gained knowledge of equity research and portfolio management at Finlatics.
Buy, Sell, or Hold in June: Netflix (NFLX)
appeared first on
StockNews.com