Shares of Snap (SNAP), the social media darling of Gen Z, have taken a hit as the company is struggling with its widening losses amid the pullback in advertising spend. So, with a recession likely coming this year, is SNAP worth owning? Let's try to gauge SNAP's prospects by analyzing the recent trend of some of its metrics...
Shares of Snap Inc. (SNAP) plunged following the release of its quarterly report, which spooked investors as the pullback in advertising continued to weigh on its financial performance. With its ad business under pressure, the company reported a 7% year-over-year decline in its revenue for the quarter ended March 31, 2023.
SNAP has been struggling amid a slowdown in marketer spending due to broader economic challenges and changes to Apple Inc's (AAPL) privacy policies.
"Aside from Snap's internal issues, the competitive landscape remains daunting, and we believe the darkest days of this downturn are ahead of us," Monness Crespi Hardt analyst Brian White said.
Nevertheless, SNAP remains popular with Gen Z and had impressive user growth, with daily active users increasing 15% year-over-year to 383 million for the quarter.
However, the company's bottom line is in the red, and a recession might lead to further declines, as the ad market is not expected to recover anytime soon. According to The Conference Board, there's a 99% likelihood of a recession this year.
While SNAP is exploring additional revenue streams, staying away from the stock may be wise during these uncertain times.
Below are some of its key metrics to understand the bearish case.
Snap Inc. (SNAP): Revenue, Net Income, Gross Margin & Price Target Trends
SNAP's net income has seen a downward trend since June 2020, decreasing from negative $1.10 billion to the latest reported figure of negative $1.40 billion as of March 2023.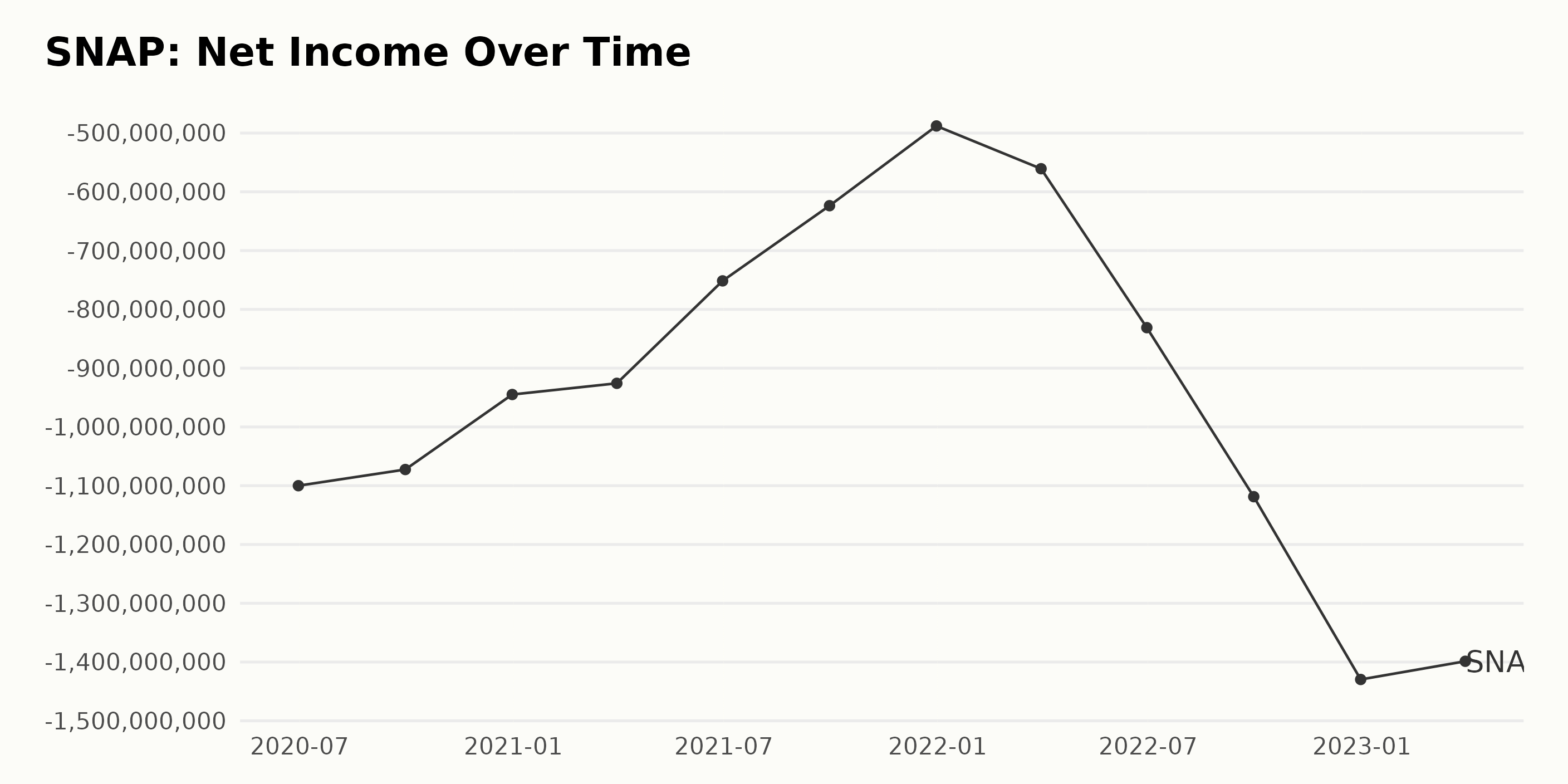 SNAP has experienced a generally upward trend in revenue over the past three years. This trend can be seen by comparing the first reported value from March 2020 of $1.92 billion to the last reported value from March 2023 of $4.53 billion, representing an overall growth rate of 136%. The highest reported value was $4.61 billion for September 2022, and the lowest was $1.92 billion for March 2020.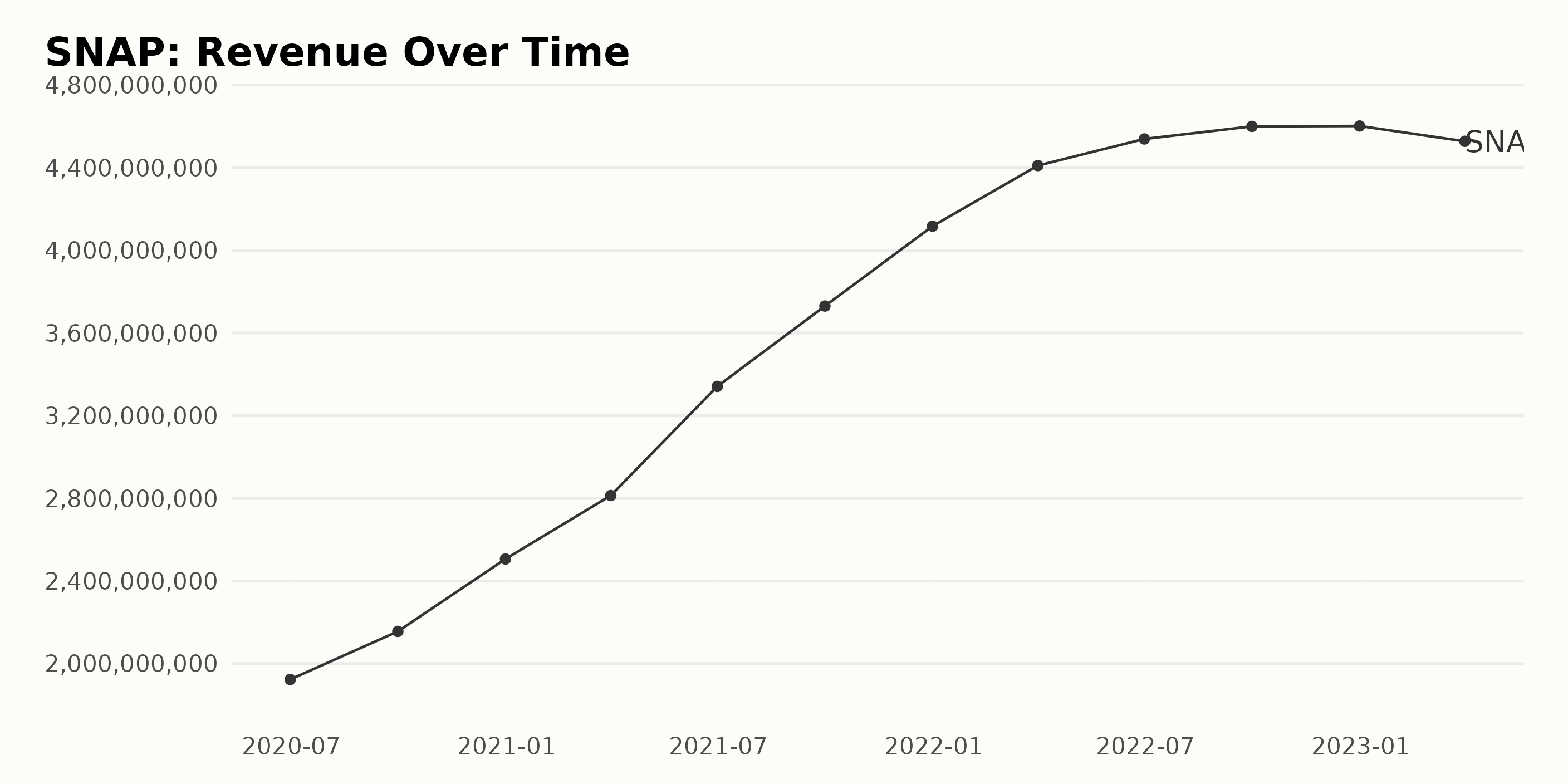 The trend of SNAP's gross margin has been steadily increasing, with a growth rate of 4.47%, from 49.00% in June 2020 to 59.50% in March 2023. However, the margin has experienced some fluctuations, dropping to 52.30% in December 2020.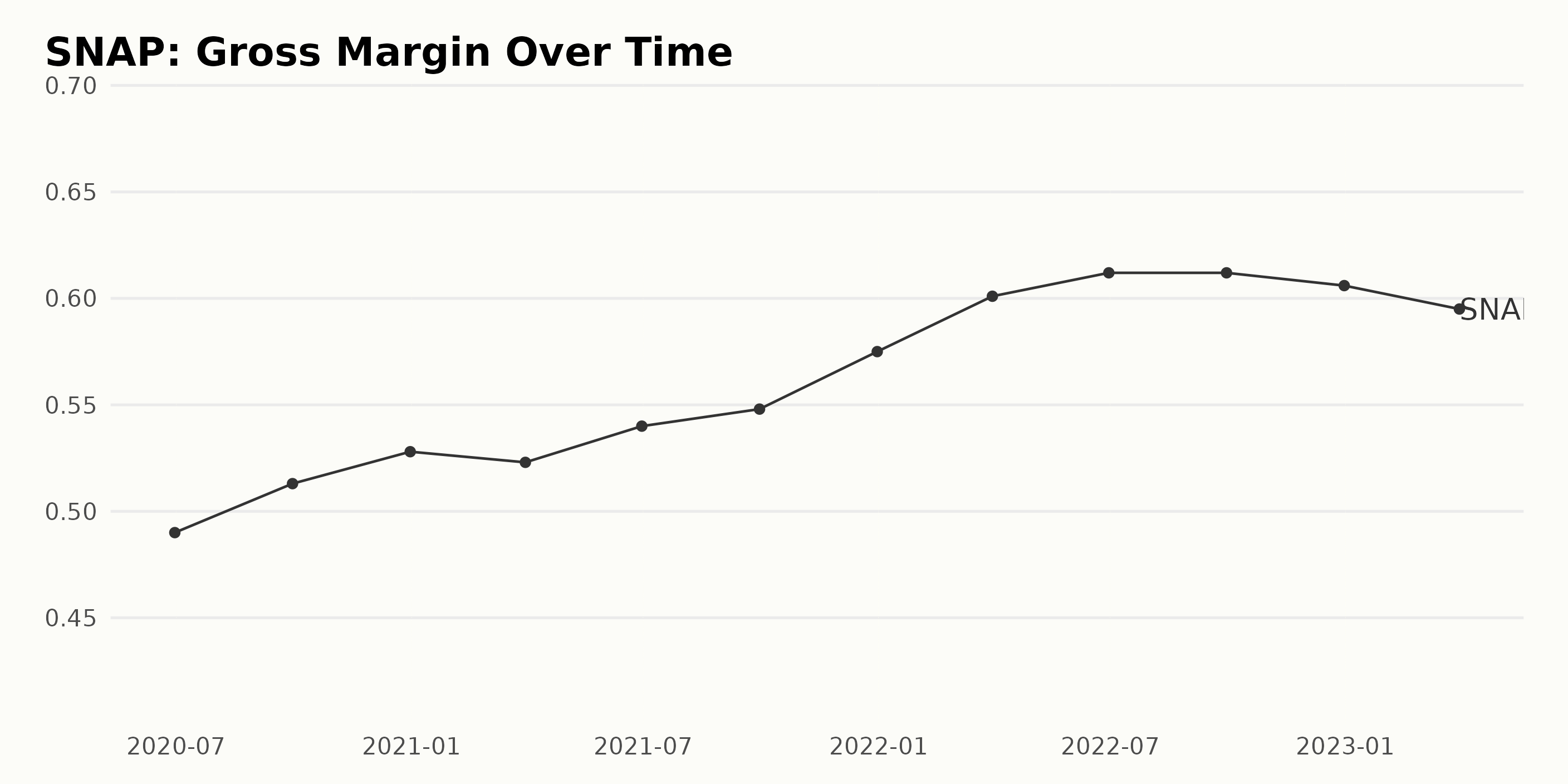 The Analyst Price Target of SNAP has fluctuated over the past year, dropping from $76.00 in November 2020 to $10.00 by May 2023. The most recent value of $10.00 represents an 87% decrease in the Analyst Price Target over the past year.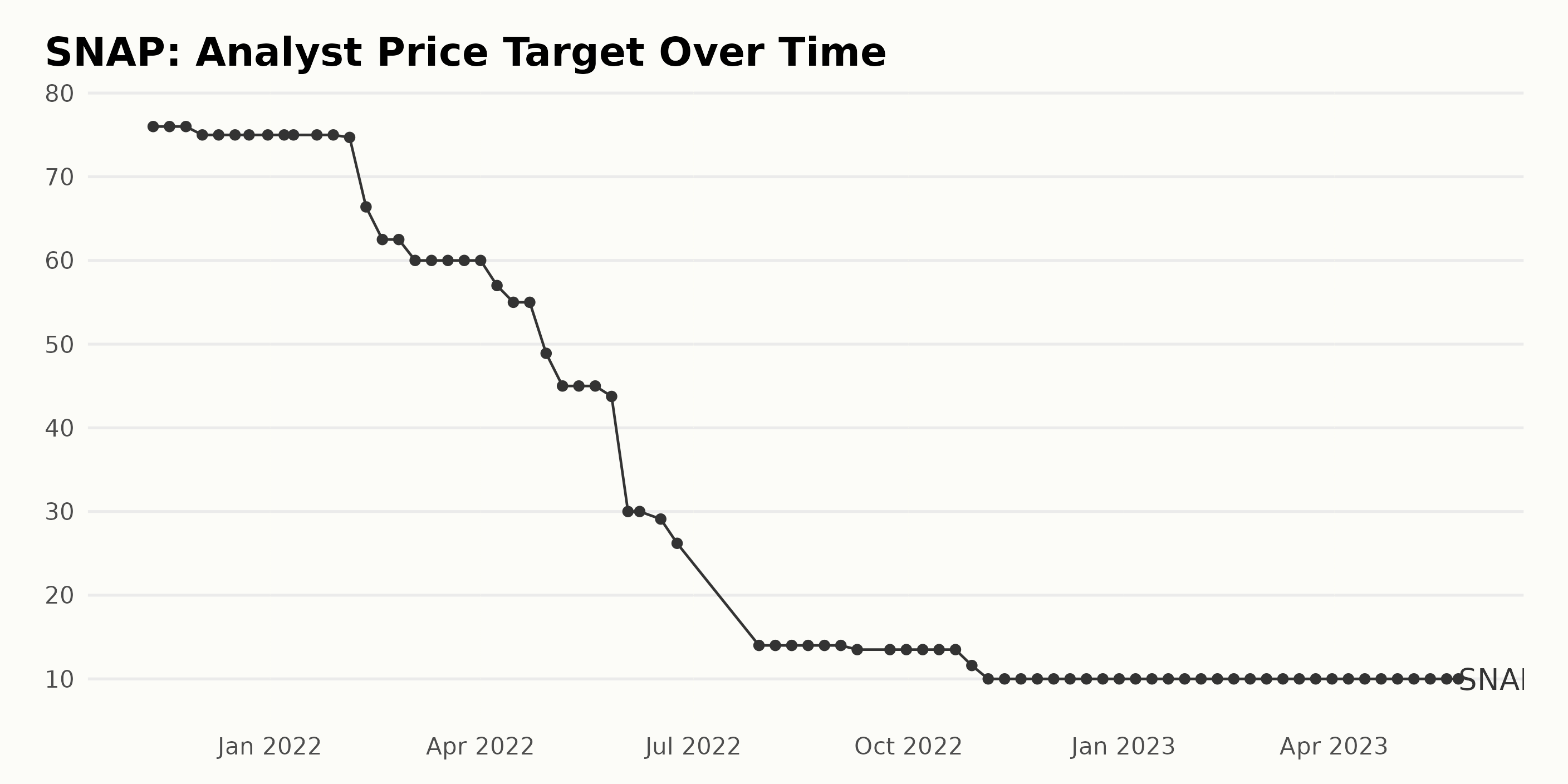 SNAP Share Price Drops 4.5% Since November 2022
The share price of SNAP has experienced a decrease since November 25, 2022, when it was at $10.20. From December 2, 2022, to May 23, 2023, the share price went from $10.21 to $9.82, which was a decrease of 4.5%. The trend is clear and decelerating. Here is a chart of SNAP's price over the past 180 days.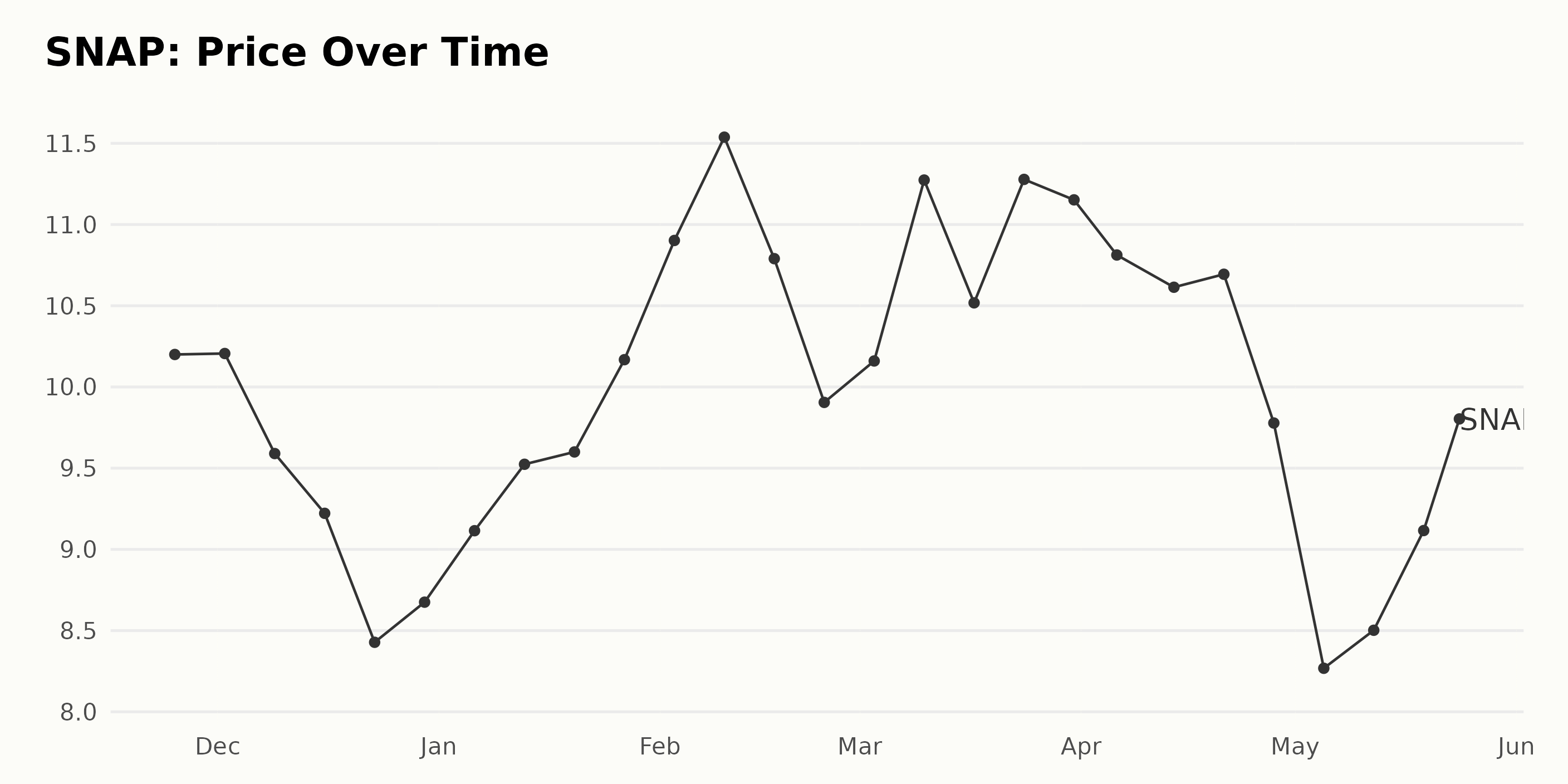 Unfavorable POWR Ratings
SNAP has an overall D rating, translating to a Sell in our POWR Ratings system. It consistently received a POWR Rating of D since November 2022 and is ranked #52 out of 57 stocks in the Internet industry.
It also has a D grade for Growth, Stability, and Sentiment.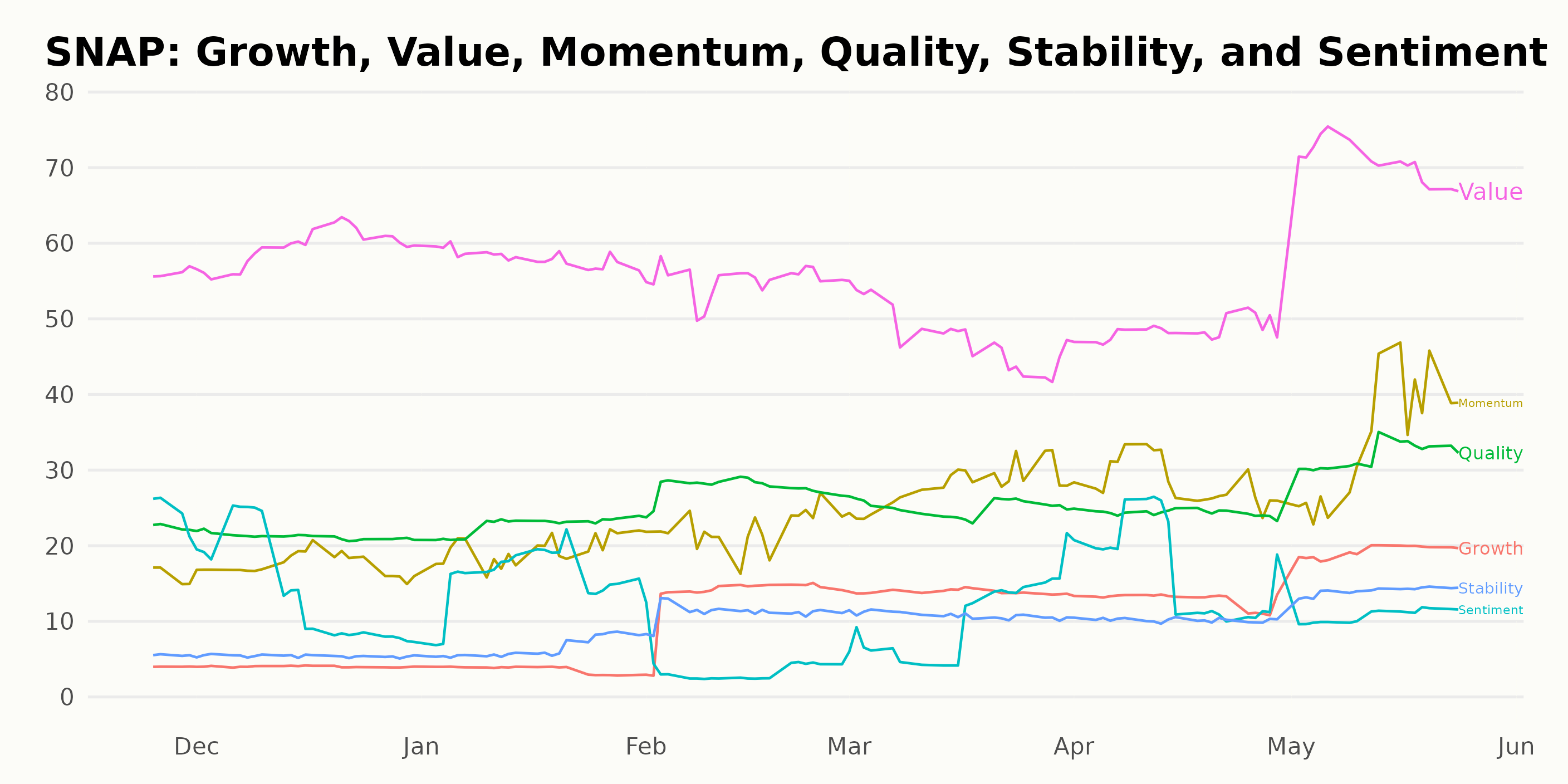 Stock to Consider Instead of Snap Inc. (SNAP)
Other stocks in the Internet sector that may be worth considering are trivago N.V. (TRVG), Travelzoo (TZOO), and     Yelp Inc. (YELP) -- they have better POWR Ratings.
Discover 10 widely held stocks that our proprietary model shows have tremendous downside potential. Please make sure none of these "death trap" stocks are lurking in your portfolio:
---
SNAP shares were trading at $9.80 per share on Wednesday afternoon, down $0.00 (0.00%). Year-to-date, SNAP has gained 9.50%, versus a 7.80% rise in the benchmark S&P 500 index during the same period.
---
About the Author: Subhasree Kar
Subhasree's keen interest in financial instruments led her to pursue a career as an investment analyst. After earning a Master's degree in Economics, she gained knowledge of equity research and portfolio management at Finlatics.
Is Snap Inc. (SNAP) a Buy?
appeared first on
StockNews.com