As Election Day Beckons, Where Does Infrastructure Stand?
October 26, 2020 at 10:55 AM EDT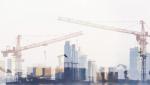 The FlexShares STOXX Global Broad Infrastructure Index Fund (NYSEArca: NFRA) is an example of an exchange traded fund that should benefit regardless of what happens on Election Day. Both President Trump and former Vice President Joe Biden have ambitious infrastructure plans. NFRA tries to reflect...