Are the Oil Bulls Ready to Run on Supply Cuts?
April 07, 2020 at 23:28 PM EDT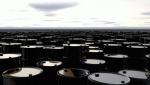 Tuesday's trading session saw major U.S. indexes move higher at the open, but fizzled out later in the day as oil prices fell as investors were wary of a deal between Saudi Arabia and Russia to cut production. The two have been locking horns in a price war, causing oil to fall unceremoniously. U.S....