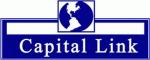 NEW YORK, NY -- (Marketwired) -- 09/16/15 -- Capital Link's 2nd Annual Dissect ETFs Forum will take place on Tuesday, October 13, 2015 at the Metropolitan Club in New York City.
This event is held in cooperation with the New York Stock Exchange.
Financial advisors and qualified investors can attend the Forum at no cost. The event has been approved by the CFP Board and IMCA for 8 CFP/CIMA/CPWA CE Credits.
For more information and to register please click on the link below or copy and paste it in your browser: http://forums.capitallink.com/etf/2015/index.html.
LUNCHEON KEYNOTE SPEAKER
Richard Bernstein, CEO/CIO - Richard Bernstein Advisors LLC
FORUM STRUCTURE & PRESENTERS
The Forum features thought provoking panel discussions by top industry experts, analysts, investors and senior industry executives on the latest trends and developments in exchange-traded funds.
Topics and Discussions include:
The Evolution Of The ETF Landscape
ETF Trading & Liquidity
Better Beta?
The Evolution of Fixed Income ETFs
The Changing Landscape of the Advisor Practice
Investing Internationally Through ETFs
Alternative/Yield Investing Strategies
ETF Outlook: What's Next?
The Forum provides rich informational content coupled with unique networking opportunities.
FORUM TARGET AUDIENCE
The Forum targets institutional investors, registered investment advisors, private bankers & wealth managers, securities analysts, retail & institutional brokers, industry specialists & analysts, financial press & media, and other qualified investors.
ADVISORY BOARD MEMBERS
Dennis Emanuel, Director of ETF & Closed End Fund Strategy - ALPS Portfolio Solutions
Deborah Fuhr, Managing Partner & Co-founders - ETFGI LLP
Ravi Goutam, Managing Director, Head of Products for iShares - BlackRock
Ogden Hammond, Executive Director, Head of ETF Strategy & Business Development - J.P. Morgan Asset Management
Kevin Quigg, Global Head of ETF Sales Strategy - State Street Global Advisors
FOR FURTHER INFORMATION AND TO REGISTER
http://forums.capitallink.com/etf/2015/index.html
FORUM PANELISTS & PRESENTERS REPRESENTING
ALPS ETF Trust (NYSE: SDOG)
Bank of America Merrill Lynch
BATS Global Markets
Barron's
Cantor Fitzgerald & Co.
ETFGI
Fidelity Investments (NYSE: FTEC)
Greenwich Associates
InfraCap MLP ETF (NYSE: AMZA)
iShares by Black Rock (NYSE: AGG)
JP Morgan Asset Management (NYSE: JPIN)
Navigate Fund Solutions
New York Stock Exchange
Richard Bernstein Advisors LLC
State Street Global Advisors (NYSE: SPY)
STOXX Ltd. (NYSE: STXX)
Tortoise Index Solutions (NYSE: TPYP)
TrimTabs Investment Research (NYSE: TTFS)
UBS Investment Bank
WBI Investments (NYSE: WBII)
FORUM SPONSORS & MEDIA PARTERS
In Cooperation with: The New York Stock Exchange
Gold Sponsors: iShares by BlackRock and State Street Global Advisors
Silver Sponsors: ALPS ETF Trust and J.P. Morgan Asset Management
Bronze Sponsors: BATS Global Markets, Fidelity Investments, InfraCap MLP ETF, NextShares, STOXX Ltd., Tortoise Index Solutions, TrimTabs Investment Research, UBS Investment Bank, and WBI Investments
Supporting Sponsor: Highland Capital Management
Media Partners: Advisor Perspectives, Barclay Hedge, Barron's, Bloomberg Brief, ETF Radar, ETFdb.com, ETFGI.com, Hedge Fund Alert, Investor's Business Daily, and Seeking Alpha
Supporting Organizations: Financial Planning of New York, Quantitated Work Alliance for Applied Finance, Education and Wisdom, and The Security Traders Association of New York, Inc.
ORGANIZER: CAPITAL LINK, INC.
Capital Link is a global investor relations firm with strategic concentration, among other, on CEFs and ETFs with a track record of industry expertise spanning 19+ years. Capital Link organizes annually a series of investment forums in New York, London and Athens. This Forum is an extension of our 15 year track record success of Capital Link's Annual Closed-End Funds & Global ETFs Forum, which consistently attracts more than 1,000+ delegates annually.
Contact:
For more information please contact:
Anny Zhu
Marketing Manager
Capital Link, Inc.
Telephone: 212 661-7566
Email: forum@capitallink.com