--News Direct--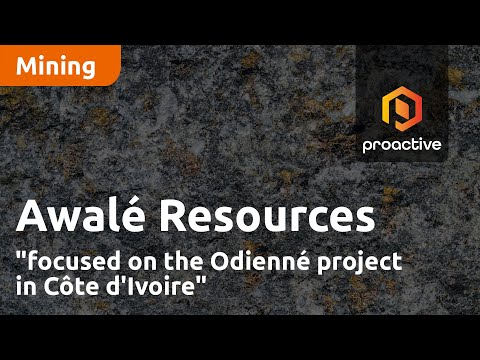 Awalé Resources Ltd (TSX-V:ARIC) CEO Andrew Chubb speaks to Thomas Warner from Proactive about the latest developments at the exploration company's Odienné copper-gold project in West Africa's Côte d'Ivoire.
Chubb stepped up from COO to CEO in May alongside the securing of financing from new investor Orecap Invest (TSX-V: OCI), who he says recognised the value of their flagship Odienné project. Since then he has spearheaded an exploration campaign alongside JV partner Newmont Corporation (NYSE: NEM, TSX: NGT), which is funding more than 5000m of drilling worth $3M this year and also owns 5.49% of Awalé.
The company has been conducting drilling and geophysical surveys in Cote d'Ivoire, focusing on potential gold and copper deposits. Promising results from the drilling, including visible gold at its Charger site, have the company excited about the upcoming news flow and potential for establishing a world-class metal district in the region. Awalé has said it believes West Africa is home to at least 300mln ounces of gold.
Chubb emphasises its experienced team, led by Chief Geologist Andrew Smith, who oversees operations in Cote d'Ivoire. He also stresses that the whole Awalé team is "focused on the Odienné project." Following the recent investment, Awalé Resources plans to expand its exploration efforts in the region and explore additional permits.
Contact Details
Proactive United States
Proactive United States
+1 347-449-0879
View source version on newsdirect.com: https://newsdirect.com/news/awale-resources-focused-on-the-odienne-project-in-cote-divoire-516775436