Noah Holdings Q2 2023: Respect Common Practices, Pursuit Long-Term Stable Growth.
Hong Kong - September 6, 2023 —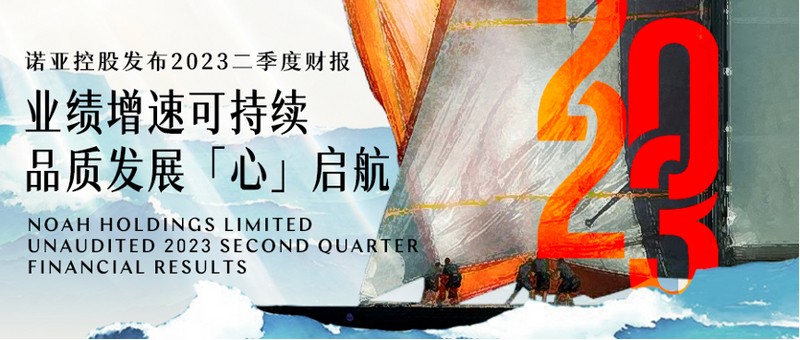 Noah Holdings Limited (NYSE: NOAH and HKEX: 6686)("Noah" or the "Company") ,a leading and pioneer wealth management service provider in China offering comprehensive one-stop advisory services on global investment and asset allocation primarily for high net worth investors, announced its unaudited financial results for the second quarter of 2023.
According to the report, the company recorded overall net revenues of RMB1.7 billion in the first half of 2023, up 13.8% YoY. The results highlight a 27.6% YoY growth in net revenue and a 17.2% increase compared to the previous quarter. Operating profit increased by 8.1% YoY and 25.3% compared to the previous quarter.
In terms of income type, one-time commissions increased by 95.2% YoY and 129.6% quarter-on-quarter. Additionally, operating profit increased by 8.1% YoY and 25.3% compared to the previous quarter. Thanks to Noah's effective management and client-centric strategies, total assets have surpassed RMB 12 billion, with net assets crossing the RMB 10 billion mark.
For overseas development part, thanks to its continued investment in distribution, products selection and comprehensive services, overseas business contributed RMB714.9 million, up 104.1% YoY, and increased its share of the group's revenue to 40.8% from 22.6% last year. In addition, the quarterly data show that the net revenue of the overseas segment increased by 146.8% YoY and by 22.5% quarter-on-quarter.
As of the second quarter of 2023, Noah International had more than 13,600 international clients, with the number of clients in Hong Kong and Singapore grew by 12.8% and 185.2% YoY respectively. In 2023, Noah strengthened the screening, coverage and launching of top tier global hedge fund managers, as well as the introduction of USD structured products, effectively completed Noah's overseas product matrix.
Ms. Jingbo Wang, co-founder and CEO of Noah, pointed out, "Since 2019, we winded down all of our domestic non-standardized single counterparty private credit products, including domestic residential real estate funds, which was proven to have effectively safeguarded our clients' wealth amidst the recent challenges faced by this asset class. Our continued devotion in strengthening investment research capabilities and shield our clients' hard-earned capital through optimized asset allocation advice is what distinguish us as a trusted advisor for our clients."
Due to the recent payment default by certain wealth management companies and trust product platforms on their non-standardized private credit products had come up to publics attentions in Mainland China, Ms. Jingbo Wang re-emphasized in this quarter's earnings call that Noah has always adhered to founding principles as its bottom line and respected the common practices of the financial services industry since its establishment in 2003.
For Noah, wealth management, asset management, and comprehensive services complement one another. This not only enables Noah to fully meet the needs of a diverse range of clients, including individuals, institutions and family offices, but also brings a greater degree of inherent stability and balance to its business 
From the very first day of its operation, Noah has insisted on the segregation of clients' capital, maintaining separate custodian accounts for asset management products, no leveraged funding for clients, no products with maturity mismatches, and no cross-border fund movement transactions.
Together with Noah's continued devotion to investing in research capabilities, such principles not only establish Noah as a pioneer in terms of compliance and vision, but also bolster its capacity to navigate economic headwinds and protect clients' hard-earned capital through professional asset allocation advisories.
Thanks to Noah's continued devotion to strengthen investment research capabilities, coupled with management's forward-looking macroeconomic judgement. In the third quarter of 2019, Noah started to and completely fully winded down non-standard private credit exposure, or so called trust products. And yet, in 2021,it had successfully completed the standardized transformation that has proven to be effective in protecting its clients' wealth amidst the recent challenges faced by this asset class.
In August, Noah's CIO Office released its latest investment outlook for the domestic and international markets for the second half of 2023. Given the high level of macroeconomic uncertainty, opportunities have emerged for multi-regional and diversified allocation strategies. Noah recommends that clients to review their portfolios, starting with a running through a checklist across all aspect of their investments, ensuring sufficient allocation in the safety-net portion, coupled with multi-strategy investments to capture cross-cycle growth opportunities, achieving an "antifragility" strategic and tactical asset allocation.
In addition, during the second quarter, Noah celebrated the opening of its new headquarters, the Noah Wealth Centre, which provides a client-centric private banking experience for Noah's global clients. Noah showcased its vision by integrating the worlds of wealth and art. The "Ten Thousand Trusts" art exhibition attracted numerous visitors, reinforcing bonds with clientele. On July 13th, the Noah Philharmonic Orchestra, with performances by violinist Mengla Huang and conductor Liang Zhang, captivated Hong Kong audiences with timeless pieces like "Swan Lake" and "Phantom of the Opera." Collaborating with CITIC groups and Munger Academy, Enoch Bookstore hosted discussions on Charlie Munger's investment philosophy in the context of current market trends.
Looking ahead, Ms. Jingbo Wang re-emphasized that Noah will continue to strengthen its investment in research and shield clients' hard-earned capital through optimized asset allocation advice is what distinguish Noah as a trusted advisor for clients.
Contact Info:
Name: Yoyo Luo, PR Department.
Email: Send Email
Organization: Noah Holdings
Website: http://noahgroup.com/

Release ID: 89106744
In case of detection of errors, concerns, or irregularities in the content provided in this press release, or if there is a need for a press release takedown, we strongly encourage you to reach out promptly by contacting error@releasecontact.com. Our efficient team will be at your disposal for immediate assistance within 8 hours – resolving identified issues diligently or guiding you through the removal process. We take great pride in delivering reliable and precise information to our valued readers.