Annual Diamond & Black-Card Client Global Summit discussion on how to navigate the current market conditions surrounded by many uncertainties.
Singapore - January 30, 2023 —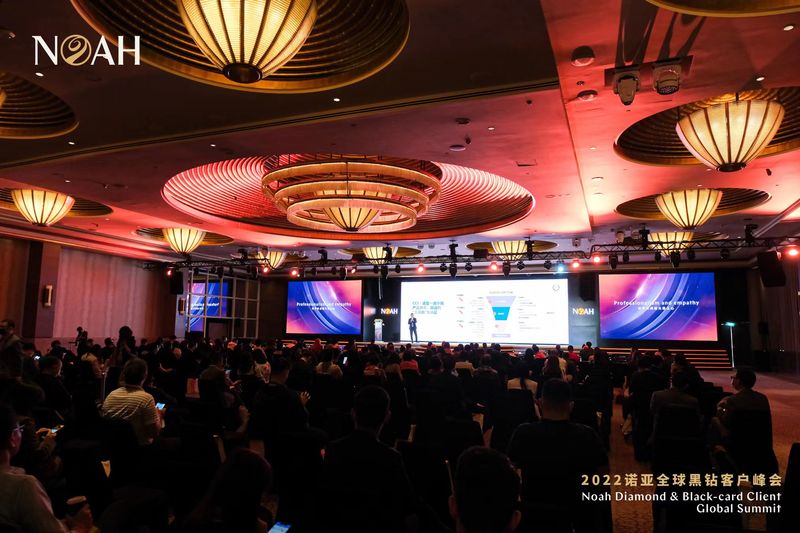 Noah Holdings Limited ("Noah" or the "Company") (NYSE: NOAH and HKEX: 6686), a leading and pioneer wealth management service provider in China offering comprehensive one-stop advisory services on global investment and asset allocation primarily for high net worth investors, hosted the annual Diamond & Black-Card Client Global Summit in December 2022, in Singapore, at a time when global investors faced an increasingly complex landscape.
As Noah's most important annual client event, the Noah Diamond & Black-Card Client Global Summit has been held for more than 10 years. Every year for the past 18 years, Noah has created a place for clients to have in-depth conversations and the Noah Diamond & Black-Card Client Global Summit has become an industry benchmark in the domestic wealth management industry.
It's the first time that Noah hosts the annual Diamond & Black-Card Client Global Summit abroad. Singapore is the world financial center and Asia-Pacific wealth management center. It is the only country in Asia with a sovereign credit rating of AAA. The financial industries such as insurance, banking, and securities are directly supervised by the Monetary Authority of Singapore ("MAS"). As a result, nearly one-third of Fortune 500 companies in the world have their Asian headquarters in Singapore. According to recent statistics, in 2022, there are more than 400 family offices in Singapore. Noah locates wherever the clients are. Noah's Singapore office was established in 2019. Noah has been granted the Capital Markets Services ("CMS") license and the Trust Business license issued by the Monetary Authority of Singapore in 2020. Noah's global layout aims to better serve the global Chinese community.
The summit discussed how to navigate the current market conditions surrounded by many uncertainties, including monetary policy tightening, high inflation, geopolitical tensions, and the energy crisis that have created headwinds for the global economy, prompting investors to quickly adapt to these new realities. 
Noah's core competence is to connect the world's leading asset management companies to meet clients' investment needs. With 20 years of professional experience in the industry, Noah serves and builds stable relationships with its clients by offering unique and appropriate investment opportunities. Sequoia China, JP Morgan Chase, Goldman Sachs, PIMCO, BlackRock, Oaktree Capital, Blackstone, Carlyle, TPG, Max Giant Capital, GGV, and many top international financial institutions shared their market insights on the global macro economy, primary markets, alternative investment, innovative investment opportunities and many other topics at the summit. 
The summit invited speakers from corporations, governments, and institutions and was attended by over 40 speakers and 400 clients from all over the world.
Summit speakers and experts examine the economic and market themes that investors should watch for in 2023. Ms. Jingbo Wang, the Founder, Chairman, and CEO of Noah Holdings, emphasized the importance of building a diversified portfolio during turbulent times, to be in a good position to take advantage of the opportunities available for sustainable and stable financial growth. Ms. Wang pointed out that there are economic challenges that the market is going to encounter in 2023, which should not be ignored. Having respect and staying truthful about the facts, statistics, and common sense is essential when the market is volatile. 
CFO of Noah Holding, Mr. Qing Pan, emphasized that Noah is a company with long-term objectives in mind. Therefore, Noah insists on doing the difficult but right thing. Noah orients business and investment strategy toward long-term value creation rather than just short-term performance. In 2022, under the continuous economic downward pressure and volatility of the market, Noah adheres to its customer-centric strategy, putting the customer's needs, wants, and communications at the center of business and continuing to invest in technology, investment research, customer service, and other fields.
Mr. Pan launched the Chinese High Net Worth Individual ("HNWI") Management Sentiment Index 2022 at the summit together with PwC. The Managing Partner of China Financial Services Leader of PwC, Lijun Zhang, mentioned in the speech that this whitepaper is the first Chinese domestic wealth management research report focusing on the theme of "sentiment". By observing the characteristics of the emotional changes of Chinese HNWI groups, the deep motivation behind the emotional changes is explored, and the investment strategy can result in meaningful experiences and lessons for investors.
Noah International CIO, Alvin Chua, elaborated that Noah holds the strategy of 'Protection Before Growth', while Noah continues to find good investment opportunities across asset classes. The summit discussed various investment opportunities, including Fintech, Real Estate, Technology Innovation, and so forth. Mr. Chua pointed out that the market pain in 2022 could be the market gain in 2023. 
To provide clients with a holistic view of the global education trend, Noah invited the Council Member and the Chair of UWC Changshu China Mr. Jiapeng Wang, and the High School Principal of UWC East Campus Mr. Damian Bacchoo to elaborate on the global education system and outlook at the summit. UWC is known as one of the top international schools in the world. To provide clients with a better global business outlook, Noah invited the former Minister of Foreign Affairs and Speaker of the House of Representatives of Malta, Mr. Michael Frendo, to present the business opportunities, education system, and lifestyle of Europe.
In addition to the knowledge-intensive summit, Noah organized a series of activities for clients to have an in-depth and holistic understanding of Singapore, including visiting Singapore corporations, discovering Singaporean business customs and etiquette, conducting premium health examinations, attending family office workshops, playing golf tournaments, and participating in executive tours around the country. 
Noah Holdings hosted additional Diamond & Black-Card Client Global Summit events in Hong Kong, to better prepare clients for the economic, technological, and market trends to watch in 2023. 
Contact Info:
Name: Denny Zhang, Noah Holdings
Email: Send Email
Organization: Shanghai Noah Investment (Group) Co., Ltd.
Website: https://noahgroup.com/

Release ID: 89088345
If you detect any issues, problems, or errors in this press release content, kindly contact error@releasecontact.com to notify us. We will respond and rectify the situation in the next 8 hours.