Having found cannabis and hemp products invaluable in their own mothering journeys, Bianca Snyder, founder of SOCIETY'S Plant, and Weed Mom author Danielle Simone Brand want moms everywhere to feel confident in their choice to ditch alcohol in favor of "cannabis wellness."
United States - January 20, 2023 —
Having found cannabis and hemp products invaluable in their own mothering journeys, Bianca Snyder, founder of SOCIETY'S Plant, and Weed Mom author Danielle Simone Brand want moms everywhere to feel confident in their choice to ditch alcohol in favor of "cannabis wellness."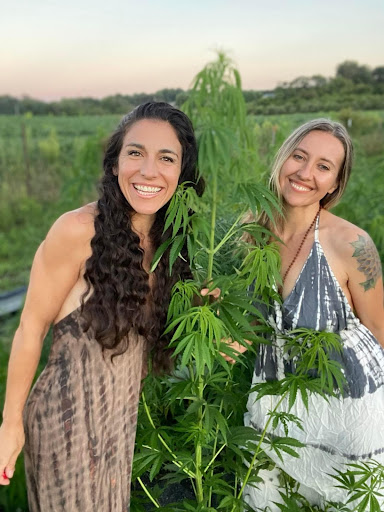 Everyone knows about "Dry January". But what about "High January"? 
It's clear from the "mommy juice" and "wine 'o clock" memes on social media that drinking alcohol is normalized for mothers, and is even touted as a way to cope with the stresses of parenting.
Unfortunately, alcohol has been shown to spike cortisol levels the day after drinking, which can lead to increased anxiety—canceling out alcohol's perceived stress relieving properties. And the effects of overusing alcohol include memory problems, poor decision-making, digestive upset, and organ damage in addition to cravings, weight gain, and dependence.
It's increasingly clear that leaning on alcohol to cope with the many challenges of adulthood and mothering isn't actually helping. That realization drove Bianca Snyder and Danielle Simone Brand to find a wellness solution that improves moms' mental wellbeing and enhances joy in the motherhood journey. 
Five years ago, SOCIETY'S Plant founder Bianca Snyder found herself at a fork in her career; having worked for the previous decade in sales and marketing for the alcohol industry, she found that becoming a mother reframed her priorities.  
"Working in the wine and spirits space no longer aligned with my values, so I began the transition to the rapidly evolving cannabis industry. I found there was a lack of support for mothers who consumed, and that the marketing of cannabis products did not resonate with what I found to be important in plant medicine wellness. Because of the patchwork of legality, access to products was also an issue," says Snyder. 
Finding few products in the emerging cannabis space that appealed to women and moms, Snyder founded SOCIETY'S Plant to provide clean, hemp-based wellness products like smokable CBD flower, hemp-derived THC gummies, and functional mushroom tinctures, all designed to make modern mom life a little bit easier. Bianca owns and operates a seed-to-smoke, artisanal hemp farm in Southwest Michigan where all of SOCIETY'S products are conceived with mothers' particular needs in mind. From improving sleep, to promoting focus and boosting mood, to simply relaxing without the downsides of alcohol, Snyder feels inspired by the numerous ways that SOCIETY'S Plant products are helping women and moms beat the stresses of parenting and living in today's fast-paced world.
For Weed Mom author Danielle Simone Brand, the realization came on her yoga mat. After years of teaching yoga and believing the negative hype, she discovered cannabis as a health and wellness tool that met her needs for stress relief and pain management. In writing about cannabis for national publications, Brand learned through interviews with doctors, scientists, and everyday consumers that women and moms are increasingly switching from alcohol to cannabis and finding benefits like:
- No more morning-after headaches or hangover
- Improvements in anxiety and stress levels
- Decreased sugar intake 
- Better pain management
- Greater commitment to wellness and self-care 
- Mood boost that supports patience and creativity while parenting
"I came from the fields of academia and yoga, so cannabis never even crossed my mind as a healthy tool for moms like me until it did! Now I'm so grateful to benefit from this plant in its many forms. Being a mindful cannabis consumer and a great parent are 100% compatible, and I'm on a mission to help other moms realize that they have options," says Brand.
Let Weed Mom and Society's Plant Help Cannamoms in Navigating Dry January
Dry January (and beyond) does not have to be torturous or boring—particularly when incorporating cannabis. Weed Mom is the perfect guide to responsible, wellness-centered consumption that thoroughly explores how the plant can ease some of the challenges of motherhood. SOCIETY's Plant hemp-based products are formulated to suit different moods, like Flow, Chill, or Dream, and come in the form of gummies, tinctures, teas, and smokable products. All of SOCIETY'S products are federally legal under the 2018 Farm Bill and can be conveniently shipped anywhere in the US. 
Contact Info:
Name: Bianca Snyder
Email: Send Email
Organization: SOCIETY's Plant
Address: United States
Phone: 513-603-9441
Website: https://societysplant.com/

Release ID: 89088255
If you detect any issues, problems, or errors in this press release content, kindly contact error@releasecontact.com to notify us. We will respond and rectify the situation in the next 8 hours.