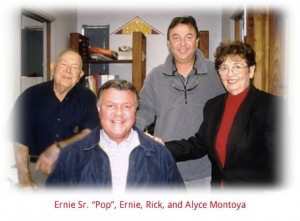 Bakersfield,United States - June 15, 2022 /PressCable/ —
BSW Roofing, Solar & Air announced its 80th Anniversary as a locally owned and operated roofing, solar, and air conditioning business.
The year was 1929 and Ernest Eloy Montoya Sr. was fourteen years old. He was energetic and ambitious. He recalls selling newspapers in downtown Bakersfield in front of the Southern Hotel and watching the construction of a new building, later to be known as The Fox Theater. As a young man, he worked as a laborer carrying cement to workmen who were installing Mission Tile on a new construction site now known as The Bakersfield Inn. This massive undertaking made claims to be the largest Motel of its kind in the world. It would have 312 rooms. Ernest felt honored to be a part of its history.
There was plenty of work for Ernest and his brothers, Louie, Frank, and Nick. These four young men worked together to ease the financial burdens of their families.
In 1939, Mr. Montoya married Alyce Lopez. They were blessed with six children; Jo Ann, Patty, Jeanie, Ernie Jr., Rick, and Beth. Life was simple growing up in the 1950s. Alyce was the "lace" around her husband's life and the very heart of the family. She was a loving mother, caring wife, resourceful, and creative financial manager, but above all else, she was a wonderful friend to Ernest. There were many parties and a yard full of toys. (Mr. Montoya's favorite was the go-cart) He was finally able to enjoy a childhood he had missed, due to early responsibilities. The marriage of these two honest and enterprising people has proven to be Ernest's most successful partnership.
Since he and his brothers had worked so well together during the early years, it came as no surprise when, in 1942, after earning his Contractor's License, Ernest invited his brothers to join him in business; Alyce at his side, as Bookkeeper. The new merger was named State Roofing and Insulation Company also known as Ace Roofing Company. The Montoya brothers shared a comfortable and efficient working relationship. Only time could separate them. Through the war years Ernest, his brothers, and their families traveled throughout California and Arizona.
The earthquake of 1952 devastated Bakersfield and the surrounding areas, but Tehachapi, our neighbor to the east, was nearly destroyed. Ernest and his brothers were instrumental in rebuilding Bakersfield and the surrounding communities.
During the 1960's, Ernest realized that he had been successful in both his personal and his professional life, but he still had one dream that was unfulfilled. He wanted to serve the community as a distributor of roofing materials and advisor to the typical homeowner.
At age 56, his brothers having retired from the business, Ernest found himself with too much time on his hands. He was too young to retire and too ambitious to quit. So, he and Alyce applied for a Small Business Loan. On May 1, 1971, Bakersfield Shingles Wholesale opened its doors at #4 "P" Street. "BSW", as it has come to be known, now offered the sale of roofing materials to the general public and a staff of technicians for residential applications. Ernest, Sr. still wanted to reach the "little guy" who had a family and a budget. He contracted with the local radio station, KERN, and sponsored a new program called, "The
Collectors Corner." During the hour-long radio show, people called in and offered items for sale. Sprinkled with the callers, were the words of wisdom from Mr. Montoya. He spoke daily to his old friend, George Gholdston, about various roofing questions. Serving the community as a Distributor and Advisor was now a reality.
As God-willed, sons, Ernie Jr. and Rick Montoya, both majored in Business Administration. These two young men have brought continuity and their own wisdom to the company. Now at the helm of their family's business, they have led the firm in new and exciting directions. Today they have a staff of 50 employees, Alyce remained one of the Bookkeepers until her 90's. Even when Alyce allowed herself to retire she would be seen in the office regularly until she passed in 2020 at the beautiful age of 101. This is more than a business to the Montoya's it is their legacy.
Bakersfield Shingles Wholesale Roofing Contractors, Inc., or BSW Roofing, Solar & Air as we are known today is involved in commercial and residential applications, and refurbishing, as well as Solar and HVAC installation. BSW finished the roof restoration of The Fox Theater for the Historical Society in July 2000.
The company works in synergy with its clients to deliver the best quality products. They have been deemed the rooftop experts and are the only local contractors who are able to offer the GAF roofing "Golden Pledge". This means we're able to offer the customer a 25-year warranty on workmanship and a 50-year warranty on materials. Only 3% of all Roofing Contractors nationwide have earned the title of "Master Elite", BSW is proud to have earned this distinction and is able to offer this benefit to our customers. These warranties are also transferable to the next owner.
With this type of recognition and reputation, it was only natural to venture into Solar and HVAC installation. BSW has been involved in many roof repairs caused by companies who don't know their way around a roof. 97% of all solar failures are leaky roofs! BSW Roofing & Solar has a general contractor, roofing contractor, and electrical contractor, in-house, who work together on every solar installation! "Once a solar company penetrates your roof your material and labor warranty is gone! As roofers and general contractors, we will guarantee the labor, roof materials, and solar panels." – Ernie Montoya, Owner.
BSW has been in this community for 80 years and they plan to be here for many more.
Contact info For Press :
Gina Martinez 661-805-0430
Organization: BSW Roofing, Solar & Air
Address: 4 P Street, Bakersfield, CA 93304
https://bswroofing.com/bsw-roofing-solar-air-celebrate-their-80th-anniversary/
URL: www.bswroofing.com
Phone: 661-327-ROOF (7663)
Contact Info:
Name: Ernie Montoya
Email: Send Email
Organization: BSW Roofing, Solar and Air
Address: 4 P St,, Bakersfield, CA 94404, United States
Phone: +1-661-327-7663
Website: https://bswroofing.com

Source: PressCable
Release ID: 89076713
If you detect any issues, problems, or errors in this press release content, kindly contact error@releasecontact.com to notify us. We will respond and rectify the situation in the next 8 hours.