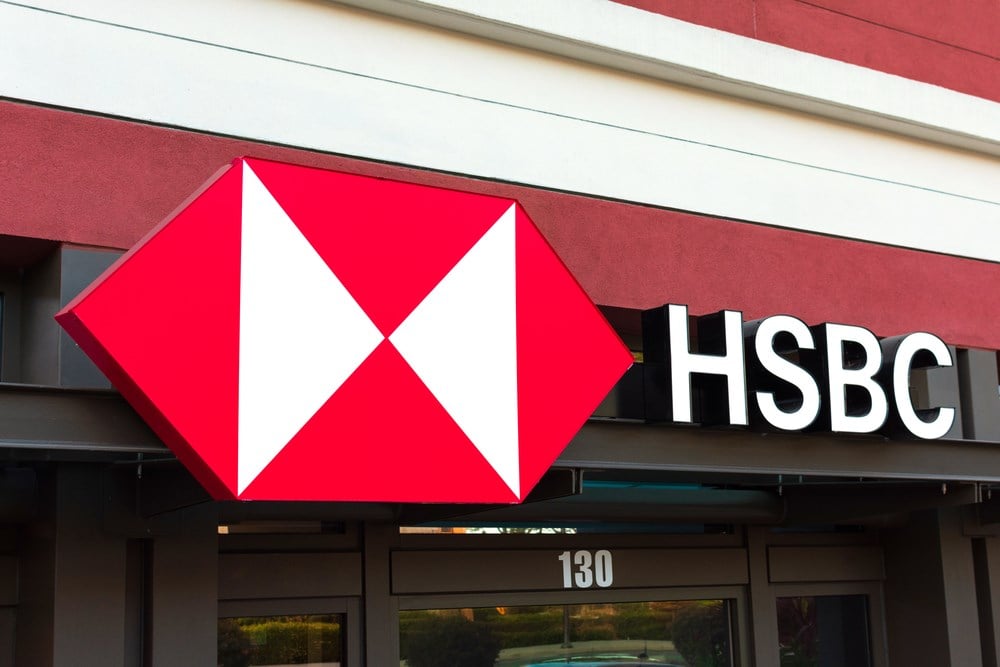 Shares of London-based global finance giant HSBC Holdings Inc. (NYSE: HSBC) are up 5.78% in the past month. The stock got a boost on reports of a partnership with cryptocurrency custody firm Fireblocks. 
HSBC has not confirmed those reports, but the bank has been inching toward a formal arrangement to hold digital currencies. 
The bank is said to be partnering with privately held crypto custodian Fireblocks, a cybersecurity platform designed for the digital asset industry. 
Fireblocks' services include secure storage and transfer for cryptocurrencies and other digital assets. It works with institutional and retail clients who want to hold various assets in the blockchain space securely. 
A partnership with HSBC would not mark the first time that Fireblocks has worked with one of the world's largest banks. It's already forged partnerships with The Bank of New York Mellon Corp. (NYSE: BK) and France's BNP Paribas SA (OTCMKTS: BNPQY). 
Banks Have a Crypto Dilemma
Banks are facing a quandary when it comes to digital currencies. They can see the opportunity as demand for crypto services grows. It's not hard to imagine banking executives having meetings to discuss how they could regret overlooking this opportunity and being eclipsed by more forward-thinking players.
They don't want to be in the position of Eastman Kodak (NYSE: KODK), which dismissed the rise of digital imaging, causing it to lose its dominant position in the photography industry. That is probably an extreme example, but in this day and age, companies of all kinds are hyper-aware of disruptive technologies that could upend long-standing business models. 
However, there are still numerous risks for banks who embrace crypto too early and too enthusiastically. The crypto industry is still under the shadow of the FTX debacle, and global banking regulators haven't come to any real decisions about digital assets. 
There are still risks, real or perceived, about putting customer's money at risk, which relates directly to the compliance regulations banks must follow to the letter. 
So why this move from HSBC? 
U.S. Regulators Pose a Hurdle
It helps to view HSBC from a regulatory lens: While HSBC maintains a presence in the U.S., and is subject to U.S. banking laws, it sold its U.S. mass-market retail banking unit to Citizens Financial Group (NYSE: CFG) in 2021. HSBC primarily does business in Europe and Asia. Its stateside operations are chiefly aimed at European and Asian immigrants and ex-pats living in the U.S. 
That means HSBC is more heavily regulated by European and Asian authorities, who don't currently have the same focus on crypto as U.S. agencies. For example, HSBC, which holds more than $3 trillion in assets, allows Hong Kong customers to trade bitcoin and ethereum exchange-traded funds. 
But HSBC is still protecting itself from any potential FTX-type blowups. Its Hong Kong business unit, Hang Seng Bank, got the OK from local regulators to open accounts for crypto companies, but is limiting those to "simple" accounts, which are very basic and offer limited services. 
Partnerships with companies like Fireblock may be the answer to banks' crypto dilemmas. 
Good Fit for Banks' Crypto Needs
Fireblock provides institutional-grade custodial and security solutions for cryptocurrency assets. For that reason, it's a good partner for banks, exchanges and asset managers who need to store and manage digital assets.
It's made a name for itself with advanced security features, which are appealing to big financial institutions whose businesses and reputations are heavily dependent on security.
Fireblock has a different business model from Coinbase Global Inc. (NASDAQ: COIN), which is a crypto exchange primarily targeting individual retail investors. 
HSBC is not alone among bank stocks that could rally if they establish a crypto strategy. However, it's clear that many financial sector stocks are issued by companies not yet ready to make big decisions when it comes to crypto custody and transactions.  
Crypto Recovery Brings Opportunity
However, as the crypto industry is showing signs of recovery recently, HSBC's timing may prove to be astute. 
For example, the ProShares Bitcoin Strategy ETF (NYSEARCA: BITO) advanced 2.52% in the past month, after skidding in July and August. Bitcoin is up 60.76% year-to-date, while ethereum is up 32.65%. 
Meanwhile, big financial firms like BlackRock Inc. (NYSE: BLK) and Fidelity have filed to launch spot Bitcoin exchange-traded funds.