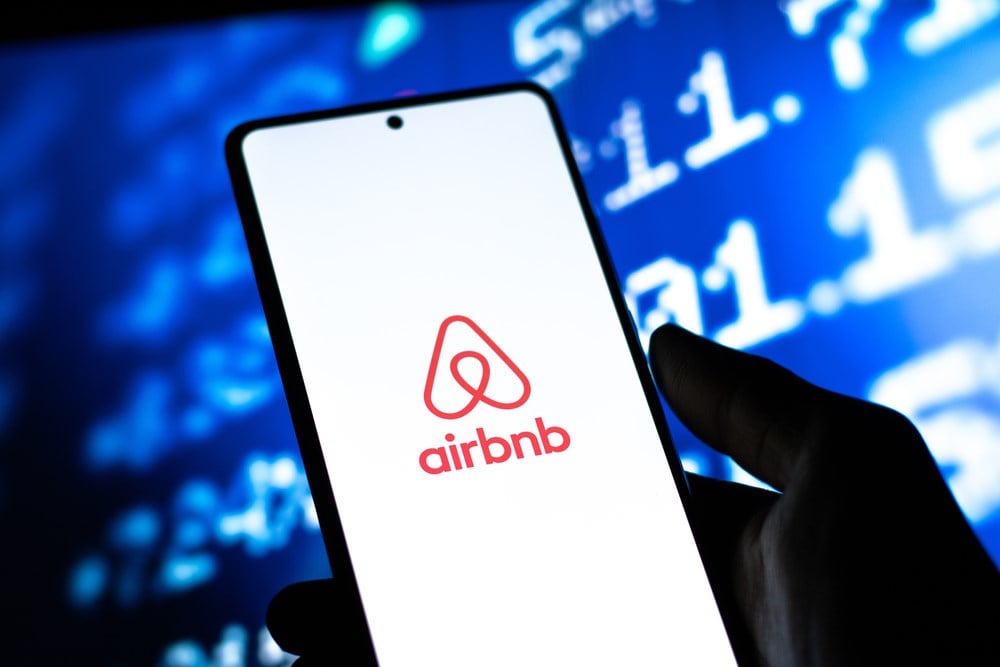 Digital lodging platform Airbnb Inc. (NASDAQ: ABNB) shares gained over 7% on news of being added to the S&P 500 index on Sept. 18, 2023. It will replace Newell Brands Inc.(NYSE: NWL), heading to the S&P 600 Small-Cap index. This was great news for investors as ABNB had sold off shortly after its decent Q2 2023 earnings report.
Further selling pressure emerged from a judge dismissing Airbnb's attempt to block New York City's short-term rental law to require Airbnb hosts to register for an operating license. After completing a weekly cup and handle pattern, Airbnb shares are again attempting to stage a breakout.
Investors considering taking shares may be coming off the fence ahead of the date of addition to the S&P 500 as benchmark index funds are required to add the stock to portfolios.
Being Added to the S&P 500
On Sept. 18, 2023, shares of Airbnb stock join the S&P 500 index pre-market. It will replace Newell Brands, which is moving to the S&P 500 SmallCap 600. Newell will be replacing Universal Insurance Holdings Inc. (NYSE: UVE). This is part of the quarterly rebalancing for the S&P 500 index.
Adding to the major benchmark index gains more attention for the stock as all passive benchmark exchange-traded funds (ETFs) and mutual funds are also required to buy shares of Airbnb.
Extended Stay Tailwinds
Airbnb reported an EPS of  98 cents in its Q2 2023 earnings report on 18.1% year-over-year (YoY) revenue growth to $2.48 billion. The company is seeing growing extended stays, with long-term stays comprising 18% of total nights booked. The supply grew 19% in the quarter. Travel demand remains resilient, and guest demand remains strong. Airbnb shares are trading up 71% year-to-date (YTD).  
New York City's Local Law 18 
After losing its battle in New York City, Airbnb faces challenging regulatory headwinds that could expand to other geographies. As of Sept. 5, 2023, Airbnb hosts must obtain licenses for short-term rentals in New York City under Local Law 18, known as the Short-Term Rental Registration Law.
The law requires hosts to register with the Mayor's Office of Special Enforcement (OSE). It prevents travel and lodging booking services and platforms like Airbnb, Expedia Group Inc. (NASDAQ: EXPE) owned VRBO, and Booking Holdings Inc. (NASDAQ: BKNG).  
What it Entails
This applies to short-term rentals under 30 days. It also requires hosts to be physically present in the home for the duration of the visit, sharing the living space with only up to two guest renters.
Guests will also have unrestricted access to the full dwelling without locked doors. Violators of this law will be subject to fines of up to $5,000 for both the rental platform and the hosts per incident. Penalties will start to become enforced starting May 9, 2023. This doesn't apply to stays of 30 days or more. New York City is still in the process of approving licenses with a backlog in the thousands.
Impact on Airbnb
Airbnb has over 40,000 active hosts in New York City. Analysts expect that number to drop by 25% under the new law. New York City is one of the largest cities for one-bedroom rentals. Stays of 30 days or more may attract more remote workers over vacation and leisure travelers.
Regulation has sprung due to complaints of noise, trash, loud parties and potential danger from neighbors. Airbnb has doubled down on its anti-party ban on its rentals. It has also priced some residents right out of their neighborhoods.
Under the new law, hosts in certain buildings (rent-regulated and NYCHA units)  are prohibited from registration if the building owners put their buildings on the prohibited buildings list.
Growing Regulatory Headwinds
While New York is the first city to regulate Airbnb stays with a law, other states have already started setting limits. Dallas, Texas, has limited short-term rentals to specific neighborhoods. Memphis, Tennessee, requires licenses for short-term rentals. Quebec, Canada, also requires a license.
San Francisco has capped the days an Airbnb rental can list their residence for rent to 90 days a year. Hosts can also be required to pay various fees and taxes.
Airbnb analyst ratings and price targets are at MarketBeat.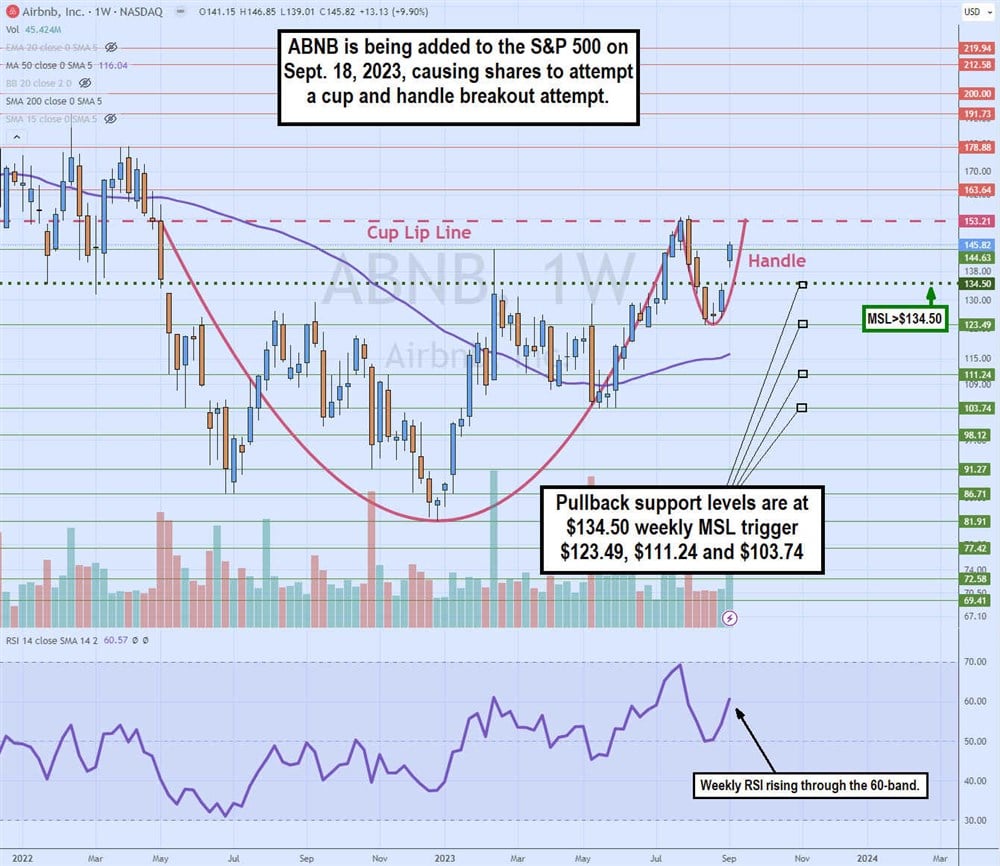 Weekly Cup and Handle Pattern Attempt
The weekly candlestick chart on ABNB has transitioned from a descending triangle to a cup and handle pattern. The cup lip line started at $153.21 body high in May 2022, falling to a low of $81.91 in December 2022. Shares climbed back to retest the lip line at $153.21 in July 2023 before slipping on earnings to a low of $123.49.
This caused the relative strength index (RSI) oscillator to reject and fall off the overbought 70-band to the 50-band and coil as ABNB triggered a weekly market structure low (MSL) breakout bounce through the $134.50 trigger on the news of being added to the S&P 500.
The RSI bounced through the 60-band as shares near the cup line again for a potential breakout which would form the cup and handle breakout, or a rejection. Pullback support levels are at $134.50 weekly MSL trigger, $123.49 handle low, $111.24 and $103.74.