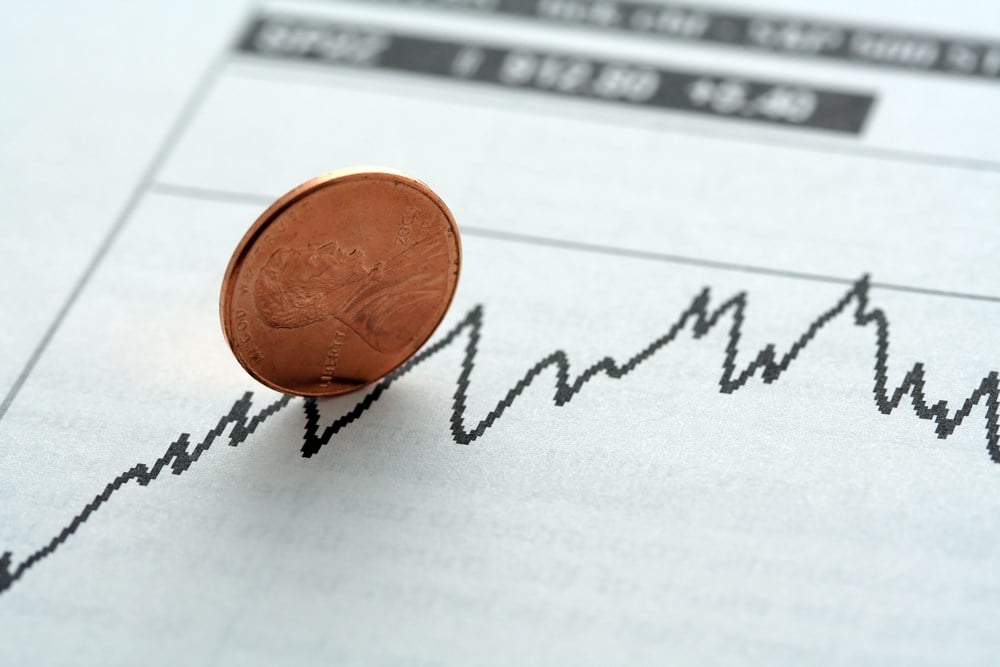 Artificial intelligence has gone mainstream as everyone piles into artificial intelligence stocks. 
While the concept of artificial intelligence has been around for decades, 2023 was indeed the breakout year and tipping point, making it accessible to anyone and everyone with internet access. 
The viral popularity of ChatGPT deserves partial credit. Many artificial intelligence stocks have made tremendous gains over the years, but there may be opportunities for multi-bagger gains for risk-tolerant speculators. 
Low-priced penny stocks can double or triple much quicker than large-cap stocks. However, they can fall much faster, too. Read on for the five best artificial intelligence penny stocks. 
Overview of the Best Artificial Intelligence Stocks
Artificial intelligence integration and adaptation is still in its infancy, leaving a lot of upside potential for the right stocks. Artificial intelligence enhances, optimizes and improves functions and discovers and creates new processes and outcomes. Numerous applications (still being developed) can utilize it.
The following companies implement artificial intelligence and machine learning algorithms to improve their products, services and operations. These penny AI stocks are cheap AI stocks to buy. The best artificial intelligence stocks tend to be the most expensive since everyone wants to be invested in them, driving up share prices. These can also be crowded trades. 
Why Invest in Artificial Intelligence Penny Stocks?
Suppose you want to engage with artificial intelligence stocks off the beaten path and are willing to take the risk. In that case, artificial intelligence penny stock companies can accommodate the highest-risk portion of your portfolio. 
Artificial intelligence is a secular trend with a long runway. The big behemoth leaders like Microsoft Co. (NASDAQ: MSFT), Alphabet Inc. (NASDAQ: GOOGL) and NVIDIA Co. (NASDAQ: NVDA) are well-known large-cap stocks and expensive mature companies. Many under-the-radar developmental, emerging AI stocks and early-stage companies have not yet hit maturation. The fundamentals may be iffy, so there is the risk that artificial intelligence may not bring the dream to fruition. 
There's an inherent risk with penny stocks. Risk is proportionate to reward. For those willing to absorb the risk, penny stocks may provide the opportunity to get in on companies that have yet to hit maturation or have fundamental issues yet to become resolved. While not all penny stocks are broken companies, it's best to assume so unless proven otherwise. 
5 Best Artificial Intelligence Penny Stocks 
Here are best AI penny stocks to consider right now. Remember, penny stocks in AI are speculative. If you decide to invest, it should only be risk capital. 
Most of these stocks are under the radar and don't have analyst coverage for ratings. Don't expect conference call transcripts like the ones put on by blue-chip companies after an earnings release. This top AI penny stocks is not by any ranking or in any particular order. 
The following companies aren't AI startup stocks to buy — they have been in business for a while. Do your research if you decide to take the plunge. 
| | | | |
| --- | --- | --- | --- |
| Name | Ticker | Market Cap | Industry Specialty |
| BigBear.ai Inc. | BBAI | $217.4 million | AI for decision support for defense and intelligence. |
| Remark Holdings Inc. | MARK | $12.25 million | AI facial recognition |
| Inuvo Inc. | INUV | $33 million | AI advertising |
| Veritone Inc. | VERI | $115 million | AI computing |
| IZEA Worldwide Inc. | INDEX | $34.4 million | AI influencer match |
1. BigBear.ai Holdings Inc.
BigBear.ai Holdings Inc. (NASDAQ: BBAI) has the letters "A" and "I" in its name to remind you of what it does. The company specializes in providing AI and machine learning-generated tools and insights for decision support. Specifically, it focuses on autonomous systems, cybersecurity solutions, supply chains and logistics. BigBear generates most revenue from contracts with the United States government defense and intelligence agencies. It has clients in diversified industries ranging from manufacturing, healthcare, distribution and life sciences. 
Business is growing, and BigBear is a benefactor of enterprise and government spread and adoption of AI. BigBear saw revenues climb 15.8% year-over-year (YoY) to $42.2 million in the first quarter of 2023. 
Its non-GAAP adjusted EBITDA was a loss of $3.8 million. The company has a backlog of around $197 million. BigBear has partnered with defense firm L3Harris Technologies Inc. (NYSE: LHX) to be the exclusive provider to L3Harris for computer vision, predictive analysis and event alerting analytics applications for autonomous surface vessels for the Department of Defense. This partnership solidifies that BigBear.ai is a legitimate company. BBAI shares trade up to 91% year-to-date (YTD) and have a 10.4% short interest. 
Look for BigBear.ai earnings estimates on MarketBeat.
2. Remark Holdings Inc.
Remark Holdings Inc. (NASDAQ: MARK) is an artificial intelligence solutions provider specializing in video analytics and computer vision. It uses artificial intelligence for facial recognition and identification to detect people, objections and behavior in video and visual feeds. 
The company does business in China, Brazil and the United States. China's reopening should accelerate sales. In the U.S., many clients use Remark, including the Cosmopolitan of Las Vegas, Barclays Center, Scientific Games, Las Vegas Metropolitan Police, Wynn Resorts and University Medical Center. The company added 43 schools to its customer base in the second quarter of 2023, bringing the total to over 700 schools and 1.5 million students.
Remark closed a 30-month agreement to implement its mobile SSP for facial and license plate recognition in Rio De Janeiro, Brazil. The contract with the Rio De Janeiro police equips its fleet of police cars with license plates and facial recognition technology. 
It enables them to automate, screen and identify people of interest and suspected vehicles following routine police patrol traffic. The company may contract for phases two and three when the initial period passes. The phase one contract is worth over $6 million. The company is still in the red, with a $4 million operating loss on $3.2 million in revenues for the second quarter of 2023. Its cash position fell to $200,000 on June 30 and it expects a capital raise. 
Look for Remark income statements and balance sheets on MarketBeat.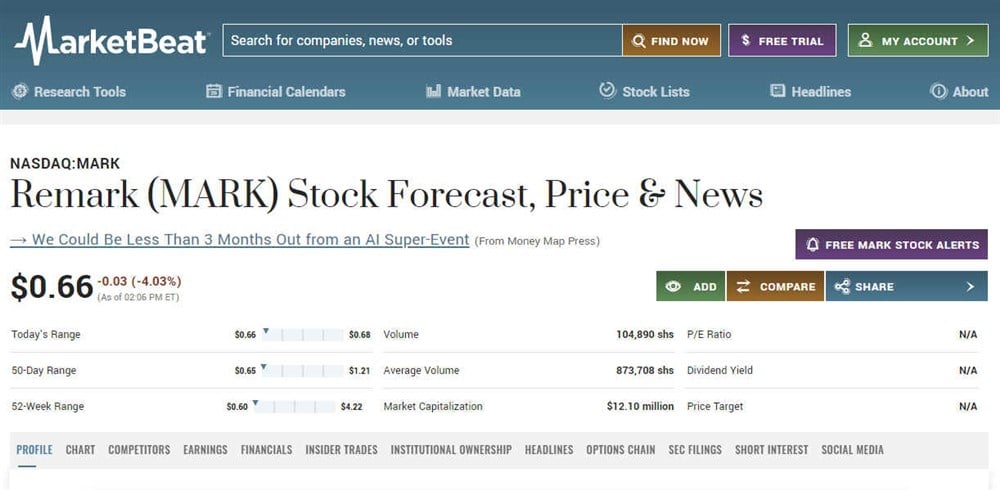 3. Inuvo Inc.
Inuvo Inc. (NASDAQ: INUV) is a digital advertising solutions provider that doesn't use third-party cookies. Apple Inc. (NASDAQ: AAPL) banned third-party cookies more than a year ago due to privacy concerns. Google will ban them in the second half of 2024. Third-party cookies are how advertisers and marketers can keep track of user data to optimize targeted ads. 
Inuvo utilizes artificial intelligence in its IntentKey service, which identifies the "intent" of consumers for targeted advertising rather than third-party cookies. This keeps user data private and enables advertisers to maintain efficiency with their ad spend. Inuvo claims its IntentKey is working effectively, helping clients reduce wasting ad spend. Inuvo also uses AI to create more efficient ad campaigns and analyze, track and optimize them. 
Inuvo saw revenues spike 40% sequentially in its second quarter of 2023 to $16.7 million. However, this was lower than the $22.7 million last year due to the loss of a direct customer in the fourth quarter of 2022. The company noted that data privacy practices continue to gain momentum, with 11 states with privacy laws and five with active privacy bills. Apple continues implementing browser features to thwart conventional ad tech using third-party cookies, email addresses, IP addresses and URL tracking. This makes Inuvo services more relevant despite the pullbacks in digital ad spend.
Look for Inuvo analyst ratings and price targets on MarketBeat.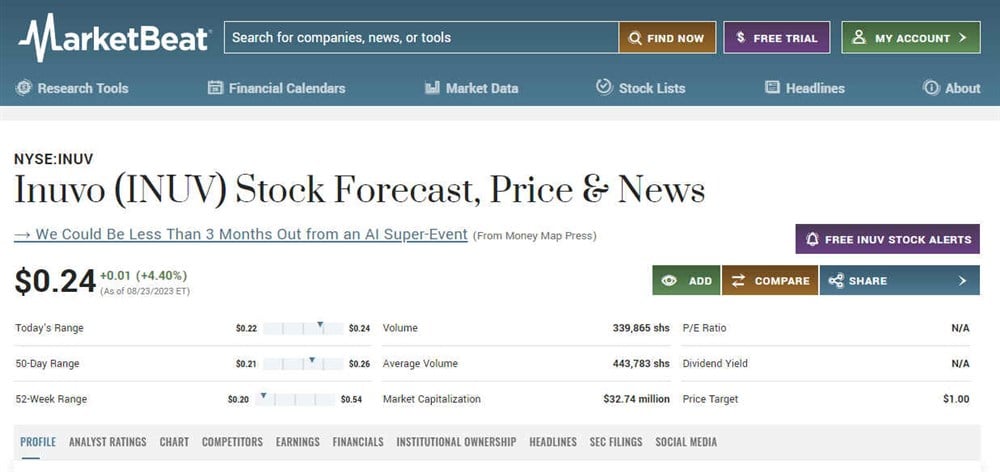 4. Veritone Inc.
Veritone Inc. (NASDAQ: VERI) is an enterprise artificial intelligence software, applications and services provider. It primarily focuses on solutions for the media and entertainment industry. Its flagship profit is aiWARE, which helps to automate and streamline workflows using artificial intelligence. The company uses it for content creation, curation, distribution and monetization. aiWARE can also create synthetic voice, video and audio content for sound effects and music. 
Veritone has over 3,700 software-as-a-service (SaaS) customers, including Bloomberg, Sony, ESPN, Amazon, NFL Network and CNN. It also partners with credible giants like Microsoft, Oracle Co. Oracle Co. (NASDAQ: ORCL) and Snowflake Inc. (NASDAQ: SNOW). The company saw its second-quarter 2023 GAAP revenues of $28 million, down 18% YoY due to the decline in one-time nonrecurring software products and services revenue. 
Total new bookings fell 62% to $8.4 million due to customer cost-cutting measures like Amazon reducing HR consumption. The company had a net loss of $23.3 million due to a one-time noncash benefit of $13.8 million in Q2 2022. Non-GAAP net loss was $13 million. 
Learn more about Veritone analyst ratings and price targets on MarketBeat.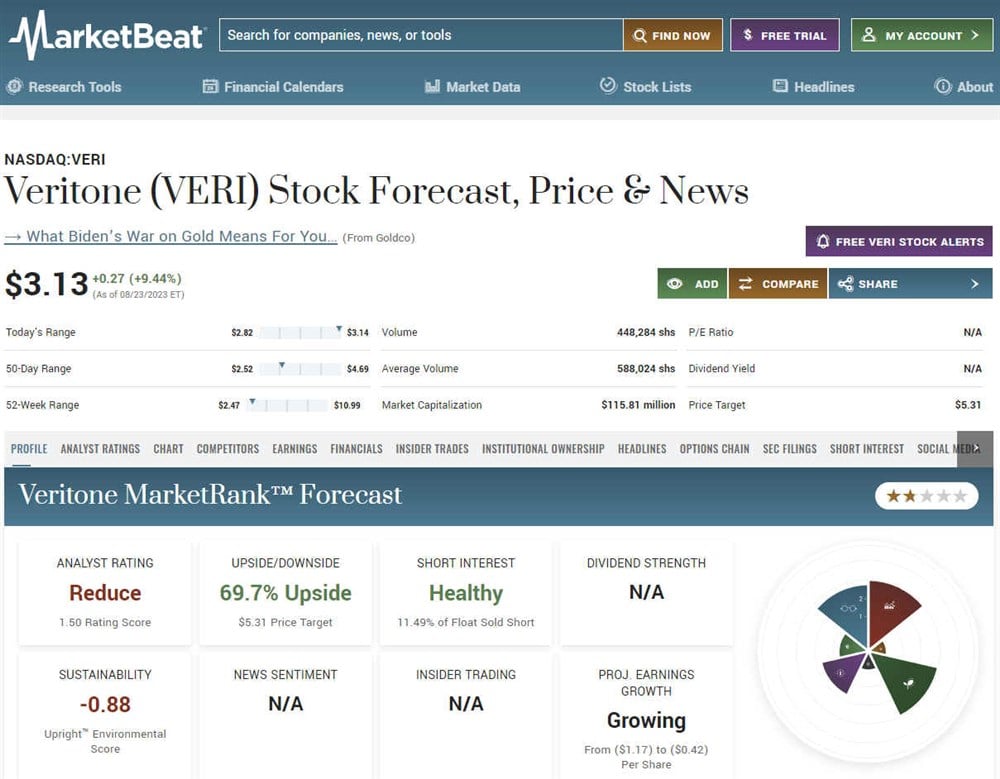 5. IZEA Worldwide Inc.
IZEA Worldwide Inc. (NASDAQ: IZEA) is an artificial intelligence-powered social media influencer discovery and matching platform. It operates digital marketplaces to connect advertisers and sponsors with content creators on social media. Its artificial intelligence engine processes data from social media, website traffic and search engines. 
The platform helps companies manage their influencer campaigns. IZEA matches brands with influencers that have a relevant following and are likely to be responsive to the brand's products and services. It also uses artificial intelligence to power campaign creation, helping brands in the creation and marketing elements of influencer campaigns. The platform has many services and tools to set budgets, track results, optimize analytics, and optimize campaigns. 
IZEA reported its second-quarter 2023 revenues of $10.7 million, down 15% YoY. Net loss was $1 million compared to $200,000 in the year-ago period. The company has $65 million in cash and cash equivalents with no long-term debt. The company authorized a $1 billion share buyback program in March 2023, resulting in 365,865 shares. IZEA strategically decided to sacrifice near-term revenue and customer counts to focus on creating sustainable, profitable and diversified long-term growth. 
Look for IZEA financials on MarketBeat.
Cheap for a Reason
Penny stocks are cheap for a reason. They usually involve materially bad news or weakening fundamentals. Most of the list's stocks have seen YoY revenues and profitability declines. 
Things need to turn around for shares to reverse and sustain the reversal. Penny stocks are underdogs, but remember that underdogs usually lose. Every once in a blue moon, an underdog may win big, and that's the hope of the result of investing in AI penny stocks.
Methodology
The methodology for finding the five best penny stocks artificial intelligence was first to start the search with penny stocks. 
Penny stocks can be considered stocks with a price of less than $5. The next key quality had to be implementing and utilizing artificial intelligence and machine learning in its business, whether the company uses it, promotes it, consults on or sells it. 
The companies are mixed throughout different industries to add some diversification. The value proposition should be compelling where the positive narrative can be understood even while the company may be experiencing a downturn in its business. Lastly, market capitalization had to be under $250 million.