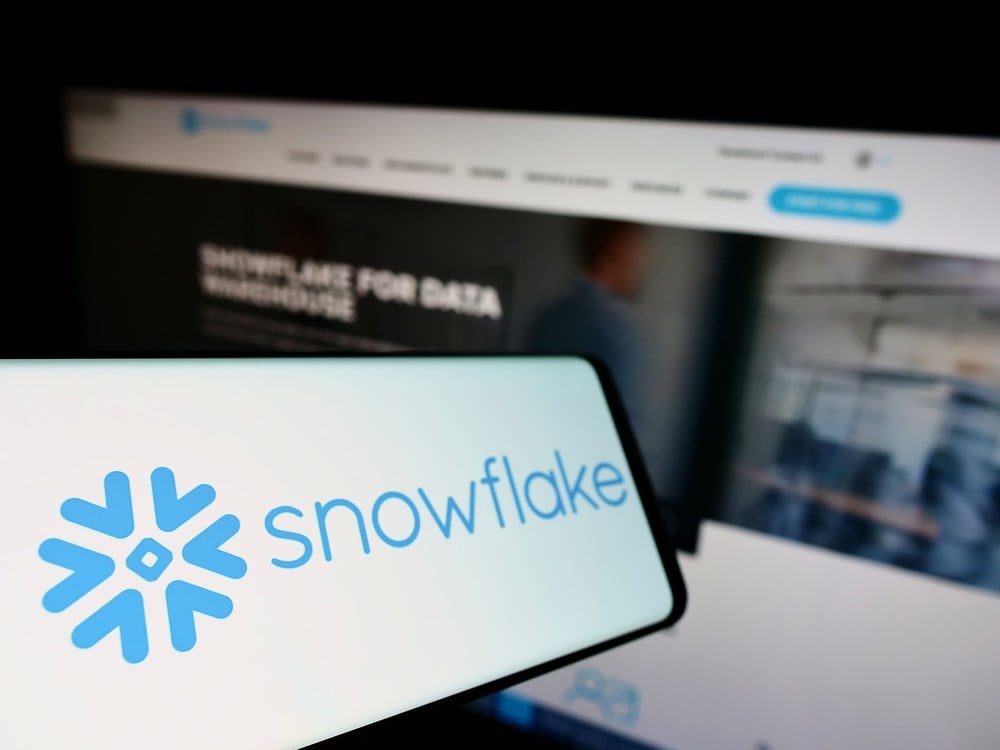 Cloud-based data warehouser Snowflake (NASDAQ: SNOW) stock has been forming a rounding bottom since its $119.26 low in January 2023. Snowflake's platform enables many different workloads on a single platform enabling data access and flexibility, which are crucial for artificial intelligence (AI) training and applications. In fact, Snowflake announced its partnership with leading GPU maker NVIDIA Co. (NASDAQ: NVDA) to collaborate on building generative AI apps in Snowflake's data cloud at its 2023 summit. It allows Snowflake clients to build AI models with their data using NVIDIA NeMo cloud-native framework.
It lets customers create custom generative AI models from other businesses for their own. The company competes with data warehouse behemoths Alphabet Inc. (NASDAQ: GOOGL) Google BigQuery data warehouse, Amazon.com Inc. (NASDAQ: AMZN) Redshift, and Microsoft Co. (NASDAQ: MSFT) Azure Synapse Analytics. The company has 590 customers on the Forbes Global 2000 list.
Snowflake Data Cloud
Legacy data storage has led to the proliferation of data silos where data in one department, like sales, is separate from data kept in other departments, like enterprise applications, suppliers, agencies and product usage. Silos are a bane to an enterprise because the data is isolated with limited accessibility leading to inefficiency, overlapping duplications of efforts and, ultimately, poor decision-making. Worst of all, siloed data limits collaboration.
Snowflake solves this problem by enabling all data, regardless of its structure, to be stored, shared, accessed, leveraged, and analyzed on one cloud-based platform without managing infrastructure or maintenance. Snowflake's data cloud also enables companies to monetize their data through its data marketplace and access third-party real-time external data to enrich internal data sets. Data cloud enables AI/ML training, predictive data analytics and reporting to generate business insights.
Growing Like Weeds
On May 24, 2022, Snowflake released its fiscal first-quarter 2024 results for the quarter ended April 2022. The company reported earnings-per-share (EPS) of $0.15, beating analyst estimates by $0.10. Revenues grew 47.6% year-over-year (YoY) to $623.6 million, beating analyst estimates of $608.7 million. Snowflake now, as 373 customers, will be trailing twelve-month (TTM) revenues of over $1 million. Net revenue retention is 51%. Remaining performance obligations (RPOs) rose 31% YoY to 3.4 billion.
Forward Outlook
Snowflake expects fiscal Q2 2024 product revenues to come between $620 million and $625 million. Total product revenues for the fiscal full-year 2023 are expected to come between $1.885 billion and $1.9 billion. Non-GAAP operating margin is expected at 2%. Fiscal full-year 2024 product revenue is expecting around $2.6 billion with a non-GAAP operating margin of 5%.
CEO Comments on Nvidia Partnership
Snowflake CEO Frank Slootman commented on the NVIDIA partnership, "Snowflake's partnership with NVIDIA will bring high-performance machine learning and artificial intelligence to our vast volumes of proprietary and structured enterprise data, a new frontier to bringing unprecedented insights, predictions and prescriptions to the global world of business." Nvidia will benefit from selling more GPUs and charging for access to Nvidia AI Enterprise.
Snowflake also expanded its partnership with Microsoft to enable new product integrations across AI, which likely includes access to its Azure OpenAI Service. This could enable natural language summaries of data, answering questions about the data and the creation of new data products and applications. William Blair resumed coverage of Snowflake with an Outperform rating.
Snowflake analyst ratings and price targets are at MarketBeat.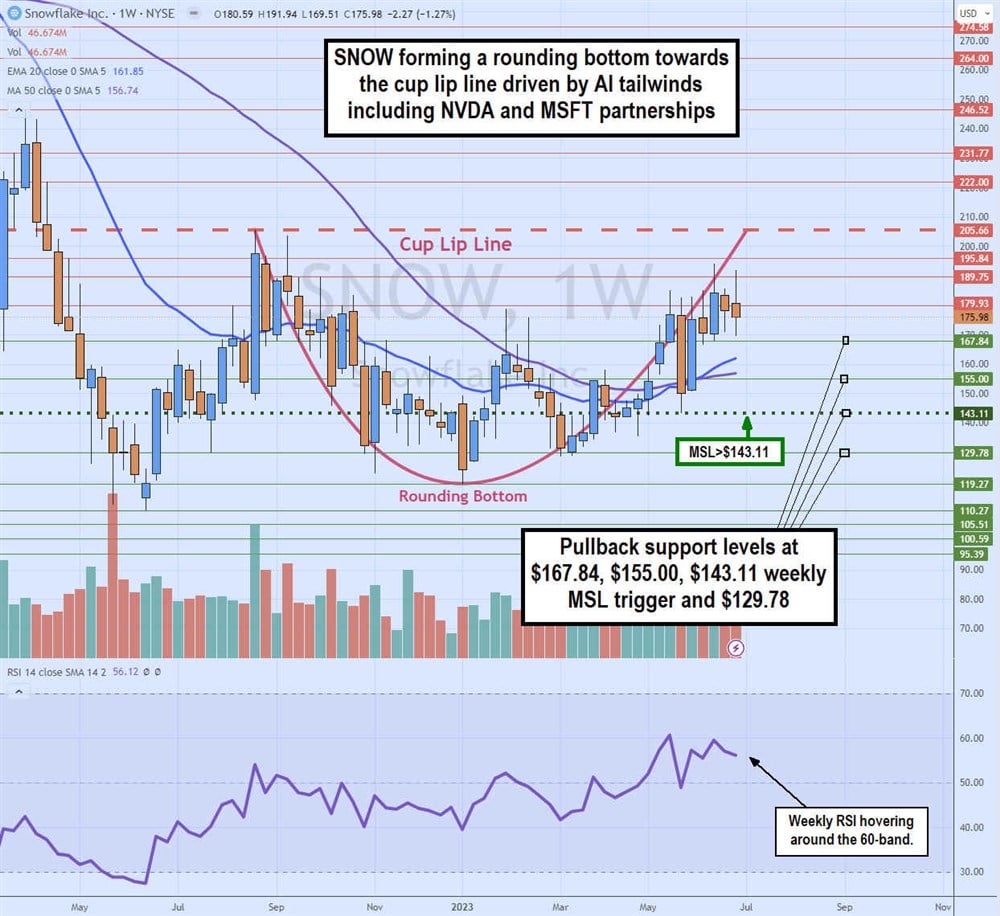 The definitive beginner's guide to reading stock charts can be found free on Marketbeat
Rounding Bottom Cup Formation
The weekly candlestick chart on SNOW depicts a rounding bottom proceeding with the cup lip line peak of $205.66 in August 2022. Shares fell to a low of $119.27 in January 2023. A weekly market structure low (MSL) breakout triggered through $143.11 in March 2023 helped to form the rounding bottom. Shares steadily climbed to a peak of $193.94 in June 2023. The weekly RSI is chopping around the 60-band. Pullback support levels are $167.84, $155.00, $143.11 weekly MSL trigger and $129.78.