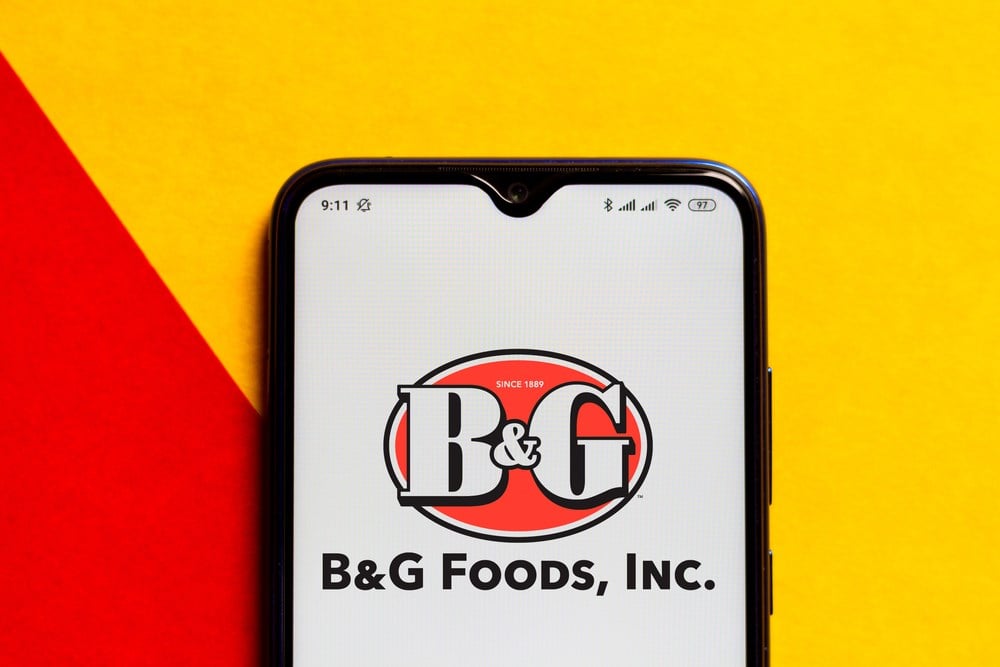 Packaged foods manufacturer B&G Foods Inc. (NYSE: BGS) may not sound familiar, but you've likely experienced some of its brands. Its popular brands include Cream of Wheat, Green Giant, Ortega, Crisco and Grandma's, which are just a fraction of the 50-plus brands the company owns. Its products can be found in the aisles of grocery stores, including The Kroger Co. (NYSE: KR), Target Co. (NYSE: TGT), Walmart Inc. (NYSE: WMT) and Costco Wholesale Corp. (NASDAQ: COST).
B&G manufactures and distributes a diverse assortment of self-stable stable, frozen foods and household products ranging from sauces, salad dressing, snacks and canned and frozen vegetables to oatmeal, jams, pickles, soda and baking powder. The company faces pressure from all sides, including private label brands pulling away customers, high inflation and rising interest rates squeezing margins that may lead to a dividend cut for B&G Foods stock.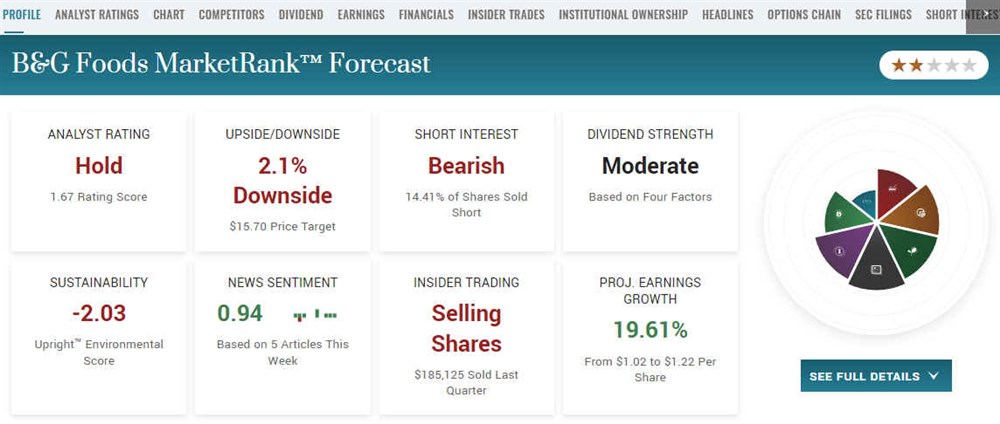 Earnings Beat: Close of 2022
On February 28, B&G released its fourth quarter 2022 results for the quarter ending December 2022. The company reported a profit of 40 cents per share, beating consensus analyst estimates of 22 cents per share by 18 cents. Revenues rose 9% year-over-year (YoY) to $623.3 million, beating consensus analyst estimates for $583.86 million.
B&G Foods CEO Casey Keller commented, "B&G Foods' fourth-quarter results and performance demonstrated strong recovery, reflecting the catch-up of cumulative pricing actions against inflationary cost, a moderating inflationary environment and the recovery of our higher margin spices and seasonings business."
He continued, "Net sales grew 9% in the fourth quarter behind pricing implementation and supply recovery, with margins improving versus the fourth quarter of last year. We expect to continue year over year margin recovery into fiscal 2023."
In-Line Guidance
B&G issued in-line guidance for fiscal full-year 2023 for EPS between 95 cents to $1.15 versus $1.06 consensus analyst estimates. Adjusted EBITDA is expected from $310 million to $330 million. Full-year 2023 revenues are expected to come between $2.13 billion and $2.17 billion versus $2.16 billion. The company expects a YoY margin recovery in 2023.
Short Squeeze, Debt and Dividend Cut
The reaction to its fourth quarter 2022 earnings report triggered a 30% rally partially fueled by a short squeeze, considering its 14.7% short interest. The bears have argued that the company growth was subpar, but the more significant problem is the accumulated debt load through its acquisitions. The company divested its Barilla and Back to Nature brands to use proceeds to pay down some of its $2.4 billion of long-term debt.
The first maturity debt is still two years out, and higher interest rates could continue to squeeze margins and potentially impact its hefty dividend.
A weakening economy also drives consumers to trade down to the cheaper private label and generic brands over its national brands. B&G stock has an average analyst price target of $15.70 with an average rating of "hold." Take a look at B&G Foods analyst ratings and price targets on MarketBeat to learn more.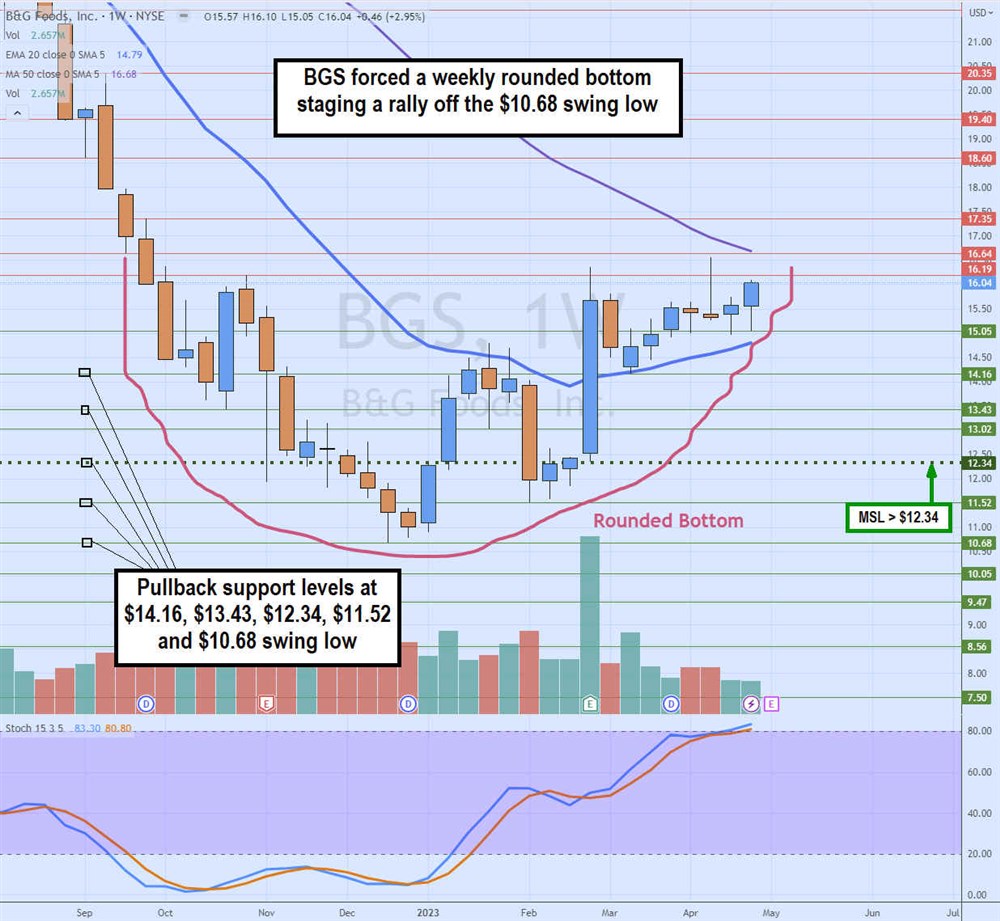 Weekly Rounded Bottom
The weekly candlestick chart on BGS illustrates a rounded bottom formed after making a swing low of $10.68 in December 2022. Shares rallied on the weekly market structure low (MSL) breakout through $12.34, where it continued to make higher highs as the stochastic rallied up through the 80-band. BGS has a 20-period exponential moving average (EMA) support at $14.79 versus the weekly 50-period MA resistance at $16.68. Pullback support levels are at $14.16, $13.43, $12.34, $11.52 and $10.68.