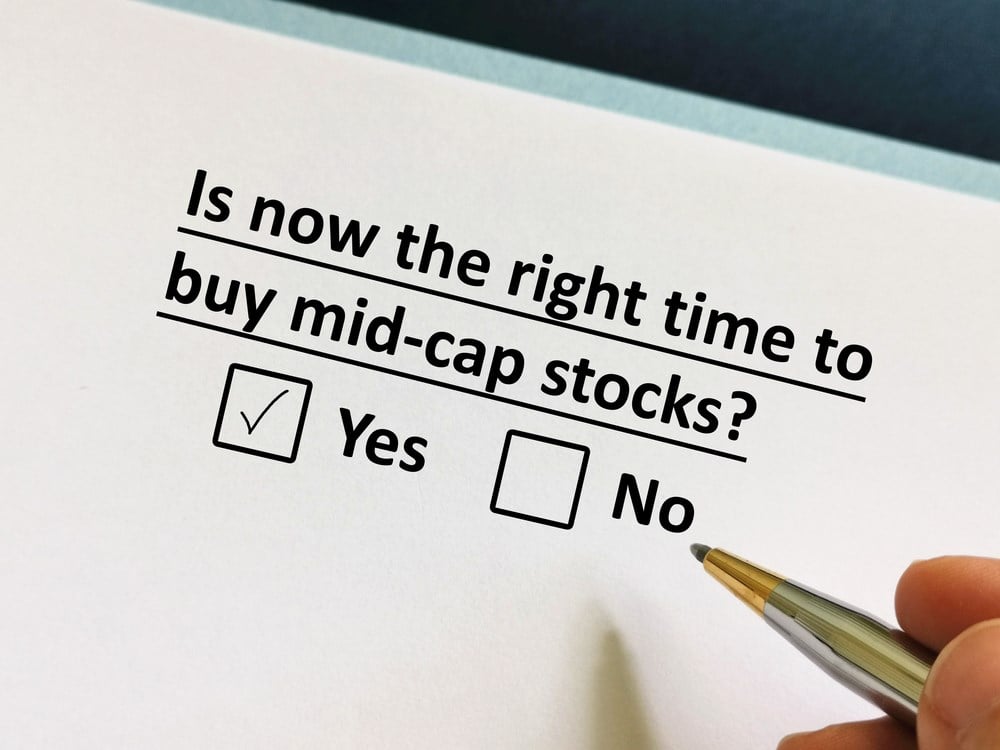 This year's stock market can be summed up in one word — resilient.
On top of inflationary pressures and rising rates, not even government debt ceiling uncertainty has been able to slow the upward momentum. Just two months removed from the bank crisis downturn, the S&P 500 climbed to fresh 2023 highs last week. In all likelihood, the index will enter the Memorial Day weekend at its highest level since August 2022.
In the U.S. mid cap space, however, the turnaround has been slower. With recession worries having a greater impact on less stout companies, the S&P 400 is up from its March 2023 low but still well off its high for the year. 
The good news for mid-cap investors is that a game of catch up may soon unfold. When market sentiment improves, enthusiasm often spills over to more risky asset classes. 
With a forward P/E ratio of just 13x, the S&P 400 has a far more attractive valuation than the S&P 500 at 18x. All the more reason to give greater consideration to mid-caps. But which ones?
The information technology sector is a good place to start. If the S&P 400 is able to break out of its sideways pattern, odds are tech will lead the way. Tech names are certainly leading this year's charge in the S&P 500 and are among the best performers in the S&P 400 as well.
It may be too late to chase a stock like Super Micro Computer, which has doubled year-to-date and goes for well over $100 a share. At the other end of the spectrum, though are a couple of low-priced mid-caps with high return potential. Wall Street sees these sub-$10 tech stocks running 60% or more over the next 12 months.
Why Is Wall Street Bullish on Alight? 
Alight, Inc. (NYSE: ALIT) provides a cloud-based platform called Worklife that helps businesses and their employees better manage human resources needs like payroll, health benefits and retirement benefits. Last week, the company held its annual Investor Day, where it outlined a strategy to capitalize on what it considers to be a broken HR experience for workers overwhelmed by too many benefit programs.  
While most companies offer next-quarter or full-year guidance, Alight presented a 'mid-term' outlook. It projects at least 15% growth in the business process as a service (BPaaS) revenue, its core recurring revenue source. 
From an investment perspective, Alight's 5,000-plus customer base is attractive because it includes many blue chips and is 'sticky.' Approximately 70% of the Fortune 100 are Alight clients, and the average customer has been with the company for 15 years. General Electric, Chipotle and Mercadolibre are some of Alight's customers.
The most compelling part of the story, however, is Alight's artificial- intelligence (AI) connection. Worklife is powered by AI engines that provide recommendations, insights and personalized user experiences. Given the recent attention to ChatGPT, increased awareness of Alight's AI capabilities could drive greater interest in the platform and stronger financial results.
Following the Investor Day event, Needham reiterated its buy rating on Alight and gave it a $13 price target. All other firms that cover the stock are bullish, and the average target implies 65% upside. 
What Is the Upside for iQIYI Stock?
Trading around $5.00 per share, the current consensus target on iQIYI, Inc. (NASDAQ: IQ) suggests the stock has a 90% upside. Last week, Credit Suisse upgraded the Chinese streaming TV platform from Neutral to Outperform, saying it is "increasingly convinced" of the company's profit outlook and leadership in premium content.
The upgrade followed the company's better-than-expected first-quarter earnings report from May 16th. Revenue increased 15% to a record $1.2 billion. Adjusted net income per American Depository Share (ADS) nearly quintupled year-over-year, a reflection of China's improved economic landscape and consumers' increasing appetite for premium streaming TV. The blockbuster drama series 'The Ideal City' has been a big contributor to iQIYI's recent success.
As the summer viewing season approaches, iQIYI is building up its lineup of dramas, variety shows, anime and games to drive traffic. Its original content is backed by more than 50 in-house studios that produce entertainment for a growing base of over 100 million subscribers. In contrast to the recent struggles at Netflix and Disney+ to grow their subscriber bases, iQIYI added 17 million subscribers in Q1. 
Despite iQIYI's strong Q1 report and growth opportunities in China's massive streaming video market, its shares continue to trend lower. Several technical indicators (RSI, Bollinger Band) point to oversold conditions on a stock that prior to the pandemic traded in the mid-$20's. Combined with Wall Street's mounting support, this mid-cap may not be in the mid-single digits for long.