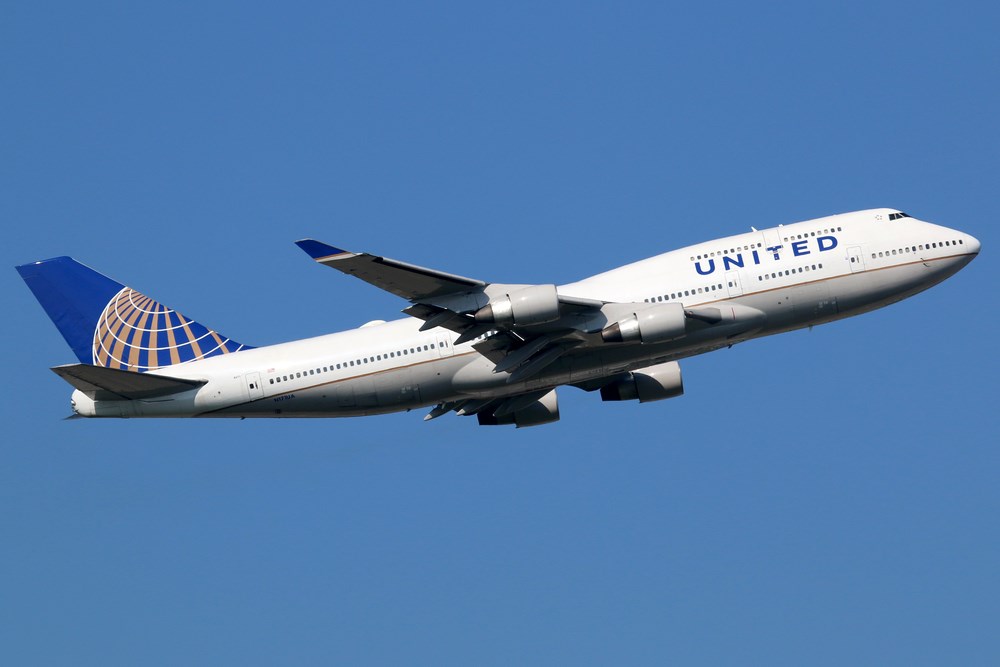 United Airlines (NASDAQ: UAL) shares have seen increased volatility in the after-market trading hours after reporting first quarter 2023 earnings results. The stock reached a high of $44.75 immediately after the earnings report and followed a swift bounce back toward $43. Investors can attempt to make sense of this swing in market sentiment after dissecting what exactly was delivered within the release.
United Airlines stock has outperformed competitors like Delta Airlines (NYSE: DAL) and American Airlines (NASDAQ: AAL) over a twelve-month look-back period. This suggests that investors see the benefits of flying United versus the alternative. Moreover, after delivering pleasant top-line revenue growth and very aggressive year-end guidance for earnings per share, markets may be saving a rally for the stock in the near future.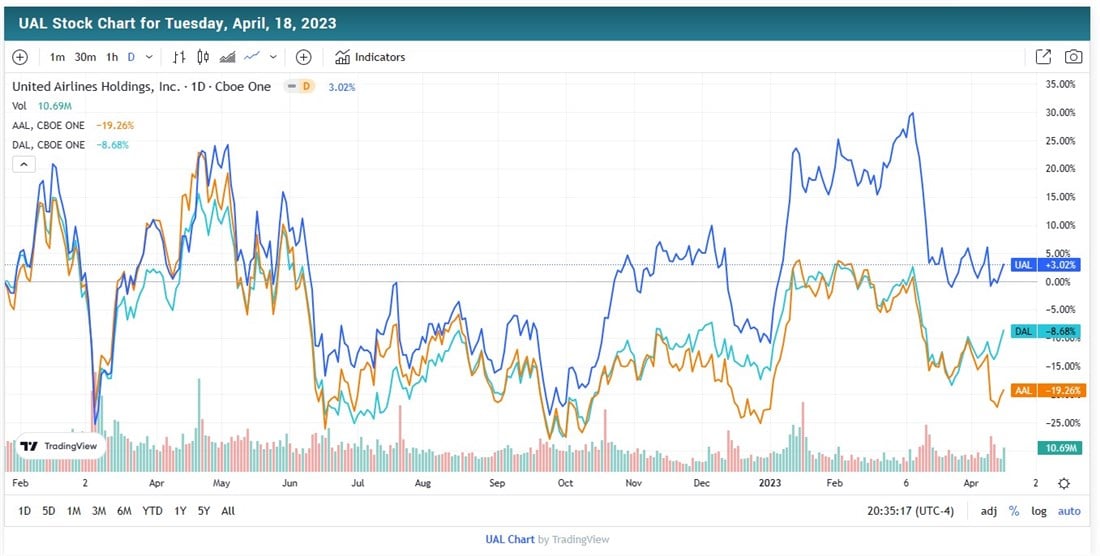 The Lifeblood of Any Business
Cash flow is king during times of financial difficulty in the stock market. Easy times attract hyper-growth and aggressive valuation scenarios by analysts and investors alike; more challenging times are focused less on growth and multiples but on cash flow stabilization and recurrence.
Understanding the importance of cash flow for businesses and investors may be why United stock performed its initial rally after earnings since the company reported record cash flow levels in the first quarter. The first quarter of 2023 brought on nearly $1.3 billion in free cash flow (operating cash flows minus capital expenditures), keeping in perspective full-year free cash flow of $1.2 billion for 2022, a single quarter being more prominent than the last fiscal year results is most definitely bullish for investors.
Achieving record levels of free cash flow is made possible by a year-on-year 51.1% revenue growth pushed by having the lowest mainline flight and seat cancellation rates of any U.S. airline despite having the most flights impacted by weather, a testament to the efficiency of the airline's operations.
Regarding efficiency, gross margins (revenue after deducting fuels, salaries, and landing fees) grew from 25.6% in the first quarter of 2022 to 36.9% in the first quarter of 2023. The gross margin expansion comes amid a reduction in fuel expenses as a percentage of revenue from 29.5% in 2022 to 27.8% in 2023 and salary costs by the same period and metric from 36.8% to 29.1% despite inflationary pressures in both oil prices and wages.
Aside from the qualities that trickle down to shareholders as the income statement grows, free cash flow figures also allowed the company to reduce its net adjusted debt in 2022 by $4.6 billion. Debt reduction is something that the airline industry must focus on after taking on additional debt financing during the closures in the travel space during the lockdowns enforced by numerous jurisdictions.
Reaching Broader Skies
The ability to generate double-digit growth and record free cash flow in a single quarter showcased how resilient United Airlines is. However, the story does not end there. United has reached a tentative agreement with the International Association of Machinists & Aerospace Workers (IAM) for a new contract for their nearly 30,000 represented employees, ensuring that those who serviced the travel industry during one of the most challenging periods are heard.
Furthermore, United announced the most extensive South Pacific network expansion ever, going to and from the continental U.S. This network expansion initiative will result in nearly 40% more flights from the United States to New Zealand and Australia starting next Northern winter season. 
To achieve volume targets for this year and onward, United has invested $32 million in an expansion project which will more than double available training space, supporting the airline's plan to hire and train 15,000 new members in 2023, including 4,000 new flight attendants.
In addition, understanding that their free cash flow generation, along with the lowest cancellation rates, came from the loyal customer base that United has built over years of service, the airline has announced a policy that will allow children under twelve years old to a seat next to an adult, since the inception of the policy approximately fifty thousand families have been able to travel jointly with their children.
The goodwill and reputational benefits achieved by something as simple as a seating policy will accrue to renewed memberships and additional customer reward account sign-ups.
Upside Cruising Altitude
Management added in their case for the 2023 guidance, where United Airlines is looking to post earnings per share of $3.50 to $4.00 for the second quarter and full-year diluted earnings per share in the range of $10 to $12. These significantly higher earning potentials seem aggressive to some. Still, after looking at the fantastic revenue and free cash flow posted in the first quarter, coupled with the expansion in flights and services announced within the report, it becomes more rational as a base case for the airline to achieve.
Considering the current stock price, UAL is trading at a cost-to-earnings multiple of 7.3x for last-twelve-months earnings per share and a 9.6x last-twelve-months free cash flow per share. Analysts assign a consensus price target of $56.97, implying a 32.4% upside from today's close. Investors may get a gut feeling that if management can successfully deliver on their $10-$12 EPS guidance for the year, the stock price target may be pushed upward by analysts adjusting models for such an achievement. 
For investors on edge about this stock today, it would be beneficial to know that the firm's NAV (net asset value), computed as total assets minus total debt per share, stands at $42.60 as of the latest financials reported. Moreover, the stock has formed a channel around these prices since the start of 2021, signaling solid support for NAV awaiting more robust evidence of a bullish catalyst, such as those seen in today's earnings and management guidance.