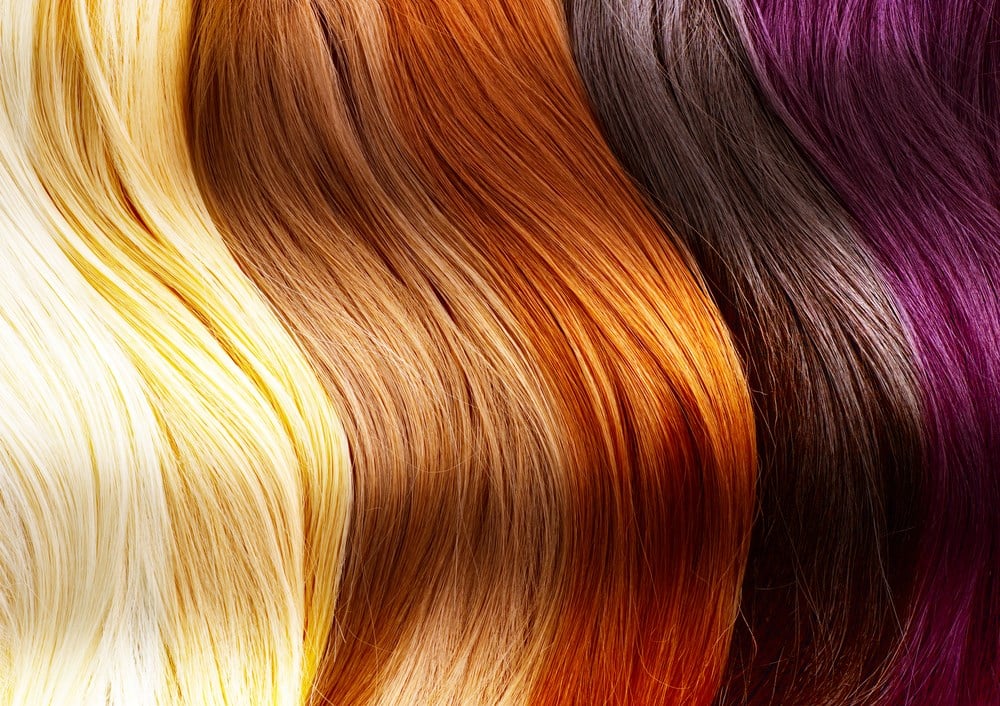 Sally Beauty Holdings Inc. (NYSE: SBH) is the world's largest retailer and distributor of professional hair and beauty supplies. It operates over 3,100 stores throughout 12 countries. Sally Beauty sells its products to salon professionals and retail consumers with more than 8,000 hair, skin and nail products. It has its own proprietary brands, including Beyond the Zone, Ion, Generic Value Products and Silk Elements.
It also dells professional third-party products from Clairol, Wella, OPI, Hot Shot Tools and Conair. Foot traffic to beauty venues improved by 13.4% to 30.9% higher in 2022 since the pandemic, according to Placer.ai. The company is updating its stores and successfully implementing its distribution center consolidation. Sally Beauty's stock lags behind its peers in the beauty products industry.
Beauty is Blowing Up
Beauty and skincare stocks have been on fire in 2023 as consumers are back in the office and back to physical engagements. Stocks like Ulta Beauty Inc. (NASDAQ: ULTA) and e.l.f. Beauty Co.(NYSE: ELF) has soared to all-time highs in 2023. While peers like Estee Lauder Companies Inc. (NYSE: EL) and Coty Inc. (NASDAQ: COTY) aren't making new highs, they are on the comeback trail. Retailers also indicate strong demand for its partnerships. This sentiment was echoed by large retailers like Kohl's Corp. (NYSE: KSS) with Sephora store-within-a-store and Target Co. (NYSE: TGT) with Ulta Beauty Inc.
Optimization Plan
On Feb. 2, 2023, Sally Beauty released its fiscal first-quarter 2023 results for December 2022. The company reported an adjusted earnings-per-share (EPS) of $0.52, excluding non-recurring items beating consensus analyst estimates for a profit of $0.49 by $0.03. GAAP EPS is $0.46, and GAAP operating margin of 9%.
Revenues fell (2.4%) YOY to $957.06 million, beating analyst estimates of $921.74 million. Consolidated comparable sales were up 1.1%. Global e-commerce sales rose 14% to $91 million and 9.5% of net sales. GAAP gross margin at 51% and adjusted gross margin at 50.8%. The company closed the quarter with $99 million in cash and cash equivalents and $65 million in its revolving credit line.
Fiscal 2023 Guidance
Sally Beauty expects comparable sales to grow on a low single-percentage basis. Net sales are expected to decline by low-single digits YoY. This includes the 150 bps to 200 bps of unfavorable impact from store closure and 150 bps of unfavorable FX headwinds. Fiscal full-year gross margins are expected to hold above 50%.
CEO Commentary
Sally Beauty CEO Denise Paulonis commented, "During the first quarter, we delivered net sales of $957 million, Adjusted Gross Margin of 51% and Adjusted EBITDA of $126 million. In addition, we successfully implemented our distribution center consolidation and store optimization plan, furthering our goal to maximize the value of our large real estate portfolio, optimize our supply chain and provide a seamless omnichannel experience to our customers." The company closed 350 retail locations and two small distribution centers to consolidate its supply chain in its optimization plan. This incurred a $45 million net charge in Q4 2022 and a $7.7 million net charge in Q1 2023.
Piper Sandler Upgrade
On April 4, 2023, Piper Sandler upgraded stocks in the beauty segment due to the flourishing growth of teen spending. While Ulta is the top beauty loyalty program membership, Amazon.com Inc. (NASDAQ: AMZN), Sephora and Sally Beauty were top destinations. Analyst Korinne Wolfmeyer assigned an Overweight rating on Sally Beauty stock with a $19 price target.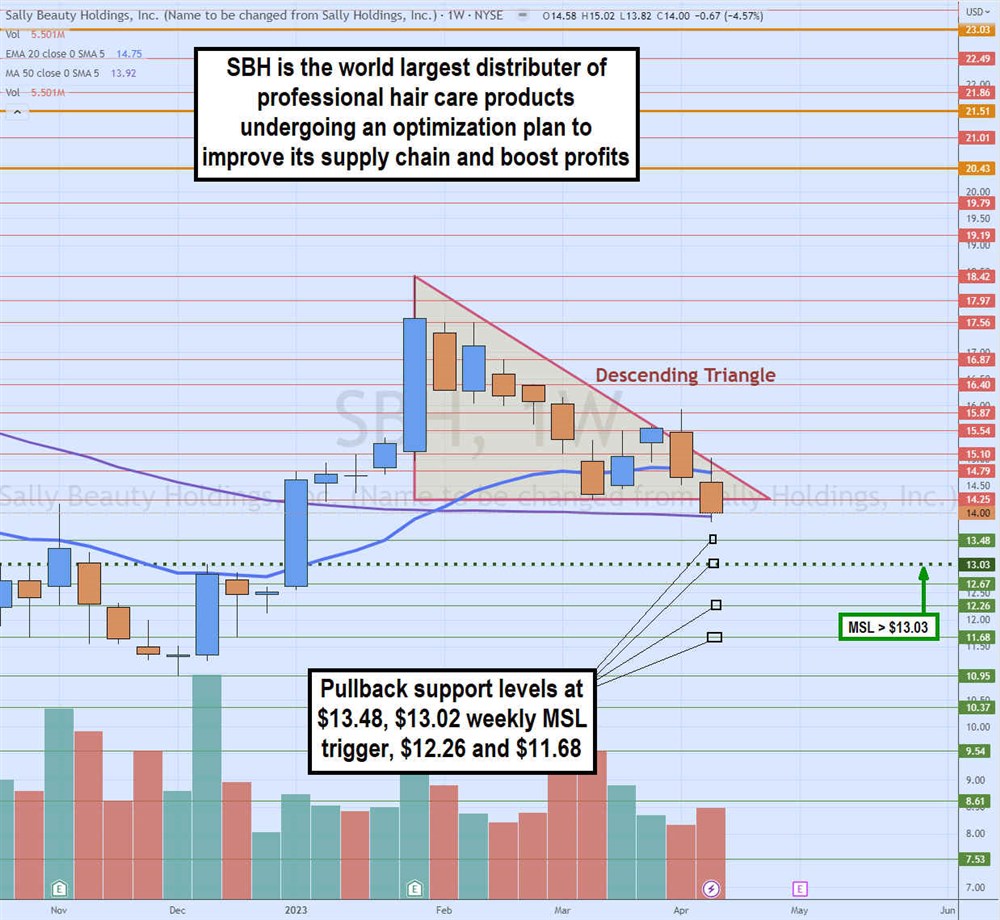 Weekly Descending Triangle
The weekly candlestick chart on SBH depicts a descending triangle that commented after making a swing high at $18.42 in late January 2023. Shares were making consecutive lower highs and lower lows as they eventually fell to a low of $14.25 by March. SBH bounced to a peak in the mid-15s as it fell back to retest the flat bottom trendline at $14.25. Shares could hold above their weekly market structure low (MSL) trigger at $13.03.
The weekly 50-period EMA at $14.75 follows the weekly 20-period exponential moving average (EMA) at $13.92. A higher weekly MSL can trigger a breakout through $15.54. There is also a potential for a seed wave breakout if the $18.42 swing high breaks setting up fib targets at $20.43, $21.51, and $23.03 as the 1.68 fib extension. Pullback support levels are $13.48, $13.02 weekly MSL trigger, $12.26 and $11.68.