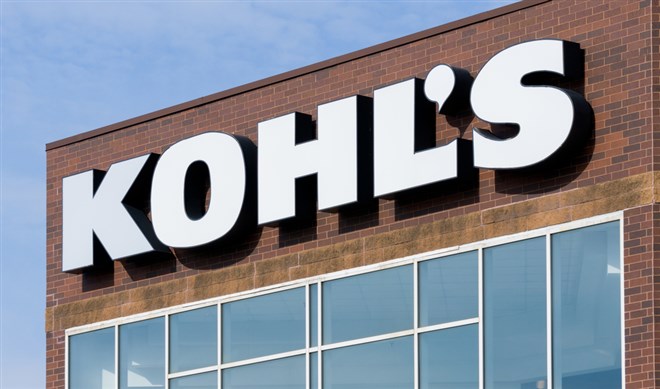 Retail department store chain Kohl's Corporation (NYSE: KSS) had a disastrous Q4 2022 earnings report missing top and bottom lines and lowering its full-year 2023 guidance. Kohl's missed almost every metric as shares initially sold off in the post-market but rebounded the following day, leaving investors puzzled.
Stocks tend to sell off even if a company beats its current quarter's earnings estimates if it warns and cuts guidance because the market is always forward-thinking. In this case, Kohl's completely bombed on its current quarterly expectations by a mile and lowered full-year 2023 top and bottom line guidance. This is typically a recipe for a nasty sell-off. Is it possible for earnings to be so bad that they are good? Yes. This last quarter closes the chapter on the four-year reign of its CEO, Michelle Gass. She was replaced by a new CEO Tom Kingsbury, formerly of Burlington Stores Inc. (NASDAQ: BURL), from 2008 to 2018. 
Pandemic Superstar to Cautionary Tale
When the country went into lockdown mode during the pandemic, former CEO Michelle Cass had the foresight to pivot Kohl's heavily into athleisure and casual wear accommodating homebodies. She bolstered brands like Under Armor, Inc. (NYSE: UAA) and Champion as stay-at-home workers replaced business wear with comfortable wear. This helped spike shares of Kohl's into the $60s. The company was rumored to have been approached by as many as 25 suitors ranging from Sycamore Partners to the Franchise Group, Inc. (NYSE: FRG).
Playing Too Hard To Get
The company played hardball when it was riding high. Unfortunately, Kohl's went all in on casual wear during the reopening as workers returned to the office, shifting spending back to office and formal wear. Kohl's completely missed out. Inflationary pressures hitting 40-year highs in 2022 caused consumers to pull back on discretionary spending like apparel.
Kohl's middle to lower-income demographic core base was hit the hardest. The misstep caused Kohl's inventory to balloon. As the stock market sold off, suitors walked away as its shares plunged, leaving angry shareholders holding the bag. The Franchise Group lowered its offer from $60 to $53 and then terminated when Kohl's released a disappointing Q2 2022 earnings report.
CEO Hot Potato
Activist investor Ancora Holdings had enough and pressured the Board of Directors to replace CEO Michelle Gass. Gass was too slow to adapt to the reopening as consumers returned to the office and engagements. Michelle Gass resigned on Dec. 2, 2022, as Kohl's CEO and board member for four years during the holiday season.
She left Kohl's to join Levi Strauss & Co. (NASDAQ: LEVI) as its CEO and board member replacing Chip Bergh within 18 months. Tom Kingsbury became the new CEO, and bullish sentiment for a better future has buoyed the stock as he took the helm.
The Ugly Truth
On March 1, 2023, Kohl's released its fiscal fourth-quarter 2023 results for December 2022. The company reported an adjusted earnings-per-share (EPS) loss of ($2.46) excluding non-recurring items versus consensus analyst estimates for a profit of $0.97, missing estimates by ($3.46). Revenues fell by (7.2%) year-over-year (YOY) to $5.78 billion, missing analyst estimates of $6.03 billion by ($220.3 million). Gross margins fell (1,016 bps) to 23% of net sales, comprised of 750 bps in clearance markdowns and a cost inflation impact of 200 bps.
Operating losses were ($302 million) compared to an operating profit of $450 million in the year-ago period. Inventory rose 4% YoY to $3.2 billion. The company retired $164 million of debt, including bonds maturing in February 2023, and expects to retire another $111 million in December 2023.
Lowered Full-Year 2023 Guidance
Kohl's cut its full-year 2023 EPS of $2.10 to $2.70 versus $3.20 consensus analyst estimates. Full-year revenues are expected between $16.51 billion to $16.86 billion versus $17.66 billion consensus analyst estimates.
Turn the Page
With a quarter that was a pure disaster, the good news is the hope that the worst may be over. CEO Tom Kingsley reassured investors on the earnings release. He commented, "Our efforts to drive the business are already underway. We are refining our strategy and re-establishing merchandise disciplines with a customer-centric focus across the organization. I am confident that our efforts will drive improved, and more consistent, sales and earnings performance over the long-term."
Plans to Improve
Kohl's plans to open 250 more Sephora stores within a store and release a co-branded credit card with Capital One Financial Co. (NYSE: COF). Inventory level growth is declining from up 48% YoY in Q2 2022 to up 34% in Q3 2022 to only 4% in Q4 2022. Kingsbury said it would accommodate its customers' return to normal wardrobe purchasing behavior, adding more career wear and expanding women's dress business wear.
Value Play?
Kohl's has between $7 billion to $7.9 billion in real estate assets. Kohl's has over 1,150 stores and owns the property of 400 of its retail store locations. Shares are trading under a $3.3 billion market cap of just 50% of its properties. It also offers a 7.18% dividend and trades at 11.5X forward earnings with a 17% short interest. The high short interest could fuel a short squeeze with the attractive valuation and real estate holdings worth twice its market cap. For value investors, Kohl's disastrous Q4 2022 earnings may be a blessing in disguise.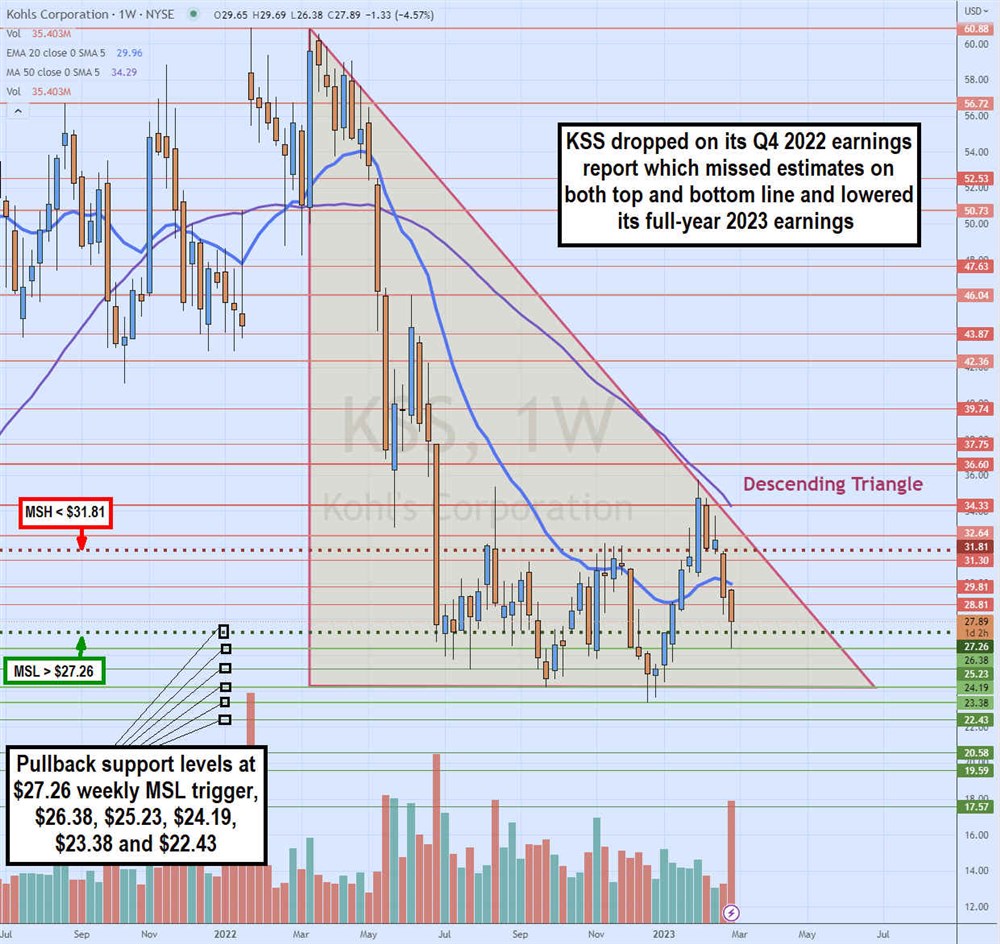 Weekly Descending Triangle
The weekly candlestick chart on KSS depicts a year-long descending triangle that commenced after peaking at $60.88 in March 2022 and falling to a low of $23.38 in December 2022. Shares bounced and triggered the market structure low (MSL) breakout through $27.26, rising to the falling trendline at $35.77 before triggering a weekly market structure high (MSH) breakdown through $31.81, selling back down heading into Q4 2022 earnings.
Shares gapped down on the earnings miss but managed to bounce back off $26.38 to retrigger the weekly MSL above $27.26. The weekly 20-period exponential moving average (EMA) resistance is $29.96, and the weekly 50-period MA resistance is $34.29. Pullback support levels are $27.26 weekly MSL trigger, $26.38, $25.23, $24.19, $23.38, and $22.43.