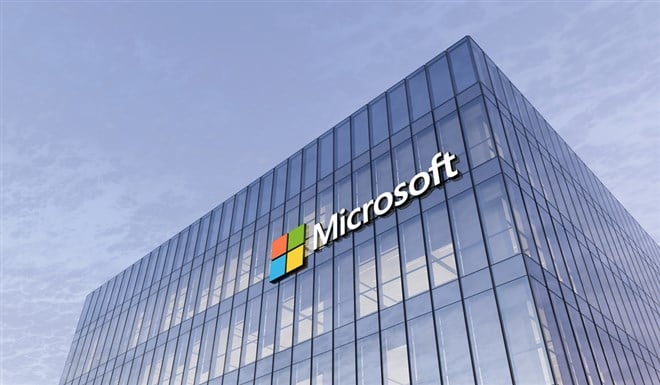 That's probably a headline you never expected to see Microsoft Corp (NASDAQ: MSFT) in, especially as we emerge from what was a brutal 2022 for tech, but it's true right now. Since the banking sector, long considered the safest of the safe, was shaken by the collapse of SVB, investors have been fleeing financials en masse and looking for safer stocks to leave their money in. With Credit Suisse being taken over by UBS in a last gasp effort to prevent major contagion, it will be a while before all but the biggest of the banks are considered acceptable additions to portfolios again. 
And so when it comes to these safer harbors that investors are seeking and reaching, it's the likes of Microsoft and other big tech names that are benefiting. For context, consider this. While the S&P 500 index is trading flat since the start of March, Microsoft is up almost 10%. This puts their shares up more than 30% from November's multi-year low, and also means they've undone about half the damage seen since the tech bubble popped in the last quarter of 2021. 
Bullish On The Sector
With banks set to underperform for some time while regulators and indeed governments struggle to reassure both markets and the public, investors are understandably seeking stability. It used to be that the Swiss Franc would benefit in times like these, but that's the last place investors will look now when it comes to something reliable. Real estate is another asset class that used to be considered safe, but the rapid rise of interest rates in the past year has led to considerable cooling in the market. 
In some ways, investors aren't left with much else but the tech sector, and specifically the giants within it. Wedbush analyst Dan Ives spoke to this point today, saying that he believes technology stocks can serve as a "safety blanket" for investors as "a game of musical chairs" continues to be played in the banking industry, causing the market to remain on edge.
Understandably, there are still plenty of voices urging caution regarding tech stocks. After all, this asset class has seen 50% and more haircuts in some of its biggest names over recent months. But Ives is undeterred by this. He pointed out that the tech-heavy Nasdaq index has increased by 13% this year, while more investors have been moving into large-cap tech stocks over the past few weeks. In a research report Ives wrote that "large cap tech and sub-sectors such as cloud and cyber security are seeing much more resilient growth than the Street had anticipated". 
Why Microsoft
When picking specific stocks that fit that description, Microsoft is a natural fit. Its revenues are at record highs while it's never had higher earnings per share. Ives acknowledged that this situation might sound strange to some investors, and alluded to this trading environment being more like the "twilight zone". But that didn't stop him from saying he believes that the tech sector is currently providing stability amidst the chaos in the financial market and should continue to do so.
With First Republic Bank (NYSE: FRC) shares down another 45% during Monday's session and approaching single digit prices for the first time ever, we're far from being out of this mess. The main question right now is can the Fed and its counterparts limit the damage to SVB, Signature Bank and Credit Suisse or will it spread to the dozens of other regional banks which have been swept up as side damage? While clarity on this issue emerges, it's fair to expect the likes of Microsoft with their record numbers and insulated earnings streams to continue to benefit. Indeed, it's at times like these that many investors will be thankful for last year's sell off as it's made it a lot easier to add to tech this time around.