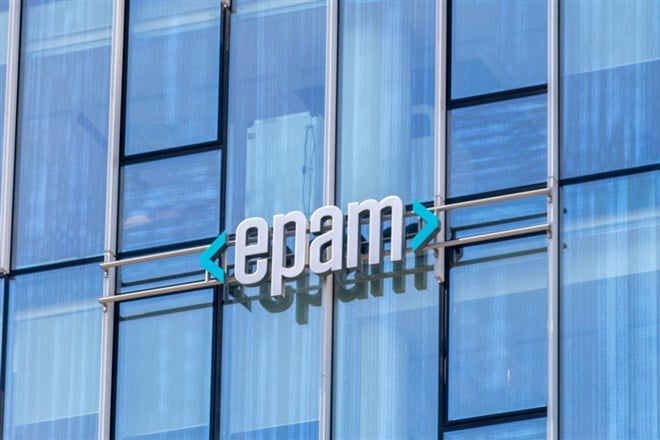 Pennsylvania-based EPAM Systems Inc. (NYSE: EPAM) isn't as well known as some of its S&P tech sector peers. Still, the infotech services provider is making a name for itself with artificial intelligence tools.
EPAM shares gapped up 7.53% on February 2, making it the tech sector's biggest percentage gainer for the session. 
The stock also gapped higher mid-session on February 1, following news that the Federal Reserve saw lower inflation and would likely slow the pace of interest-rate hikes. EPAM's moves tracked the broader market, which also rallied after the Fed statement and subsequent session.
Despite the strong price action recently, the stock still has some room to run before clearing an interim structure high near $463, from August. 
The company has experience developing apps and platforms leveraging AI for industries including automotive, travel, healthcare, fintech, life sciences, media, insurance, telecom, agriculture, and more. 
For example, EPAM worked with CoreLogic, a specialist in data and analytics for the housing market, to implement TelescopeAI, EPAM's tool to help businesses manage data using artificial intelligence. That tool applies to other industries as well.
Industry-Changing AI Applications
While OpenAI's ChatGPT bot has been a hot topic lately, largely because it's visible to consumers, EPAM is on the forefront of developing AI applications that might not be so evident but are changing industries. 
Among its projects: AI-enabled drones and robots to help with harvesting and weeding in the agriculture industry.  
In early January, the company announced its AosEdge vehicle-to-cloud platform, which allows the automotive industry to more easily enable software updates once a car leaves the factory. 
In its release, EPAM said, "Due to complex vehicle connectivity requirements, most cars are unable to automatically receive software updates after they have come off the manufacturing line, making it difficult for these vehicles to take advantage of the latest safety features and services. With the new platform, these critical software updates will be delivered using a cloud-to-edge computing platform, similar to how smartphones receive over-the-air updates via the cloud."
Another significant EPAM project is GRAIN, a multipurpose Internet-of-things device and platform that facilitates data acquisition from different sensors, such as cameras or devices that measure temperature and humidity. By connecting hardware, software, data science, and the cloud, GRAIN can be customized quickly for any commercial application that requires automated data collection and processing.
Saving Customers Time & Money
The tool allows businesses ranging from hospitals and life sciences labs to retailers and hotel operators to gather and monitor data in real-time. EPAM designed the system specifically so businesses, research institutions, and government entities can easily implement its capabilities without the need to build their systems at a much higher cost and time commitment. 
Other companies whose systems are part of the GRAIN tech stack include Amazon.com Inc. (NASDAQ: AMZN), whose AWS servers underlie the process; Nvidia Corporation (NASDAQ: NVDA) and Teledyne Flir LLC (NASDAQ: FLIR). 
Analysts are generally bullish on EPAM, with a consensus rating of "moderate-buy." The price target is $416.20, a potential upside of 13.03%. 
The company reports its fourth quarter on February 16, ahead of the opening bell. Wall Street has pegged earnings at $2.33 per share on revenue of $1.23 billion, which would mark a decrease on the bottom line but an increase on the top line.
History Of Topping Views
EPAM has grown earnings and revenue at double-digit rates in the past eight quarters. The company has a history of beating top and bottom-line views back to 2018, so it wouldn't be surprising to see the same happen again.
 Wall Street expects the company to earn $10.64 per share in 2022, an increase of 18%. That's rising by another 17% this year to $12.40 a share. 
With earnings due in about two weeks, investors may want to hold off on a trade but add the stock to a watchlist. Even when stocks gap higher following strong earnings reports, that's a bullish sign of more upside to follow, and the stock is often buyable at a pullback to a short-term moving average.