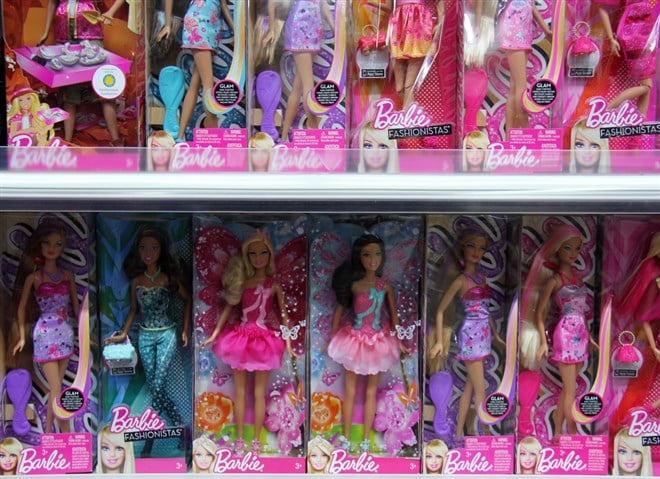 Nerf gun in hand, Hasbro, Inc. (NASDAQ: HAS) fired a warning shot on January 27th that revealed how much the global economy is impacting its business. Ahead of next month's fourth-quarter earnings call, management dropped the bomb shareholders feared — ugly financial results and the need for an aggressive reorganization.
Friday's 8% drop came with intense selling pressure that saw seven million shares traded, the most in one day since November 2019. It clinched a fifth straight monthly decline for the toy maker, an ominous streak that hasn't occurred in over a decade. 
As the dust settles, existing and prospective investors must decide whether or not the worst is over. Does hitting the restart button make it 'game on' for Hasbro equity? Will the company be able to do its best Transformers impression and battle to a stronger future?
We'll get more answers on February 16th when management faces the heat. We know that even Hasbro's iconic brands are prone to a consumer spending slowdown and cost inflation. 
What Were Hasbro's Fourth Quarter Results?
The all-important holiday quarter turned out to be a bust for Hasbro. Although there were pockets of strength (Digital Gaming, Pulse, Wizards of the Coast), consumer product sales were down 26%, which lagged in internal expectations. A 17% decline in total revenue also fell well short of the Street's 11% lower revenue expectation. 
The miss is especially troublesome because consumer products make up 60% of the business and are at the heart of what Hasbro does. It showed that families are trading down to cheaper entertainment options or foregoing purchases altogether in an environment of inflation and rising rates. How long this persists will depend on the tug-of-war between prices and rates — and the impact on discretionary budgets.
It gets worse. Hasbro's Q4 adjusted earnings per share (EPS) were $1.30 at the midpoint, which also fell short of consensus. This makes it three of the last four quarters that the once high-flying business posted a negative earnings surprise. The annual EPS is expected to be 15% below 2021 levels. It's fair to say that the pandemic's boost to toy and game spending is nearing 'game over.' 
What Organizational Changes is Hasbro Making?
Hasbro announced that it would cut approximately 1,000 full-time jobs this year to reduce costs in a soft-demand environment. This represents around 15% of the company's global workforce and is consistent with what's unfolding across corporate America. Alphabet, Amazon and Salesforce are among the big tech players recently announcing major layoffs. Goldman Sachs is also laying off employees in anticipation of a recession. 
Will Hasbro's job cuts force the hand of its rival Mattel? Mattel has yet to announce a similar move, but with its earnings report scheduled for February 8th, you can be sure analysts will be inquiring. Interestingly, Mattel shares fell less than 1% on the Hasbro news. Either the Barbie and Hot Wheels maker is weathering the economic storm better, or its reckoning is yet to come.
A shake-up in Hasbro's C-suite is also in the works. The biggest shocker is the departure of President & COO Eric Nyman, who headed the Consumer Products unit. Nyman had been with the company for 18 years, but leadership decided it was time to refresh. Hasbro also noted it would operate under a new organizational structure and commercial alignment, which it will discuss on the Q4 call. 
Is Hasbro's Stock Price Drop an Opportunity?
With system and supply chain improvements, Hasbro's job cuts are expected to save up to $300 million annually over the next three years. Based on the 2022 numbers, this amounts to around 5% of revenue — so it is a significant chunk. If successful, the measures should eventually lead to meaningfully better profits, especially if the recession is as mild and brief as the market hopes.
Hasbro's 'Blueprint 2.0' strategy focused on gaming, direct-to-consumer, and immersive entertainment hold promise because its products are still popular with a wide range of age groups. This turnaround effort, however, will take time, so investing in Hasbro here is a bet on two things: 1) that a focus on fewer (stronger) brands will accelerate growth, and 2) management's execution in an increasingly competitive industry that includes upstarts like Funko and Jakks Pacific.
Following the correction, Hasbro now trades at 13x last year's earnings. This is only a slight discount relative to Mattel, which is trading at 15x this year's earnings estimate (although this could shift significantly pending Mattel's Q4 results). 
Hasbro's P/E makes it look inexpensive, but it's there for a good reason. It just dropped a bad quarter and, as Friday's volume suggests, sentiment on the stock could be low for some time. But if Hasbro heads back toward pandemic lows in the $ '40s, it could be an undervalued turnaround play.