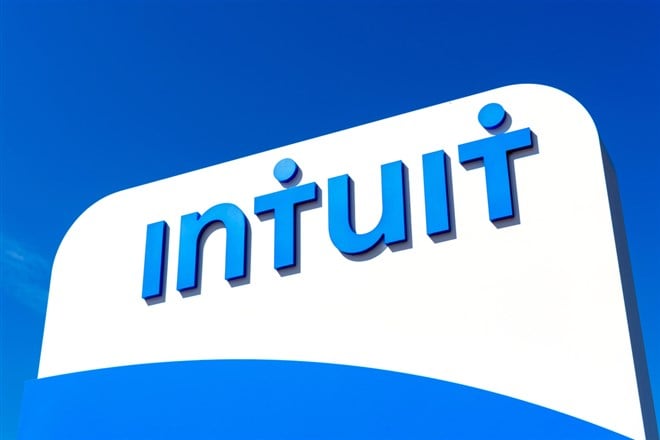 Shares of Intuit Inc. (NASDAQ: INTU) have been consolidating in a tightening range since last summer, and it's starting to feel like they're ready to awake from their slumber. Enough tailwinds and bullish comments from the heavyweights suggest that such an impending move could well be to the north. 
Intuit stock is currently testing waters just above $410, having gone as low as $360 in November and $340 in May. Let's explore the business case for getting involved and targeting a run toward $500. 
Bullish Outlook
For starters, investment firm Citi recently named Intuit as one of its top application software stocks for 2023. The team there, led by analyst Steven Enders, noted that several "tactical opportunities" do exist in the application software space. They prefer those that might be considered "more defensive" and are most likely to beat estimates. Also considered were companies that have improving margin profiles and a "relatively defensive valuation."
On that list were Workiva Inc (NYSE: WK) and Monday.com Ltd (NASDAQ: MNDY), but for very different reasons. Intuit specifically was there because of its large upside potential, helped largely by how dormant shares have been in recent months.
For context, against the other two since the first week of January, Intuit shares are up only 6% versus 13% for Workiva and 22% for Monday.com. And Marketbeat's MarketRank Forecast has them rated a Moderate Buy with about 20% upside from where shares closed on Tuesday. 
This lethargy in Intuit shares is all the more surprising considering the strong financial performance of the company as seen in their fiscal Q1 report towards the end of last year. Topline earnings breezed past analyst expectations, yet shares are essentially flat since then. 
From a strategic point of view, the company has also been making moves that support the bull thesis. Intuit recently expanded the QuickBooks Business Network to make it available to small businesses worldwide, opening up a fresh market segment. In doing so they are aiming to create one of the largest B2B networks to accelerate and automate payments and improve the overall cash flow of businesses.
And in the weeks leading up to the holidays, the company announced an acquisition of SeedFi, to bolster its credit check portfolio. 
Getting Involved 
In terms of risks to be mindful of, Intuit is reliant on business and consumer spending to feed its revenue engines, both of which are at risk in the current economic environment. And with a price-to-earnings ratio of almost 63, Intuit still feels expensive at these levels.
While it's down from 2021's high of 80, it's still a long way above the historical trend of sub-40 prints. Although, to be fair, it's still much better than Salesforce Inc (NASDAQ: CRM) which boasts a price-to-earnings ratio of 560 and who also competes in the enterprise software space. 
Technically, there's a lot to like about the stock. Higher lows from last May support the rising momentum on the bull's side. While shares still have to break out decisively to the upside, you have to be backing their chances to do so in the coming weeks.
Sure, shares are down more than 40% from the all-time highs they tagged back in the pandemic fuelled heights of 2021, but they've managed to bear the brunt of the storm since then.
And with the economic horizon getting a little bit brighter, companies whose shares have been consolidating and biding their time might soon start to see volume pouring in on the bid.