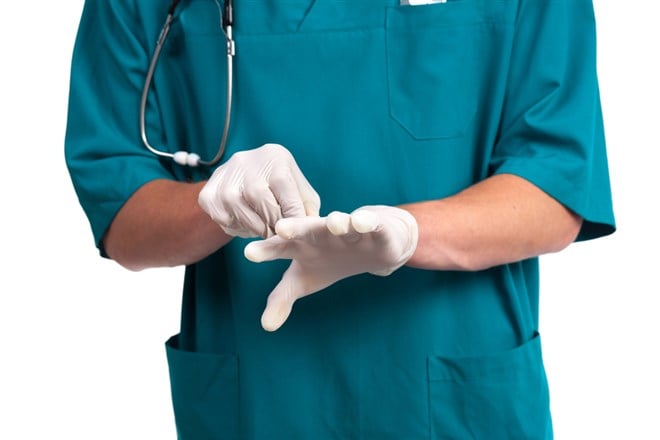 Sotera Health Company (NASDAQ: SHC) is a leading global provider of mission-critical sterilization solutions, lab testing, and advisory services. The Company went public on Oct. 28, 2020, priced at $23.00, hitting a high of  $24.90 on IPO day and reaching an all-time high of $30.38 before its descent to a 52-week low of $5.78.
Sotera Health shares doubled on Jan. 10, 2023, after announcing a settlement deal for its Sterigenics subsidiary against over 870 plaintiffs about injuries stemming from exposure to ethylene oxide (EO) emissions from its plants. While not as explosive as the gap and go in Kala Pharmaceuticals Inc. (NASDAQ: KALA) stock, this development is material, nonetheless. It may finally remove the cloud of litigation that has been keeping shares depressed in the $7.60 to $9.60 range for the last two months.  
About Sotera Health
Sotera Health Company has three subsidiaries. Its largest division, Sterigenics, provides terminal sterilization services for its clients, including 40 of the 50 top medical device makers and eight of the top 10 pharmaceutical companies.
The Company sterilizes products before final packaging for medical products ranging from implants, catheters, trays, and procedure kits. It generates the lion's share of business with revenues of $158 million, up 8.5% in Q3 2022.
Its Nordion division supplies Cobalt-60 in radiation therapy and generates $35 million quarterly revenues, up 21.9%. Nelson Labs provides lab services and generated $56 million in revenues, growing 7.3% YoY in its third quarter of 2022.
For a company that provides safety services and consulting for medical device makers and pharmaceuticals, it seems odd that they're being accused of potentially causing cancer.
Q3 Fiscal 2022 Earnings Release
On November 2, 2022, Sotera released its fiscal third-quarter 2022 results for September 2022. The Company reported an earnings-per-share (EPS) profit of $0.23, excluding non-recurring items, versus consensus analyst estimates of $0.22, beating estimates by $0.01. Revenues rose 10% year-over-year (YoY) to $248.7 million, beating analyst estimates for $248.2 million.
Sotera CEO Michael Petras Jr. commented, "This is the eighth consecutive quarter that Sotera Health has delivered top-line and Adjusted EBITDA growth, which is quite an accomplishment in light of the adverse macroeconomic environment that we are all experiencing. The Sotera Health team is focused on making meaningful progress on capacity expansion investments, operational excellence initiatives and managing complex supply chains to serve our global customer base."
Downside Guidance
Sotera provided downside guidance for fiscal full-year 2022 EPS of $0.91 to $0.95, down from $0.93 to $0.97, versus $0.96 consensus analyst estimates. It sees full-year revenues coming in between $995 million to $1.005 billion, lowered from the previous estimate of $1.00 billion to $1.022 billion versus $1.01 billion analyst estimates.
EO Environmental Exposure Litigation
In 2018, ethylene oxide (EO) sterilization came under scrutiny after releasing an EPA risk assessment, which the Company claims are highly conservative. EO has been regulated for decades by agencies that include the EPA, FDA, and OSHA. EO sterilization is applied to over 20 billion medical products daily.
It's a naturally produced substance used to make chemicals in everyday products and industries, from household cleaners, cosmetics, and shampoos to brake fluid, safety glass, and carpets. Hundreds of personal injury claims were filed against Sterigenics, claiming exposure to emissions at its EO facilities in Willowbrook, IL, and Santa Teresa, New Mexico facilities leading to various health problems. Each of these was an individual, not class-action, lawsuits.
The $363 million Jury Verdict Rollercoaster
One woman claimed exposure to its EO plant was responsible for her breast cancer and was awarded a $363 million jury verdict on Sept. 19, 2022, causing shares to collapse 33% from around $15 to under $10 that day. On Nov. 21, 2022, a jury found Sterigenics not liable in the case of the woman's cancer, causing shares to spike 56% on the news.
On Dec. 20, 2022, Cook County judge Marguerite Quinn declined to lower the punitive damages or order a new trial for the Sotera Health lawsuit causing shares to fall (-7%) to $7.66.
Settlement Removing the Cloud of Uncertainty
On Jan. 9, 2023, Sotera reached a settlement to pay out approximately $408 million to settle the over 870 EO cases pending against its Sterigenics unit in the Circuit Court of Cook County, IL, and U.S. District Court for the Northern District of Illinois. The Company claims no fault or wrongdoing.
Shares of Sotera doubled on the announcement as it lifted the cloud of uncertainty as to pending cases. The Company presented at the 41st Annual J.P. Morgan Healthcare Conference on the same day. CEO Patras reaffirmed its latest guidance of $995 million to $1005 billion for full-year 2022 revenues and expects to release its Q4 2022 earnings report on Feb. 28, 2023.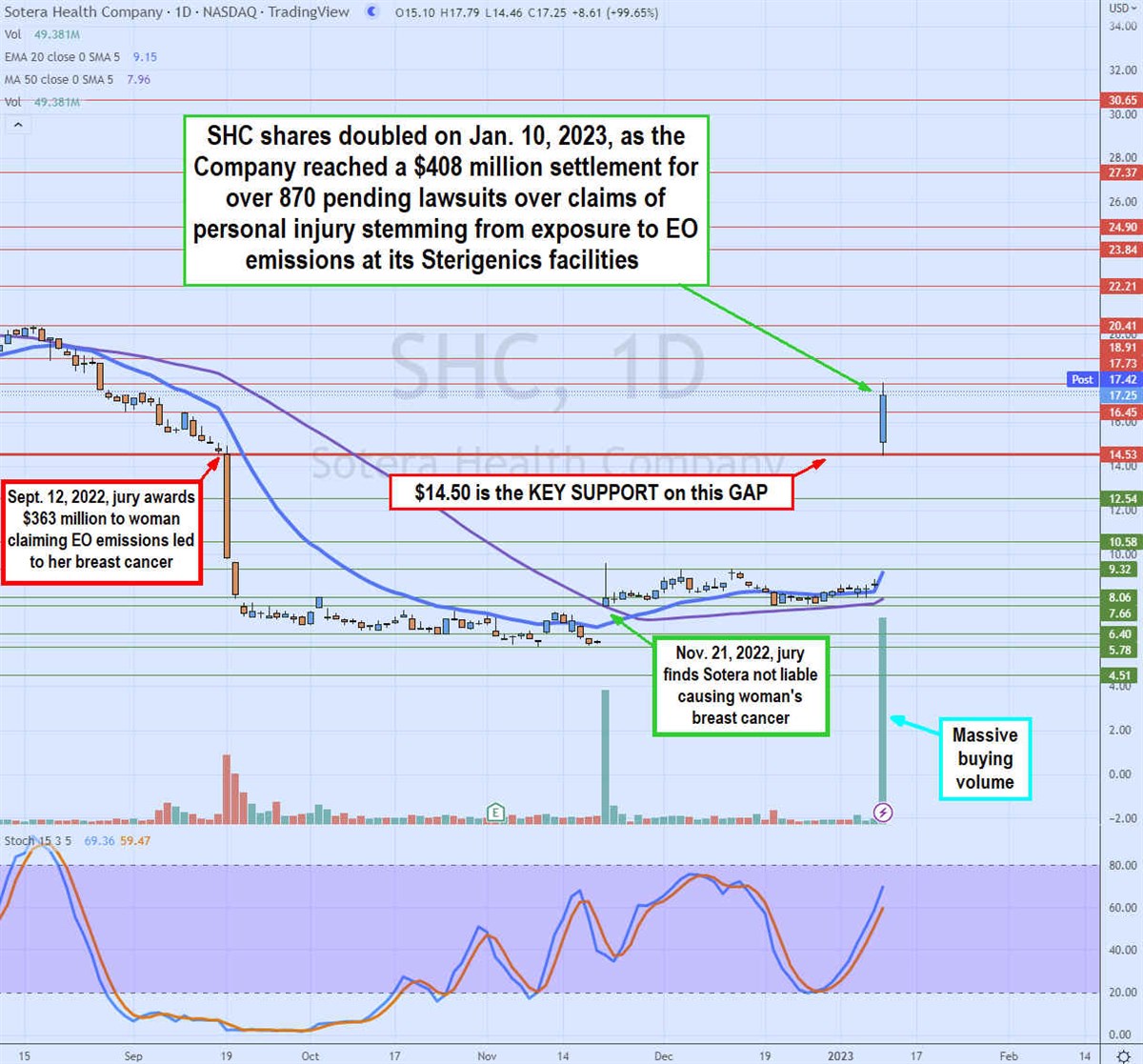 The $14.53 Key Gap Support Line in the Sand
SHC shares collapsed under the $14.53 support on Sept. 12, 2022, on the jury award for the plaintiff against SHC for $363 million. Shares continued to plummet to the $7-$8 range for the next few weeks.
Shares bounced on Nov. 21, 2022, when a jury found SHC not liable for the plaintiff's breast cancer, spiking shares from $6.08 to a high of $9.60 before settling above the $7.60 gap support. On Jan. 10, 2023, SHC shares gapped to open at $15.10 on the $408 million settlement agreement.
Profit takers came in off the open, taking shares back down to retest the $14.53 prior breakdown solidifying it as support. Once that happened, buyers came right into short squeeze shares of SHC to a high of $17.78 on a massive 49.4 million shares of the daily trading volume.
The retest and bounce off the $14.53 gap support is a clear line in the sand price support for SHC. The key support levels on a $14.53 breakdown are $12.54, $10.58, and $9.32 price levels. The weekly stochastic continues to rise towards the 80-band, but the key is to hold any reversion attempts above the $14.53 until the weekly 20-period exponential moving average (EMA) catches up from $9.15.