DUBLIN and MILAN, July 05, 2023 (GLOBE NEWSWIRE) -- Brera Holdings PLC ("Brera Holdings," "Brera" or the "Company") (Nasdaq: BREA) today announced that it has executed the definitive agreements related to the acquisition of a majority ownership stake in the Italian Serie A1 women's professional volleyball team UYBA Volley S.s.d.a.r.l., based in Busto Arsizio, north of Milan ("UYBA" or "UYBA Volley"). The closing of the acquisition is subject to customary closing conditions contained in the definitive agreements.
"We are delighted to become involved in UYBA Volleyball, a storied franchise that is fully engaged in the fabric of its community. It is a confirmation of Brera Holdings' multi-sport strategy," said Brera Holdings Chief Executive Officer, Pierre Galoppi. "Through the UYBA acquisition, we expect not only to partner with a championship-caliber professional team, but also to work with a world championship coach, Julio Velasco, and to fully utilize the multi-year access to UYBA's E-Work Arena from the city of Busto Arsizio," Mr. Galoppi continued.
Under the executed definitive agreements, Brera Holdings will acquire 51% of the share capital of UYBA Volley. Giuseppe Pirola, UYBA's chairman and minority shareholder, will continue as chairman of UYBA's board of directors. "We look forward to welcoming Brera Holdings with their powerful Social Impact Sports mission and branding," said Mr. Pirola.  "Exporting our UYBA brand and our know-how internationally has always been one of the objectives of our mission, which we now intend to achieve with Brera's support," concluded Mr. Pirola.
UYBA Volley has an inspiring history of professional volleyball achievements, including title wins of the Women's Confederation Europe Volleyball Cup (the "CEV Cup") in the 2009-2010, 2011-2012, and 2018-2019 seasons.  In the 2011-2012 season, UYBA won the Italian National Championship, the Italy Cup and the Italian Super Cup.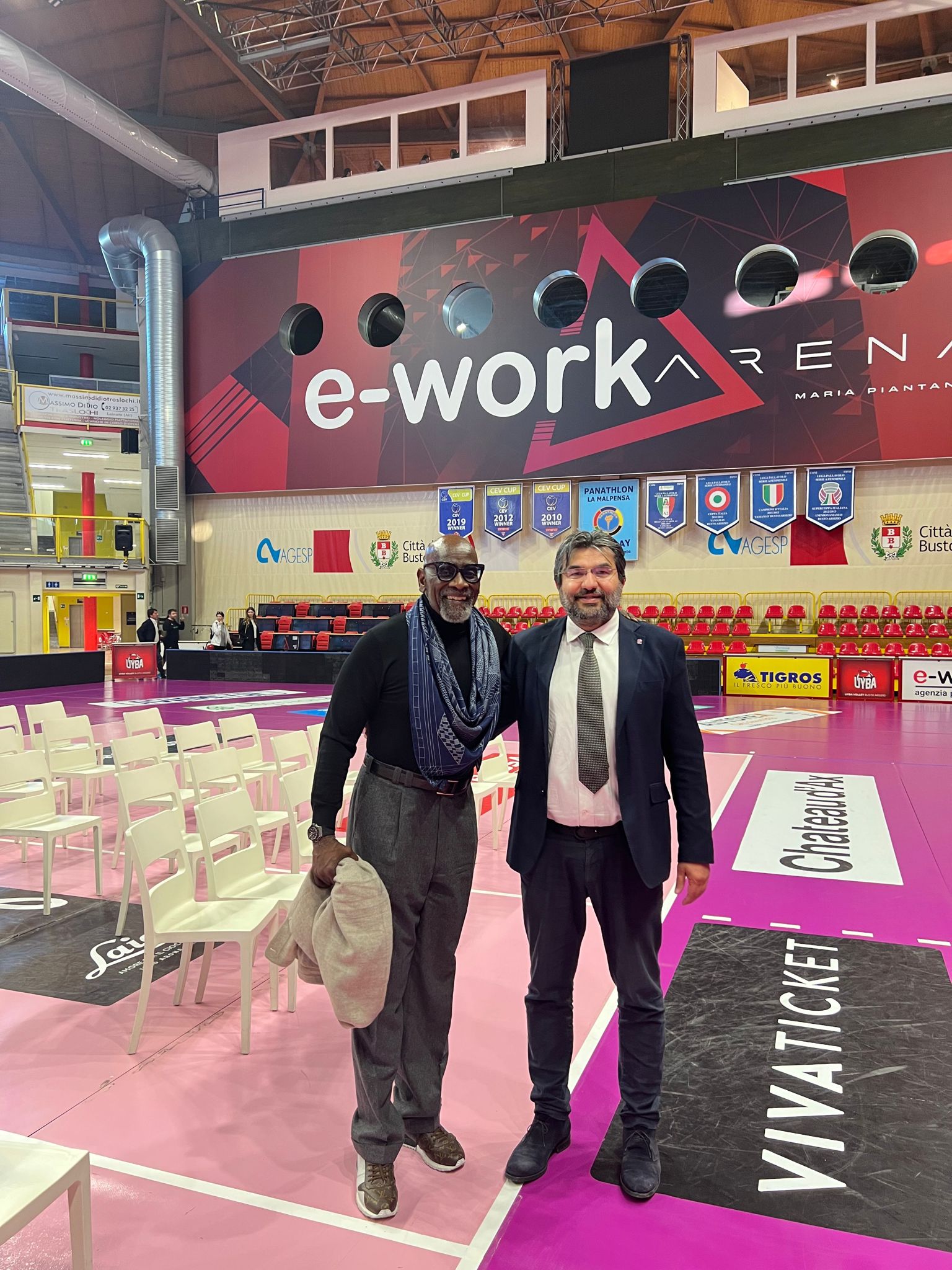 Brera Director Chris Gardner and UYBA President Giuseppe Pirola at the E-Work Arena
ABOUT BRERA HOLDINGS PLC
Brera Holdings PLC (Nasdaq: BREA) is focused on expanding its social impact football (American soccer) business by developing a global portfolio of emerging football and other sports clubs with increased opportunities to earn tournament prizes, gain sponsorships, and provide other professional football- and sports-related consulting services. The Company seeks to build on the legacy and brand of Brera FC, the first football club that was acquired by the Company in 2022. Brera FC, known as "The Third Team of Milan," is an amateur football association which has been building an alternative football legacy since its founding in 2000. In March 2023, the Company expanded to Africa with the establishment of Brera Tchumene, a team admitted to the Second Division Championship in Mozambique, a country of nearly 32 million people. In April 2023, the Company acquired 90% of the European first division football team Fudbalski Klub Akademija Pandev in North Macedonia, a country with participation rights in two major Union of European Football Associations ("UEFA") competitions. The Company is focused on bottom-up value creation from sports clubs and talent outside mainstream markets, innovation-powered business growth, and socially-impactful outcomes. See www.breraholdings.com.
ABOUT UYBA VOLLEY S.S.D.A.R.L.
Italian Serie A1 women's professional volleyball team UYBA Volley S.s.d.a.r.l., based in Busto Arsizio, north of Milan ("UYBA" and "UYBA Volley"), is one of the most followed women's volleyball team through social media in Italy. UYBA has a decades-long history built upon strong values, passion, excellence, and commitment to sport from school level to youth and senior teams.
UYBA Volley manages the E-Work Arena under a municipal lease through 2039. Capable of comfortably accommodating 4,500 people, the E-Work Arena in Busto Arsizio, Province of Varese, is a place of entertainment and of fun, frequented by families and young people who wish to enjoy a memorable sporting experience.  For the 2023-2024 season, UYBA Volley will be led by one of the greatest coaches of all time, Julio Velasco.  See www.volleybusto.com
ABOUT COACH JULIO VELASCO
Coach Julio Velasco has won 4 Argentine championships, 4 Italian championships, 3 Italy Cups, 1 Italian Super Cup, and 1 CEV Cup as a club head coach. As national team head coach, he won 3 European Championships, 2 World Championships, 5 men's World Leagues, 1 men's Grand Champions Cup, 1 men's World Top Four, 1 men's Volley World Cup, 1 FIVB World Grand Champions Cup, 2 men's Asian and Oceanian Championships, and 1 Pan American Games Championship.  
Coach Velasco's fame encompasses both men's and women's championship volleyball where he has coached the Italian national teams for both.  He is known for his team culture, his immense knowledge of the sport, his communication skills, and his motivation and management style. He also served as a manager of the football clubs Inter Milan (FC Internazionale Milano) and S.S. Lazio (Lazio) in Rome, where he served as Director General of the squad that won the UEFA Cup in 1988-1989.   See https://en.wikipedia.org/wiki/Julio_Velasco
Cautionary Note Regarding Forward-Looking Statements
This press release contains forward-looking statements that are subject to various risks and uncertainties. Such statements include statements regarding the Company's ability to grow its business and other statements that are not historical facts, including statements which may be accompanied by the words "intends," "may," "will," "plans," "expects," "anticipates," "projects," "predicts," "estimates," "aims," "believes," "hopes," "potential" or similar words. Actual results could differ materially from those described in these forward-looking statements due to a number of factors, including without limitation, the Company's ability to continue as a going concern, the popularity and/or competitive success of the Company's acquired football and other sports teams, the Company's ability to attract players and staff for acquired clubs, unsuccessful acquisitions or other strategic transactions, the possibility of a decline in the popularity of football or other sports, the Company's ability to expand its fanbase, sponsors and commercial partners, general economic conditions, and other risk factors detailed in the Company's filings with the SEC. The forward-looking statements contained in this press release are made as of the date of this press release, and the Company does not undertake any responsibility to update such forward-looking statements except in accordance with applicable law.
CONTACT INFORMATION:
Pierre Galoppi, Chief Executive Officer
Brera Holdings PLC
pierre@breraholdings.com
Daniel McClory, Executive Chairman
Brera Holdings PLC
dan@breraholdings.com
Giuseppe Pirola, Chairman
UYBA Volley S.s.d.a.r.l.
Giuseppe.pirola@volleybusto.com
Mattia Moro, General Director
UYBA Volley S.s.d.a.r.l.
mattia.moro@volleybusto.com
Attachment