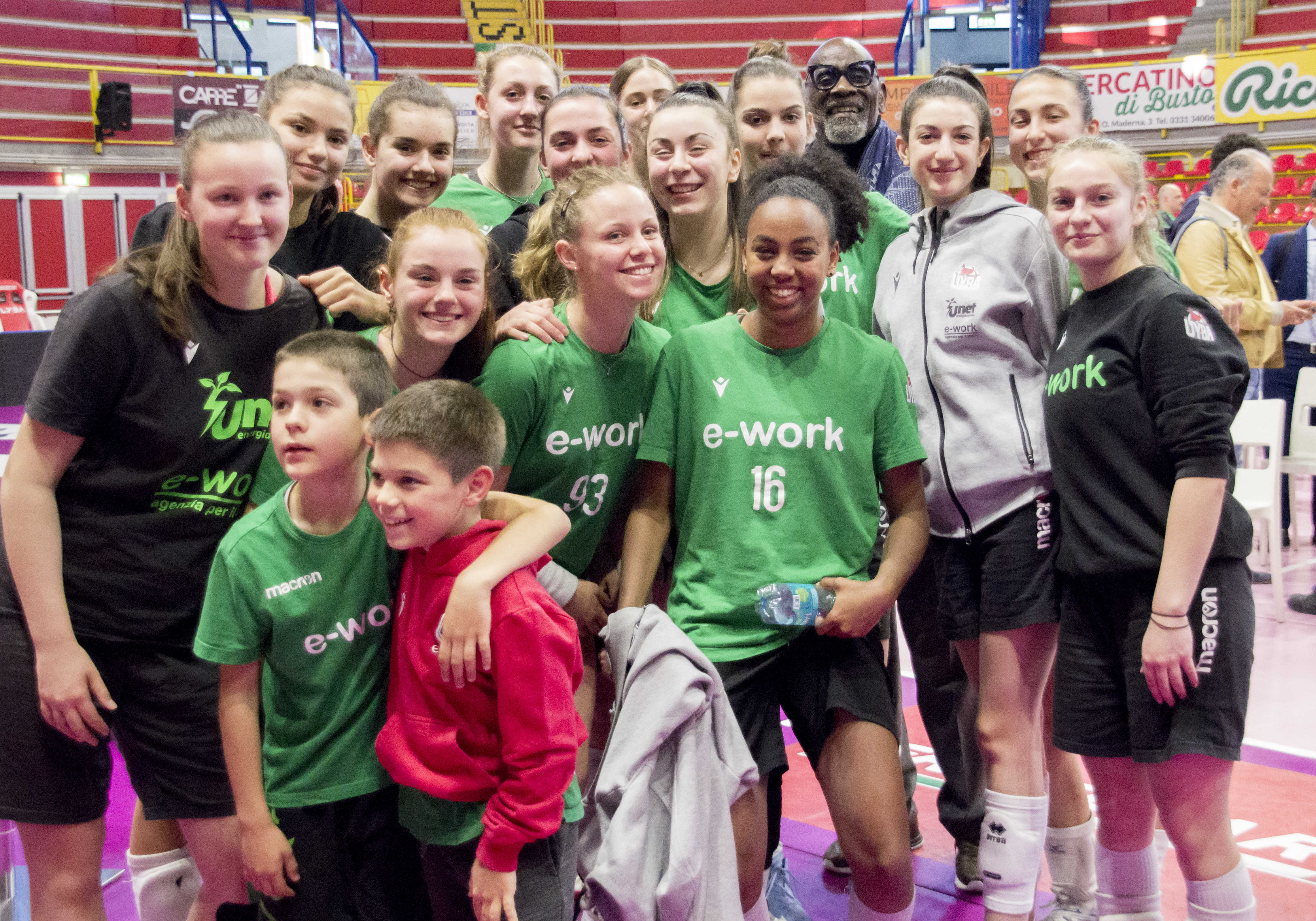 Chris Gardner with UYBA Volley Junior team players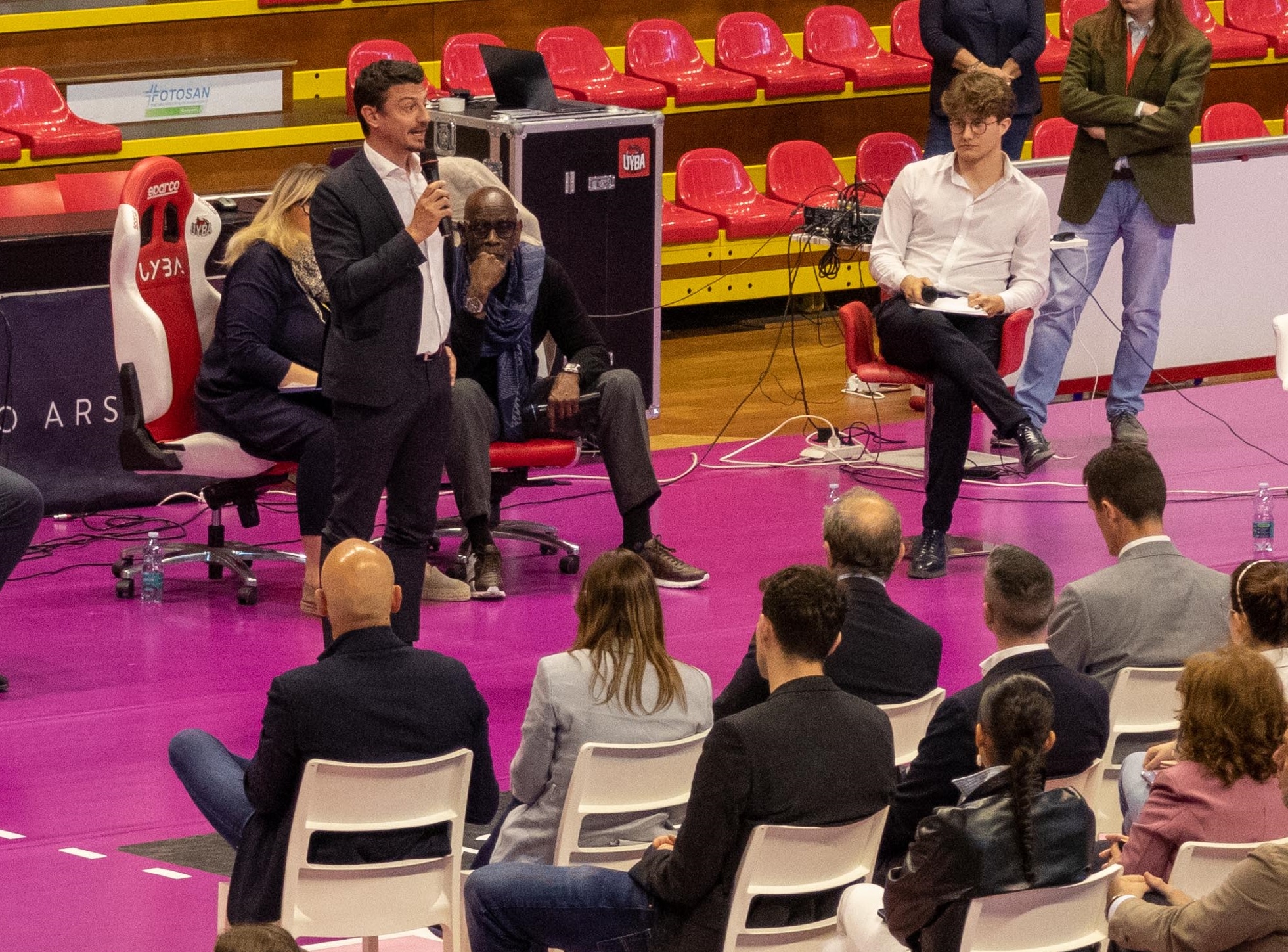 Chris Gardner and Uyba General Manager Mattia Moro
NEW YORK, DUBLIN and MILAN, May 17, 2023 (GLOBE NEWSWIRE) -- Brera Holdings PLC ("Brera Holdings" or the "Company", Nasdaq: BREA) announced that Board Member Chris Gardner, who is currently in Italy for several appearances, on Monday was the special guest at an event to meet the junior teams of UYBA Volley, an Italian First Division women's volleyball club.  Held at the Busto Arsizio e-work Arena near Milan, the UYBA professional team recently announced the hiring of its new coach Julio Velasco, the former head coach of the multiwinner Italian Men's National Team.

The event, organized by Edimen Media Company and Brera Milano, was an engaging speech where Gardner went through his personal and professional experience, followed by a Q&A session, and saw the participation of over one hundred guests, including the mayor of Busto Arsizio Emanuele Antonelli and EU Parliament member Isabella Tovaglieri.
"It was a very important evening for UYBA: Chris Gardner's speech was illuminating for adults but above all for the young players who have sent us many messages of gratitude for this event. I also want to thank Edimen for this partnership and Brera, with whom we share ethical principles in the world of sport, and with which we hope to continue to collaborate in the future," said UYBA General Manager Mattia Moro.
"A partnership with UYBA Volley, as was the case with this event, allows us to explore new and interesting areas of sport, in addition to football," said Brera Holdings Chief Strategy Officer Alessandro Aleotti, the Founder of Brera FC, "The Third Football Team of Milan."
 "Always be world class at whatever you do," implored Chris Gardner to the two junior UYBA teams present. "Don't let anyone tell you that you can't do something," he continued.  In a Q&A session he was asked about how he overcame homelessness and business failure only to emerge stronger and more dedicated to helping others, especially youth.
Entrepreneur and author of the New York Times bestseller The Pursuit of Happyness, his autobiography that inspired the movie starring Will Smith and directed by Gabriele Muccino, Chris Gardner is deeply engaged in the activity of, "The Christopher P. Gardner Foundation," which works to change the lives of young people.
ABOUT BRERA HOLDINGS
PLC Brera Holdings PLC is a Nasdaq-listed (Stock Ticker: BREA) Irish holding company focused on expanding social impact football (American soccer) by developing a global portfolio of emerging football and sports clubs with increased opportunities to earn tournament prizes, gain sponsorships, and provide other professional football- and sports-related consulting services. The Company seeks to build on the legacy and brand of Brera FC, the first football club that was acquired by the Company in 2022. Brera FC, known as "The Third Team of Milan," is an amateur football association which has been building an alternative football legacy since its founding in 2000. In March 2023, the Company expanded to Africa with the establishment of Brera Tchumene, a team admitted to the Second Division Championship in Mozambique, a country of nearly 32 million people. In April 2023, the Company completed its 90%-acquisition of the European first division football team Fudbalski Klub Akademija Pandev in North Macedonia, a country which has the right to participate in two major UEFA competitions. The Company is focused on bottom-up value creation from sports clubs and talent outside mainstream markets, innovationpowered business growth, and socially-impactful outcomes. See www.breraholdings.com
Cautionary Note Regarding Forward-Looking Statements
This press release contains forward-looking statements that are subject to various risks and uncertainties. Such statements include statements regarding the Company's ability to grow its business and other statements that are not historical facts, including statements which may be accompanied by the words "intends," "may," "will," "plans," "expects," "anticipates," "projects," "predicts," "estimates," "aims," "believes," "hopes," "potential" or similar words. Actual results could differ materially from those described in these forward-looking statements due to a number of factors, including without limitation, the Company's ability to continue as a going concern, the popularity and/or competitive success of the Company's acquired football teams, the Company's ability to attract players and staff for acquired clubs, unsuccessful acquisitions or other strategic transactions, the possibility of a decline in the popularity of football, the Company's ability to expand its fanbase, sponsors and commercial partners, general economic conditions, and other risk factors detailed in the Company's filings with the SEC. The forward-looking statements contained in this press release are made as of the date of this press release, and the Company does not undertake any responsibility to update such forward-looking statements except in accordance with applicable law.
CONTACT INFORMATION:
FOR MEDIA AND INVESTOR RELATIONS
Outside Italy:
Daniel McClory, Executive Chairman
Brera Holdings PLC
dan@breraholdings.com
In Italy:
Sergio Scalpelli, CEO
Brera Holdings PLC
sergio@breraholdings.com
Attachments