HOUSTON, May 16, 2023 (GLOBE NEWSWIRE) -- Epsilon Energy Ltd. ("Epsilon" or the "Company") (NASDAQ: EPSN) today reported an investment in Ector County, Texas with material follow-on development opportunities.

Epsilon is pleased to announce entering into a second drilling focused transaction in the Permian Basin. The acquired assets are a 25% working interest in 12,373 gross acres located in Ector County, Texas on the Central Basin Platform, operated by a Midland-based private operator.
The position is on an emerging Mississippian play proximal to several other active public and private operators. The Company will participate in the drilling and completion of 2 gross wells (0.5 net), both 10,000' laterals, over the remainder of 2023 (the first well is already drilled, first production from both wells is estimated for the fourth quarter of 2023).
Epsilon signed definitive agreements to acquire a 25% working interest in a 1,297 acre unit and a 25% working interest in a 11,076 acre position, both in the same play alongside the same operator. Drilling activity is expected to commence on the 11,076 acreage position in 2024. Initial plans call for an additional 2-4 gross wells (0.5-1 net) in 2024 with plans expected to be finalized later this year. At an initial assumption of 2 wells per section spacing, this adds 20 gross (5 net) potential development locations to the Company's inventory.
The 1,297 acre unit interest has already closed and the second 11,076 acre position interest is planned to close within 30 days.
Recent offset well results from multiple operators have been encouraging. Below is a summary of the Company's estimated productivity of a Mississippian Barnett well: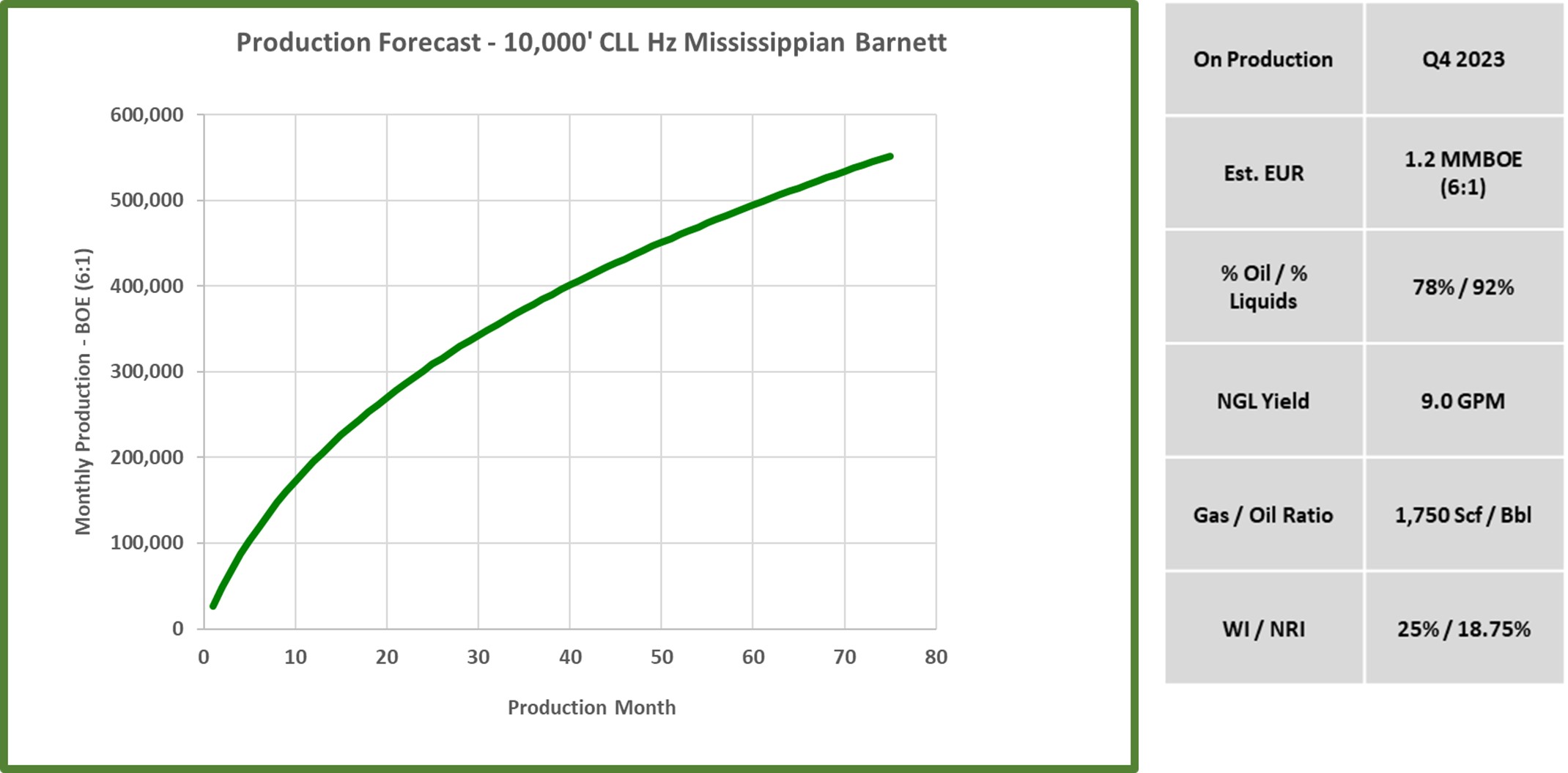 The total consideration net to Epsilon for the transaction, including 2023 capital expenditures, is approximately $14 million.
This transaction, along with the recently announced participation in Eddy County, NM, have a combined 2023 cash outlay of approximately $16.5 million (approximately 20% of the Company's cash, short term investments, and available borrowing capacity total at March 31, 2023, which excludes any cash flow contributions 2Q-4Q23).
The Company expects these investments will contribute to the Company's production, revenue, and cash flow starting in the second half of 2023.
Jason Stabell, Epsilon's Chief Executive Officer, commented, "We are excited to announce our second new development-focused transaction in the Permian Basin. These investments add liquids to our production mix and the potential for a significant future investment runway in the Ector County project with a well-aligned and basin focused operator.
The transactions allow us to invest a manageable portion of our liquidity at attractive rates of return, while preserving our strong balance sheet, and maintaining capital allocation flexibility for additional deals and continued shareholder returns."
About Epsilon
Epsilon Energy Ltd. is a North American on-shore focused independent exploration and production company engaged in the acquisition, development, gathering and production of oil and gas reserves. Our primary area of operation is the Marcellus basin in Northeast Pennsylvania complemented by additional upstream assets in the Permian and Anadarko basins . For more information, please visit www.epsilonenergyltd.com, where we routinely post announcements, updates, events, investor information, presentations and recent news releases.
Forward-Looking Statements
Certain statements contained in this news release constitute forward looking statements. The use of any of the words "anticipate", "continue", "estimate", "expect", 'may", "will", "project", "should", 'believe", and similar expressions are intended to identify forward-looking statements. These statements involve known and unknown risks, uncertainties and other factors that may cause actual results or events to differ materially from those anticipated. Forward-looking statements are based on reasonable assumptions, but no assurance can be given that these expectations will prove to be correct and the forward-looking statements included in this news release should not be unduly relied upon.
Contact Information:
281-670-0002
Jason Stabell
Chief Executive Officer
Jason.Stabell@EpsilonEnergyLTD.com
Andrew Williamson
Chief Financial Officer
Andrew.Williamson@EpsilonEnergyLTD.com
A photo accompanying this announcement is available at https://www.globenewswire.com/NewsRoom/AttachmentNg/8fd75536-3c95-4543-8782-b4203a803b0b