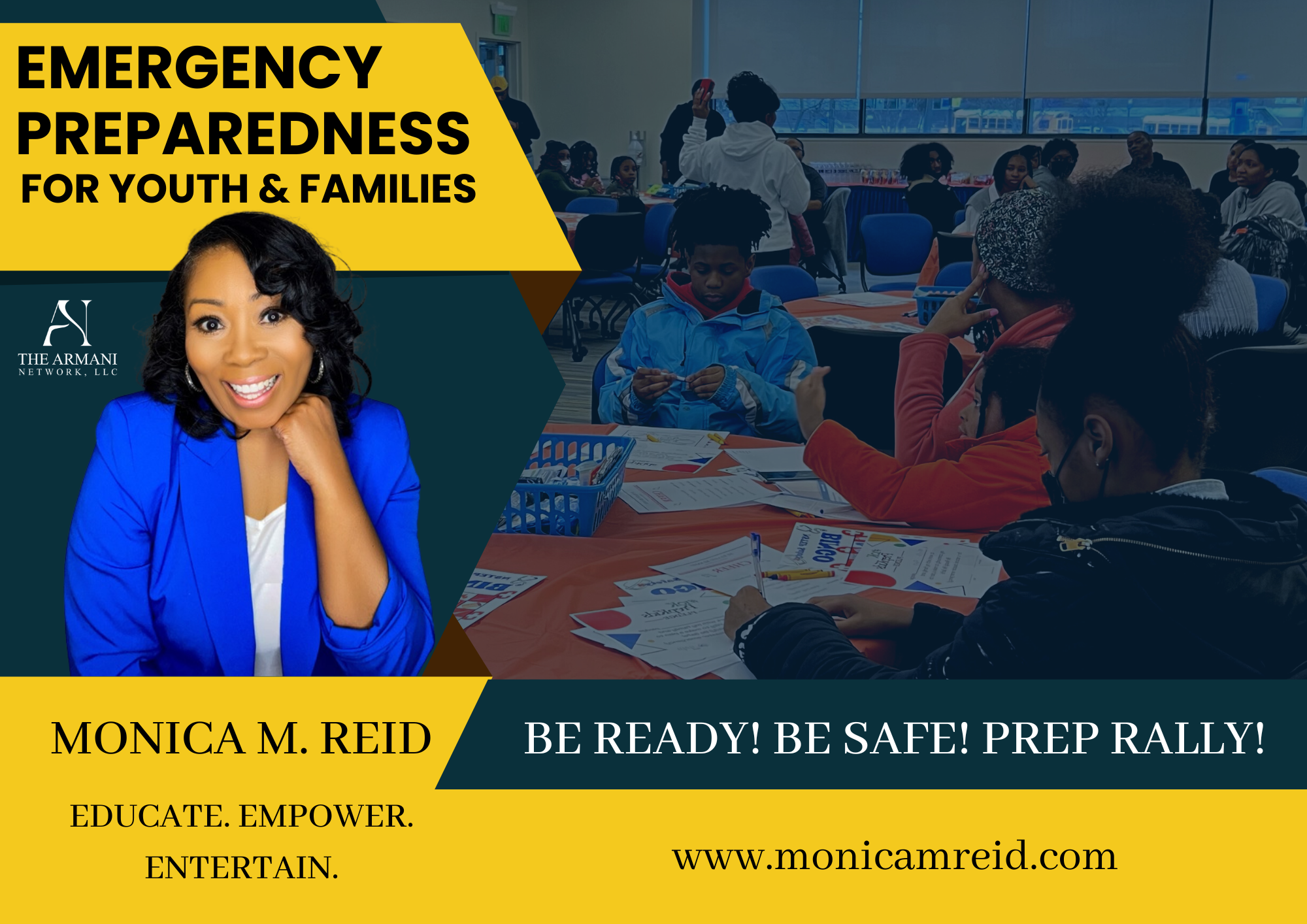 'BE READY! BE SAFE! PREP RALLY', an Emergency Preparedness Workshop Designed to Help Children and Families Prepare in The Event of a Natural Disaster
THE ARMANI NETWORK, LLC is taking a proactive step to protect the children of PRINCE GEORGE'S COUNTY, MARYLAND by educating families on emergency preparedness. On January 14, 2023, the company hosted the lifesaving BE READY! BE SAFE! PREP RALLY WORKSHOP, providing children and their families in the Prince George's Community College's Next Step Program with critical tools and information to help keep them safe during natural disasters. Participants learned to identify emergency contacts, create a family communication and evacuation plan, and assemble an emergency grab bag, essential components of being prepared for any disaster emergency situation. 
As the intensity of severe weather, including tornados, hurricanes, ice storms, floods, and wildfires, continues to increase, communities are faced with the devastating impacts of these events. The effects on over 69 million children, who are often away from their parents during school hours or in child care can be especially concerning. Unfortunately, a recent FEMA study found that only half of American families have a comprehensive emergency plan in place, leaving them at risk of being separated during a natural disaster. Recognizing the critical need for preparedness, THE ARMANI NETWORK, LLC has taken action to prioritize natural disaster emergency planning in Prince George's County, Maryland. The organization is committed to bridging the gap in protecting children and families in case of natural disaster emergencies. 
"We know that children are particularly vulnerable during disasters," said Mrs. Monica, the founder of the company. "By teaching them about emergency preparedness, our goal is to instill confidence and resilience in these young individuals, empowering them to protect themselves and their loved ones during times of crisis." 
During the workshop, The Armani Network provided a comprehensive and interactive learning experience for families in the Prince George's Community College's Next Step Program. Participants, both children and parents, engaged in discussions and activities that made emergency preparedness not only educational but also enjoyable. The Next Step Program also supplied items for the participants to assemble mini emergency kits to take home. By participating in the workshop, families gained the tools and knowledge needed to ensure that if a natural disaster strikes Prince George's County, Maryland, parents will be ready, and children will be safe.
Mrs. Monica added, "By teaching our youth how to prepare for natural disaster emergencies now, we have the opportunity to raise a generation of crisis-prepared citizens. The Next Step Program has taken a stand to help ensure their children and families will be ready and safe during a natural disaster emergency, and it is my hope others will follow suit."
THE ARMANI NETWORK, LLC is now focused on expanding its reach and making emergency preparedness accessible to a wider audience. The company plans to collaborate with public schools, churches, community organizations, and others. Recognizing the current challenges posed by COVID-19 and the flu season, the network is also developing an online workshop, aimed at providing a convenient and safe alternative for those who prefer not to host in-person gatherings. The online workshop is set to launch by March 2023, making emergency preparedness a priority for families in the community.
About the Be Ready! Be Safe! Prep Rally Initiative
BE READY! BE SAFE! PREP RALLY is a Save the Children initiative aimed at supporting communities in the United States in preparing for the protection of children during natural disaster emergencies. The initiative prioritizes the creation of child-focused emergency plans, offers emergency training, and ensures the availability of necessary resources before a crisis occurs. Through this program, THE ARMANI NETWORK, LLC aims to empower communities to safeguard the well-being of children during times of disaster.
For more information, visit www.monicamreid.com.
Media Contact
Company Name: The Armani Network, LLC
Contact Person: Monica M. Reid
Email: Send Email
Phone: 301-367-8077
Country: United States
Website: www.monicamreid.com