Heel pain is close to a runner's worst nightmare when it comes to day-to-day training. Many are finding the new CopperJoint Compression Socks are a big help.
(PRUnderground) February 16th, 2021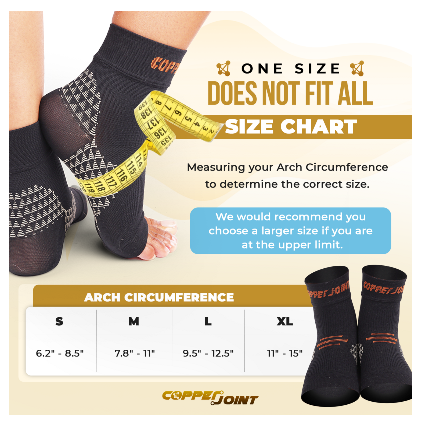 Quality studies and stacks of personal statements have shown just how common heel pain from Plantar Fasciitis is among running enthusiasts and athletes of all levels. This has created a very large demand for ways to reduce pain, speed recovery, and cut inflammation without resorting to potentially dangerous drugs or complete immobility. In exciting news, leading resource for joint and muscle pain braces and other support products CopperJoint have stepped up to help with the release of its new CopperJoint Plantar Fasciitis Socks. This premium product is available on the Amazon.com marketplace and has won an immediate enthusiastic response.
"Some of us here at the company our runners ourselves so we can appreciate the challenges that are faced to keep training in a healthy, positive way." remarked Stefano Starkel, Founder of CopperJoint. "We've approached the problem of heel pain generally with our CopperJoint Plantar Fasciitis Socks for runners, and for other athletes, or just normal people who are suffering through this."
According to CopperJoint, the new socks apply strong compression which helps reduce inflammation and provides support at the same time; the Plantat Fasciitis socks are made of premium quality material infused with pure copper to help potentially accelerate the healing process; they help improve circulation; and are available in four different sizes to help make sure a perfect fit is ordered for best results.
The reviews for the CopperJoint Plantar Fasciitis Socks continue to be extremely positive.
Amanda M., recently said in a five-star review, "I don't usually take time to write a long review but let me just say… relief! I've been dealing with pain in my right foot for at-least two years. I've seen multiple doctors including an orthopedic doctor who diagnosed me with anterior tibialis tendonitis. walking boot, cast… and no relief. After a few days of wearing this I am not feeling any pain!! Like seriously I'm buying a few more pairs!"
For more details or to order be sure to visit https://www.amazon.com/plantar-faciitis-socks/dp/B085RW5RPY.
About CopperJoint
At CopperJoint, we provide drug-free, pain-relief solutions by creating premium copper-infused garments and supports. Our goal is to improve the quality of life for people suffering from joint and muscle pain due to accidents, arthritis, age, or injury. We are committed to use only the highest copper content and make copper compression therapy affordable for everyone.
The post New CopperJoint Plantar Fasciitis Socks Gaining Positive Attention From Runners With Heel Pain first appeared on PRUnderground.
Press Contact
Name: Stefano Starkel, Founder

Phone: 307-309-4055

Email: Contact Us

Website: https://www.copperjoint.com
Original Press Release.