There's no better time than now to order a brace to help deal with the effects of Carpel Tunnel syndrome. CopperJoint's new wrist brace that addresses this serious problem is now available at a special low price.
(PRUnderground) February 12th, 2021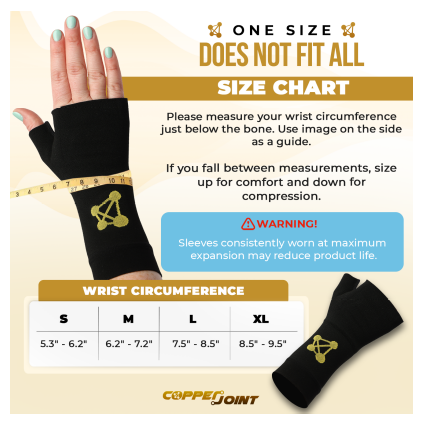 Most people live a modern lifestyle that can end up having quite a few drawbacks, especially when it comes to health. One of the most common is Carpel Tunnel Syndrome. Carpel Tunnel Syndrome causes a tingling, numbness or pain, and often a lack of mobility in the hand, sometimes brought on by things like repetitive office work, some sports and other factors. Finding relief has recently become much more simple and affordable. Leading health and wellness accessories brand CopperJoint has announced the launch of its latest product, the CopperJoint Carpal Tunnel Wrist Brace. It is currently available at a special discount price on Amazon.com celebrating its debut for a limited-time-only.
"Our Carpal Tunnel Wrist Brace is a new product that is going to help many people have a much more enjoyable lifestyle from work to play," commented Stefano Starkel, Founder of CopperJoint. "Carpe Tunnel is something that countless people suffer from and try to ignore. Now there's a product that can certainly help, without breaking the bank."
The new product is NOT a "one size fits all" choice. For it to be so effective, a good fit is a must. Four sizes are available, which can be selected based on an easy to follow size chart. The Carpal Tunnel Wrist Brace is appropriate for both men and women.
According to the company, the brace is ideal for both days and nights, and can be worn at either time to reduce wrist fatigue and with recovery. It even features pure copper fused into its compression system, something which is believed by many holistic health experts to help injuries heal at an increased pace.
Early reviews for the CopperJoint Carpal Tunnel Compression Wrist Brace have been completely positive.
A.C. recently said, in a five-star review, "I am very pleased with this glove. It helps to reduce pain in my thumb and wrist that is caused by arthritis and provides support. I followed the directions on how to measure my wrist for the appropriate fit, which is medium for my right hand and wrist. The glove fits perfectly, it is comfortable to wear and does not cut off circulation. I purchased another right medium glove to wear when the other glove needs to be washed. I am glad that I purchased this compression glove, as it helps to manage my arthritis pain."
For more details or to order be sure to visit https://www.amazon.com/Copper-Joint-Wrist-Compression-Sleeve/dp/B08CBCG3CJ.
About CopperJoint
At CopperJoint, we provide drug-free, pain-relief solutions by creating premium copper-infused garments and supports. Our goal is to improve the quality of life for people suffering from joint and muscle pain due to accidents, arthritis, age, or injury. We are committed to use only the highest copper content and make copper compression therapy affordable for everyone.
The post CopperJoint Offers Launch Discount on New Carpal Tunnel Wrist Brace first appeared on PRUnderground.
Press Contact
Name: Stefano Starkel, Founder

Phone: 307-309-4055

Email: Contact Us

Website: https://www.copperjoint.com
Original Press Release.