The demand for the new CopperJoint Ankle Sleeve has been remarkable. The company couldn't be more pleased with its debut, seeing sales exceed even their high expectations.
(PRUnderground) January 29th, 2021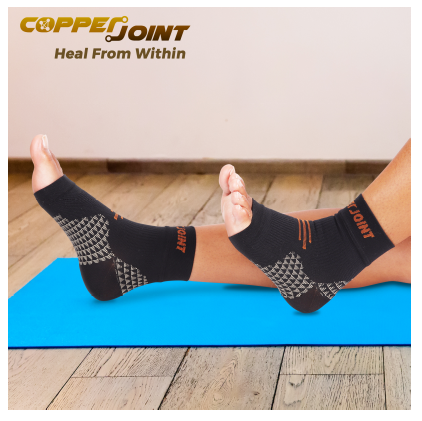 It's very clear that ankle injuries are an issue that impact people of all ages and living a wide range of different lifestyles. There has also been a real lack on the market of affordable and effective products that can help those who suffer from ankle issues improve mobility, reduce pain, and speed recovery. Fortunately, good news recently emerged with leading health and wellness accessory brand CopperJoint debuting its new CopperJoint Ankle Sleeve, designed to address all of the common and not so common ankle concerns in a way shown to deliver results. The company recently celebrated the ankle sleeve's successful launch period which saw it win remarkably high sales and rave reviews.
"We were confident that our ankle sleeve would be a product embraced by people who needed a reliable ankle solution that doesn't break the bank," remarked CopperJoint Founder Stefano Starkel. "Our high sales with the ankle sleeve are very encouraging because it shows that shoppers are looking for high quality solutions, like we always deliver."
According to CopperJoint, the sleeve acts a compression brace which provides stability while also reducing inflammation and allowing the ankle to be stood on or walked with for longer periods of time. It can be used by men or women and comes in a number of different sizes. It also has an adjustable velcro stap to further customize its fit.
The material of the ankle sleeve itself is simple to clean and keep hygienic. It is infused with pure copper to help accelerate the healing process, according to holistic health practicioners.
The endorsements for the new compression sleeve continue to pour in from happy customers.
Deborah H., recently said in a five-star review, "I fractured my ankle back in November and tried everything from an Ace Bandage to items I found in the foot department at the drug store. NOTHING worked. I was in so much pain! I found this on Amazon and it arrived the next day! It was 'tight' when I put it on, but each day it got easier. I'm still wearing it now and I am so thankful for finding it and getting it so quickly! I wear a size 8 shoe, I ordered 'medium' and it really gives me stability. The Velcro is 'really strong' at first, but becomes easier to handle as it gets more use. It is AWESOME!"
For more information or to order be sure to visit https://www.amazon.com/ankle-sleeve/dp/B085RW3QQ1 .
About CopperJoint
At CopperJoint, we provide drug-free, pain-relief solutions by creating premium copper-infused garments and supports. Our goal is to improve the quality of life for people suffering from joint and muscle pain due to accidents, arthritis, age, or injury. We are committed to use only the highest copper content and make copper compression therapy affordable for everyone.
The post CopperJoint Ankle Sleeve Launch Ends on a High After Exceptional Sales first appeared on PRUnderground.
Press Contact
Name: Stefano Starkel, Founder

Phone: 307-309-4055

Email: Contact Us

Website: https://www.copperjoint.com
Original Press Release.