Runners of all kinds are prone to develop tendon pain or even injuries without the right resources the rely on. CopperJoint has stepped up to help with the expertly designed CopperJoint Arch Support, a product that's already winning praise from customers.
(PRUnderground) January 21st, 2021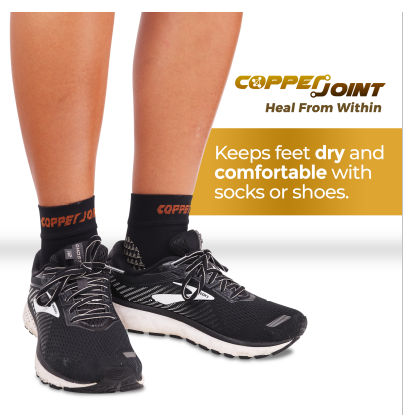 CopperJoint has built a reputation as the "go to" brand for affordable and effective braces and compression products for pain relief, accelerating healing, and injury prevention. In exciting news for runners of all kinds, from athletes to fitness enthusiasts, CopperJoint recently announced the launch of its latest product, the CopperJoint Arch Support and Ankle Compression Brace for Runners. The product comes in four different sizes, and can be used by both men and women. It's available on Amazon.com where it is proving to be a popular new product.
"Running is a fantastic way to stay in shape as well as an amazing sport to participate in," commented Stefano, founder of the company. "The drawback is small aches and pains, and injuries can be quite common. This has created a big demand for a product from us that can help both in prevention as well as rehab. Our new arch support delivers across the board. From alleviating Achilles Tendon pain, helping sprains, and stabilizing sports injuries it covers it all."
CopperJoint pointed to a number of highlights of the arch support's features that help to make it such a remarkable product. Its flexible sleeve features elastic fastener straps, making it simple to wrap securely delivering extra support and optimal compression; the arch support is extremely comfortable, with many users choosing to wear it all day, with no problems; the arch support makes it a favorite with not just runners, but also with those who work on their feet like security guards, hair dressers, nurses and doctors, and countless other vocations; and much more.
The compression sleeve also features pure copper infused through its material. Many holistic experts believe this pure copper being close to an injured joint can aid the healing process, something that is confirmed by recent research.
Early reviews for the new product are extremely enthusiastic.
Diamond W., recently said in a five-star review, "I had cut my Achilles' tendon and found that I had to stay off my foot for several months in order for it to heal properly (still healing), but I found that wearing this sleeve on my ankle helps me quite a bit and gives me the support that I need when I do need to walk around. I wear a 6 1/2 shoe size an am only 5′ 3″ but I ended up having to get a size large so it wouldn't be too tight on my ankle. The medium size was cutting the circulation off in my leg. Was able to send the medium size back and get a full refund on it. It is so comfortable to wear and with the Copper infusion in the sleeve it promotes healing even faster in my ankle. Very pleased!"
For more information and to order be sure to visit https://www.amazon.com/arch-support/dp/B085RW5RPY.
About CopperJoint
At CopperJoint, we provide drug-free, pain-relief solutions by creating premium copper-infused garments and supports. Our goal is to improve the quality of life for people suffering from joint and muscle pain due to accidents, arthritis, age, or injury. We are committed to use only the highest copper content and make copper compression therapy affordable for everyone.
The post CopperJoint New Arch Support Provides Comfort and Enough Foot Support for Runners first appeared on PRUnderground.
Press Contact
Name: Stefano Starkel, Founder

Phone: 307-309-4055

Email: Contact Us

Website: https://www.copperjoint.com
Original Press Release.