Will the Coronavirus Bring Clouds to this Solar Energy ETF?
April 01, 2020 at 10:50 AM EDT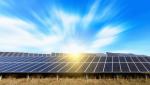 The capital markets are well aware of the stress and strife that coronavirus is putting on oil prices as the commodity continues to test new lows. One byproduct of the pandemic, however, that might not be getting enough coverage is the cloudy doom and gloom that the virus is bringing to the solar...