Is A 5G Phone The Next Big Thing?
October 08, 2019 at 18:55 PM EDT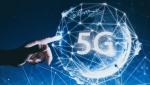 Despite their hype, consumers are not likely recognize an improvement in their phones when using 5G models, according to Rod Hall, an analyst at Goldman Sachs. "We call 5G a brand, not a feature," said Hall, who covers Apple, in discussing fifth-generation wireless technology. "We don't believe...