Why Am I Down When the Markets Are Up? And What's Next?
November 21, 2018 at 11:03 AM EST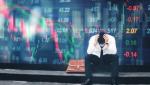 What Occurred Since Your Last Quarterly Commentary? By Toroso Asset Management The headline for our October commentary was "Why am I down when the markets up?" As of September 30th, the iShares Core S&P 500 ETF (IVV) was up 10.53%. Growth was outperforming Value by 13.65%, and small caps were...