Will Friday's OPEC Meeting Impact Oil Prices?
June 20, 2018 at 18:47 PM EDT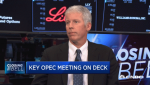 The world's largest exporters of crude oil will convene in Vienna on Friday for a much anticipated OPEC meeting to decide whether or not to increase output. Chris Wright, Liberty Oilfield Services CEO, appeared on CNBC to discuss what the meeting could mean for the price of oil, which is currently...