The No. 5 Top State for Business Is...It's a Tie!
July 09, 2013 at 11:38 AM EDT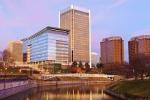 Virginia and Utah finish dead even at No. 5 in CNBC's Top States for Business 2013. It's the first-ever tie among the top five, and a bit of disappointment for three-time champ Virginia.