AmericanGambling announced the release of a new website. The platform targets new, passionate, and experienced gamblers, who want to explore US online gaming in a safe, legal and responsible way.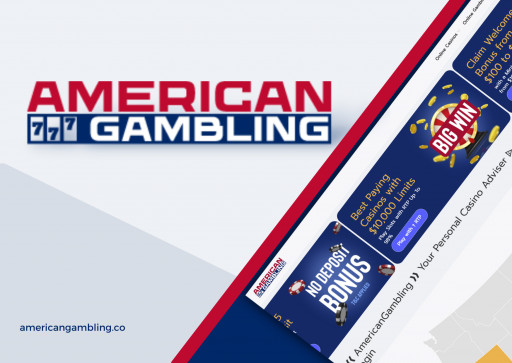 AmericanGambling
American Gambling promo
WILMINGTON, Del., February 28, 2023 (Newswire.com) - AmericanGambling is proud to announce its launch and the availability of the website to visitors all around the USA. The aim of this platform is to provide high-quality advice on responsible gambling, U.S. gambling laws, casino payment systems and reviews of various U.S. licensed platforms. 
The company understands how important making informed choices can be when it comes to online gambling so AmericanGambling wants to make sure its readers are receiving all they need to make wise decisions. Customers can expect detailed expertise from trusted professionals in the industry as well as reliable recommendations on legal aspects of gambling activities across the country.
AmericanGambling operates under official licenses.
Company received affiliate licenses in several states:
New Jersey, license #0093551, active as of Dec. 28, 2021
Michigan, license #007931, active as of April 25, 2022
Virginia, license #V-1656-101859, active as of May 01, 2022
Colorado, license #95261992, active as of May 19, 2022
On AmericanGambling, readers can only find information about fully legal brands revised by authorities such as NJ Casino Control Commission, Michigan Gaming Control Board and other state representatives. 
The main goal of AmericanGambling is to provide the latest and most accurate information about gambling in the U.S.
The plan is to assist the website's readers in a variety of aspects: 
Learn from non-biased evaluations, reviews, and comparisons
Learn about legal gambling activities in a particular state
Find solutions for payouts, confidentiality issues, and other problems with online gambling
Get casino reviews from real players
Get informed with the latest news from the gambling industry
Find support for gambling addiction
Learn about games and develop strategies
AmericanGambling is ready for the challenge in the U.S. online gambling market. 
AmericanGambling targets only the states where some form of online gambling is already legal, or where all mainstream casino activities are available. The platform also monitors current information about the availability of legal gambling activities in various states and updates the selection for the readers. Currently, the website provides information about online casinos in several states: 
Pennsylvania
New Jersey
West Virginia
Michigan
Delaware
The services provided by the company do not promote or encourage gambling; rather, the purpose is to inform customers on best practices for engaging responsibly with their chosen activities. These consultations can help facilitate a healthy relationship between individuals and their gambling habits while minimizing risk and maintaining safe boundaries at all times.

Everyone interested in receiving the services of AmericanGambling is welcome to visit their website or contact them directly via email at contact@americangambling.co. Their team is looking forward to helping customers make wiser choices when it comes to various gambling activities throughout the USA.

Contact Information:
Paul Parish
Editor-in-Chief, AmericanGambling
contact@americangambling.co


Original Source: AmericanGambling Announces Launch and Availability of Gambling Consultations in the USA