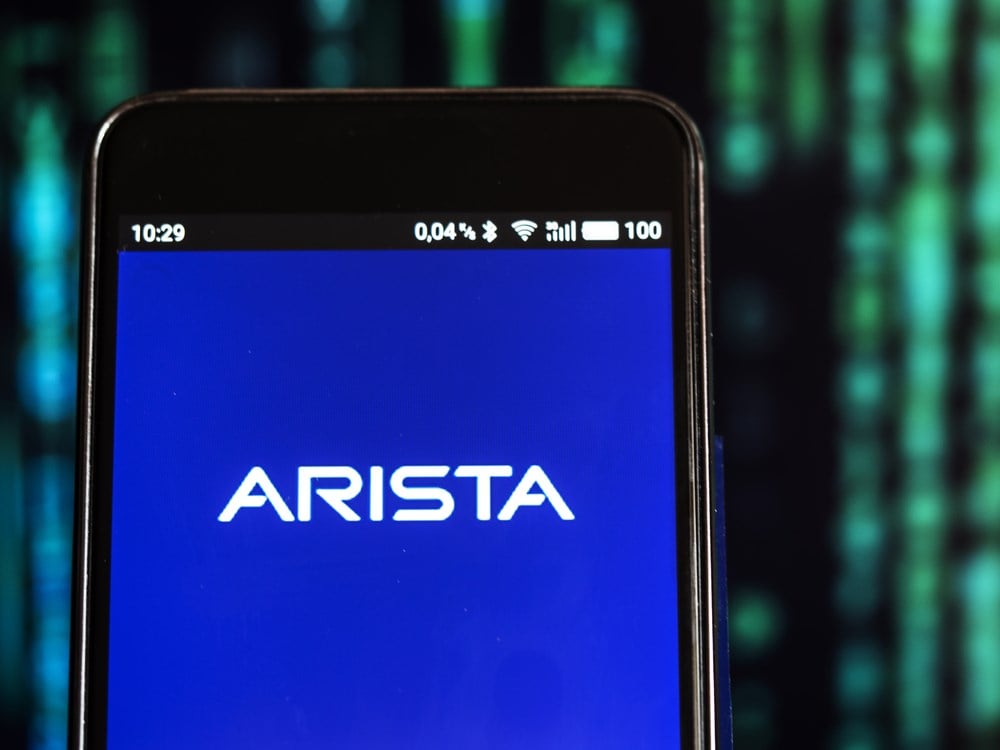 Sometimes when looking at a stock's chart, you can actually when investors disagree with a selloff. That's the case with Arista Networks Inc. (NYSE: ANET), which sold off hard after its first-quarter report in early May, but quickly staged a big turnaround.
Take a look at the Arista Networks chart, adjusting the view to use either bars or candlesticks. 
You can easily see that Arista stock gapped down 15.72% on May 2, as big investors were clearly disappointed in some aspects of the company's quarterly report. 
Make no mistake: Growth was strong, with an earnings increase of 70% and revenue up 54%. It was the latest in a series of both top- and bottom-line growth at mid-to-high double-digit rates. As you can see using Arista Networks earnings data compiled by MarketBeat, the company has a long history, going back to its 2014 IPO, of beating analysts' views. 
At least some big investors decided the selloff was a mistake, and swooped in to buy shares at a lower valuation, below their March 23 high of $171.44. If you add a 200-day moving average to the Arista chart, you can see that investors supported the stock at that level. Arista stock finished the week ended May 12 with a small gain, but buying picked up the following week, with a gain of 3.81% the week ended May 19.
Huge Buying In Heavy Volume
The stock saw huge buying on May 25 and May 26, with more than double average turnover on both days. Some big institution, or perhaps more than one, spotted an opportunity to snap up shares at a lower valuation. It's a textbook lesson in exactly what happens when a stock with good potential is sold off.
So what's behind the price moves? 
Since at least late 2022, analysts have fretted that large enterprise customers would cut back on cloud and network spending, in the face of inflation and recession fears. In the Arista Networks quarterly conference, analysts peppered company executives with questions aimed at getting more clarity about forecasts of spending from the "clout titans." The term refers to large-scale and dominant companies that whisk data and applications to customers via the cloud. Typically, these titans have vast infrastructure, extensive service offerings, and significant market influence.
For example, in its 2022 annual report, Arista said that purchases by Microsoft Corp. (NASDAQ: MSFT) and Meta Platforms Inc. (NASDAQ: META) accounted for more than 10% of total revenue. 
Cloud Titan Spending Moderating
In the earnings conference call, CEO Jayshree Ullal said the company expects gross margins to improve in every quarter of 2023, but also noted that, "We do expect cloud titans will moderate compared to our 2022 triple-digit growth, while enterprise is likely to be more steady state."
In other words, the red-hot growth levels from 2022 may be abating, so investors panicked. 
But apparently, they had some time to fully comprehend Ullal's further comments, 
"But as you know, the cloud is a volatile market, and the titans will spend a lot one year and then spend a little less the other year as they're digesting it and deploying it. So, if you look across multiple years, we're going to have the strong demand and do well," she said. 
Flagship AI Platform
Investors may have gotten nervous that the company, which, like every other tech is building out its generative AI capabilities, wouldn't forecast an immediate boom due to AI spending. 
Arista Networks has been developing its line of 7800R3 switches as its flagship AI platform. According to Ullal, the company spent the better part of 2022 doing a tremendous amount of simulation on work with interconnected graphics processing units. 
"We do expect AI to be meaningful this year as opposed to not material the last couple of years, and we believe the 7800 will be the flagship product for that," she said. 
Arista Networks stock remains in buy range, as shares closed May 26 at $170.35, just fractionally below the previous high of $171.44. It's also encouraging that on both May 25 and May 26, the stock closed near the high of its daily trading range, an indication of strong conviction.