Artoh Inc, a leading provider of innovative financial solutions, is excited to release a game-changing cash flow management tool designed specifically for small businesses. Artoh aims to revolutionize how small business owners track and analyze their cash flow, offering a streamlined and effortless approach to financial management.
In today's fast-paced business environment, small business owners often find themselves overwhelmed with numerous responsibilities, leaving little time to actively monitor and understand their financial numbers. However, having a clear understanding of their numbers is crucial for successfully running their businesses. Artoh recognizes this challenge and aims to bridge the gap by simplifying cash flow management and providing a user-friendly platform that enables small business owners to effortlessly gain real-time insights into their financial health.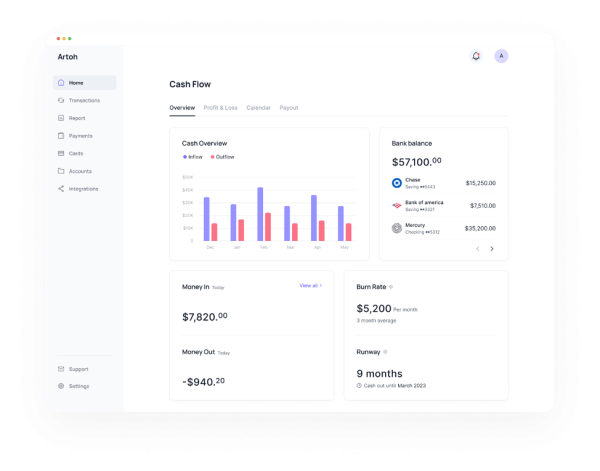 Artoh offers small business owners the ability to effortlessly connect their bank accounts and automatically generate instant cash flow analysis and profit and loss (P&L) reports. No longer will business owners need to wait on accountants or bookkeepers to provide them with critical financial information. With Artoh, the power to understand and manage cash flow is at their fingertips.
"We understand the challenges small business owners face when it comes to cash flow management. Artoh is designed to make their lives easier by providing real-time insights and eliminating the reliance on manual processes," said Chris, CEO of Artoh. "We want to empower small business owners to make informed decisions based on accurate and up-to-date financial information."
One of the core principles of Artoh is simplicity. With Artoh, all it takes is a simple step of connecting their bank accounts and integrating their existing tools. Artoh's intelligent system takes care of the rest, generating comprehensive insights and reports effortlessly in seconds. Artoh's dashboard provides a clear and concise overview of cash inflows, outflows, and trends, enabling business owners to confidently make informed decisions.
In addition to cash flow analysis, Artoh also offers additional features to enhance financial management for small businesses. These features include integrated revenue stream connectivity, allowing business owners to seamlessly connect platforms such as Shopify, Square, Amazon, WooCommerce, Etsy, and more. This integration allows business owners to consolidate their revenue data, further simplifying their financial management processes.
Security is a top priority at Artoh. The platform employs industry-standard encryption protocols to ensure the protection and privacy of sensitive financial information. Small business owners can rest assured knowing that their data is secure and that Artoh complies with the highest data protection standards.
Artoh is dedicated to the success of small businesses, offering a user-friendly platform that simplifies financial management and enables informed decision-making. With Artoh, small business owners can effortlessly manage their cash flow, helping them confidently drive their businesses forward.
To learn more about Artoh and how it can simplify cash flow management for your small business, visit https://artoh.com
About Artoh:
Artoh is a trusted provider of innovative financial solutions dedicated to supporting the success of small businesses. With a focus on simplifying financial processes, Artoh develops user-friendly tools that empower small business owners to thrive in today's competitive market.
Media Contact
Company Name: Artoh Inc.
Contact Person: Chris
Email: Send Email
Country: United States
Website: https://artoh.com